This quick basic recipe for a simple homemade Vanilla Sauce can be varied according to your preferences: you can make the recipe with or without egg, you can use a real vanilla bean, vanilla extract, essence or vanilla sugar - depending on what you have at home!
The recipe is really quick and easy. After a few minutes of cooking, you'll have your finished sauce!
The instructions make a rather thick sauce. If you prefer your sauce a little runnier, you can either use less cornstarch, or try this traditional Austrian recipe for "Kanarimilch" ("canary milk") with egg yolks: Go to the recipe for canary milk.
Jump to:
The recipe fits perfectly to any kind of cake, tarte or pie. In Austria, we serve Vanilla Sauce usually to Buchteln (Baked Yeast Dumplings filled with Apricot jam), Germknödeln, Topfenpalatschinken (Austrian Curd Crepes), Topfenstrudel (Curd Cheese Strudel) or also Apple Strudel.
The Vanilla Sauce also goes well with various desserts with berries and fruit, for example, elderberry stew.
Ingredients
In this paragraph you will find detailed information about the ingredients you need for the homemade Vanilla Sauce.
Some of the ingredients in the recipe can be easily replaced by alternatives. You will find more about this at the respective ingredient.
Ingredients for the Vanilla Sauce
2 cups (500 ml) milk - for example, whole milk.
The sauce also works with other milk options, even with vegan milk substitutes such as oat milk or almond milk.
Some of the milk (about ½ cup to 1 cup) can also be replaced with heavy cream if you like to make a particularly rich sauce for a festive occasion.

1 pod of vanilla - alternatively 1 teapoon of vanilla extract, 2 teapoon vanilla essence or 2 tablespoons of vanilla sugar

1 egg - optional, the egg provides the characteristic yellow color due to the yolk. In addition, it provides binding and makes the sauce more thick.

You can make the recipe without the egg. In this case, the color of the sauce will be white instead of light yellow. If you leave out the egg, I recommend to use 1 tavlespoon more cornstarch instead, so that the sauce does not become too thin.

If you want the sauce to be thicker and more yellow, you can whisk in additional 1-2 egg yolks before you bring the milk to a boil.

2 tablespoons (20 g) of cornstarch - alternatively e.g. potato starch or also custard powder.

The custard powder provides additional yellow color, but also contains artificial flavoring. In principle it consists mainly of corn starch (corn starch), so it can be used to the same extent.

It is also possible to use white flour or rice flour instead of the cornstarch (in the same amount).

¼ cup (50 g) granulated sugar - the amount can also be reduced or increased. I recommend 3 tbsp. (30 g) of sugar if you don't like it that sweet and a maximum of ½ cup (100 g) of sugar if you like it very sweet.

The granulated sugar can also be replaced by erythritol (instead of 50 g sugar about 65 g) or xylitol (in the same amount as sugar). I do not recommend coconut blossom sugar, or syrups such as maple syrup, etc., because they mask the flavor of the vanilla with their strong inherent taste.

1 tablespoon of rum - the rum provides extra flavor, but it can also be omitted.

1 pinch of salt - just a little! The salt enhances the flavors in the sauce.
How to cut open a vanilla bean and scrape out the pulp
To make a Vanilla Sauce with real vanilla bean, first cut the pod open lengthwise with a sharp knife. Then, using the spine of the knife, or even a butter knife or small spoon, scrape out the vanilla pulp (the little black dots) and add it to the milk.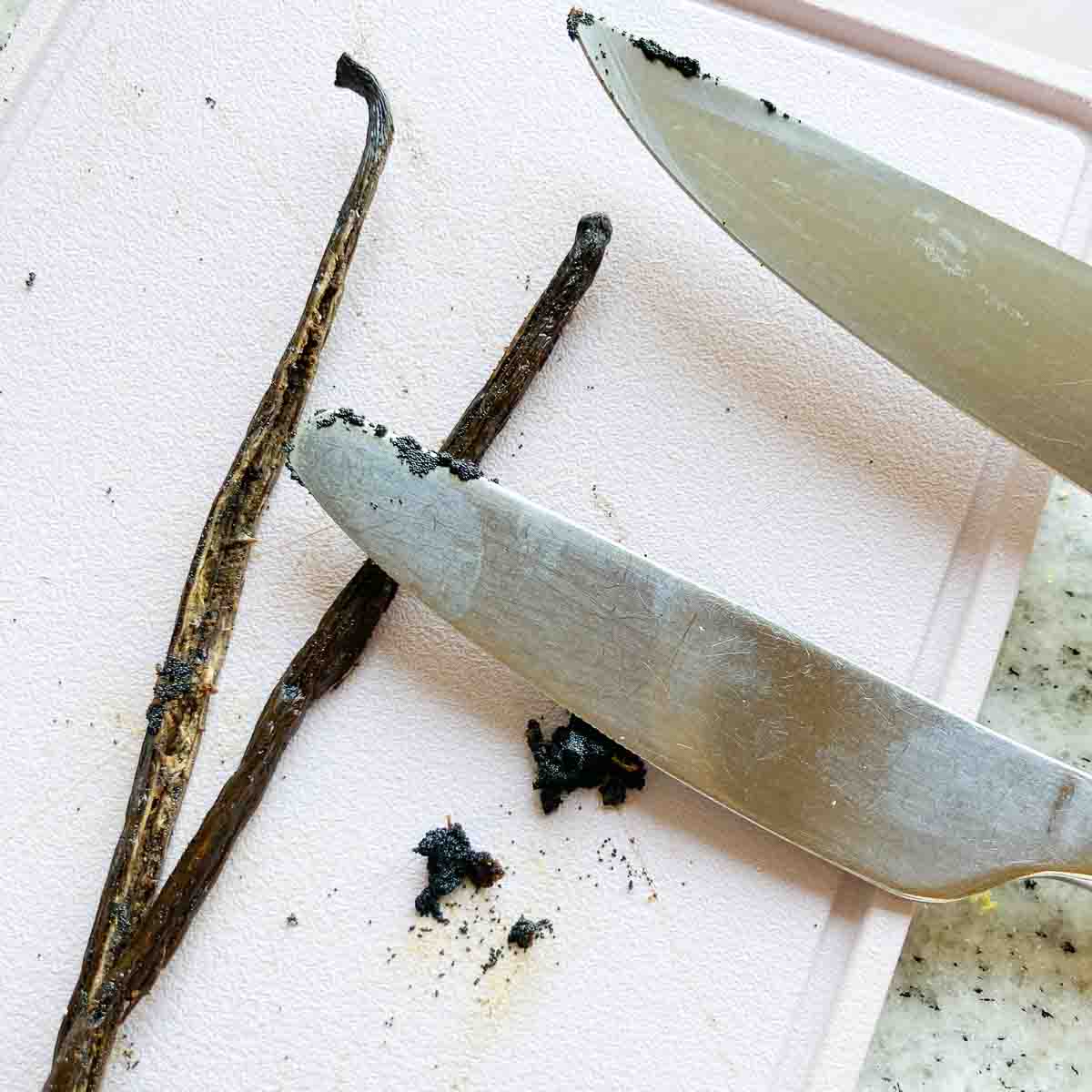 The longer the vanilla pulp soaks in the milk, the more intense the flavor. But the Vanilla Sauce also "gets enough" of vanilla flavor if it is added just before boiling.
For an even more intense vanilla flavor, the rest of the scraped out peel can also be cooked in the milk (remove after boiling).
Alternatively, you can use the scraped out peel to make homemade vanilla sugar:
Make your own vanilla sugar from scraped out vanilla pods:
Place the scraped pods in a screw-top jar and cover with sugar. Close the jar and let it sit for a few weeks (or longer). Shake the jar every once in a while or stir with a clean spoon. The sugar takes on the vanilla flavor and can be used in any kind of dessert recipe, for cookies, cakes or other pastry!
How to make homemade Vanilla Sauce without vanilla bean
The recipe at the end of this article works as well without a real vanilla bean. You can simply use one of the following ingredients instead of 1 vanilla pod:
1 teaspoon of vanilla extract
2 teaspoons vanilla essence (double amount because its flavor is usually not as intense as vanilla extract)
2 tablespoons of vanilla sugar
or even 2-3 tablespoons of vanilla custard powder (leave out the cornstarch in this case)
---
Jump directly to the recipe
---
Shelf life & Reheating
The homemade Vanilla Sauce is best served right after cooking, but will keep for a maximum of 1 day due to the egg it contains.
To reheat, heat in a saucepan, stirring constantly with a whisk, until the sauce is runny again and without lumps.
If it is to be stored overnight in the refrigerator, it can be simmered the next day with a splash of additional milk for a few minutes.
Freezing & Thawing
Unfortunately, vanila sauce is not ideal for freezing. When thawed, there is a risk that the sauce will lose its binding and become lumpy.
What to serve with Vanilla Sauce
Vanilla Sauce goes perfectly with any kind of cakes, tartes and pies, and is served as a side to lots of traditional Austrian pastry dishes.
The sauce can be served with Buchteln or Germknödel (sweet Austrian yeast dumplings). It is a "must" for Austrian Topfenpalatschinken (Curd Cheese Crepes) and Topfenstrudel (Curd Cheese Strudel), and if you like, you can of course serve it with Apple Strudel ;D.
Vanilla Sauce also goes well with berries and fruit, for example this Elderberry Stew recipe.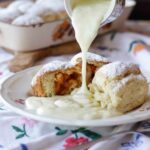 Vanilla Sauce Recipe (with and without egg).
Rezept drucken / Print Recipe
Auf Pinterest merken / Save on Pinterest
This basic recipe for a simple homemade Vanilla Sauce can be varied according to your preferences: with or without egg, with real vanilla bean, vanilla extract or vanilla essence, etc.
Zutaten
2

cups

whole milk

1

vanilla bean

alternatively 1 tsp. of vanilla extract, 2 tsp. vanilla essence or 2 tbsp. of vanilla sugar

1

egg

optional, if you want leave out the egg, you can use 1 extra tbsp. of cornstarch instead

2

tbsp.

cornstarch

¼

cup

granulated sugar

1

tsp.

dark rum

optional

1

pinch

of salt

very small pinch
Instruction
Pour about 5 tablespoons of the cold (!) milk into an extra bowl and mix well with the cornstarch.

Cut vanilla bean lengthwise and scrape out vanilla pulp.

In a saucepan, whisk remaining cold milk with vanilla, egg, sugar, salt and rum until well blended. Bring to a boil, stirring constantly.

To kill potential salmonella from the egg, let the sauce simmer on the stove at low temperature for about 10 minutes. Always stay close and stir frequently so that the sauce does not burn.

Add the stirred cornstarch and bring to a boil again briefly.

Serve while still warm.
(c) by Angelika Kreitner-Beretits / Vienna Sunday Kitchen
September 13, 2023
Hast du das Rezept ausprobiert? Dann freue ich mich über deine Bewertung!! / Rate this Recipe!
Nährwerte
Serving:
155
g
|
Calories:
110
kcal