In the following article, I present you with a simple basic recipe for preserving elderberry and also a few variations with which you can spice up the recipe as you wish.
Further down in the post, I've also summarized important information about harvesting and preparing elderberries.
Unlike a compote, a fruit stew is prepared with less (or no) water and with less sugar (10-25%) than jam.
Jump to:
Tips for harvesting and preparing elderberries
Only pick umbels on which all berries are already black.
Please only pick elderberries if you are sure how they look like. There are a few shrubs that look similar but where the berries are poisonous, even after cooking. (This website lists a few poisonous elderberry doppelgangers with pictures, I use an app called "PictureThis" to identify plants in the wilderness.)
When picking the berries, shake out the umbels, as beetles and other insects often hide in it.
Wash before cooking, you may also get rid of a few beetles here ...
Mostly it is recommended to wear gloves while picking and processing because the berries rub off.
To remove the stems, it is best to take a fork and "comb" the umbels.
How to eat elderberries
Never eat raw elderberries, they are slightly toxic when uncooked and can cause stomach pain. In addition, cook and eat only the berries and not the stems.
The most popular uses for elderberries are elderberry stew and compote (see below for recipe), elderberry syrup with sugar or honey and elderberry tea.
What to eat with elderberry stew
In Austria, elderberry stew and compote are usually eaten with Kaiserschmarrn or sweet curd dumplings, but they are also a perfect fit to many other dessert recipes:
as a sauce to pudding,
yoghurt or
ice cream
as a topping for all sorts of fruit cakes
Shelf life of elderberry stew
If canned correctly, elderberry stew or compote can be stored for 1 year or longer.
If you don't have time for proper canning, you can either store the elderberry stew in the fridge for a few weeks, or freeze. Leave in the fridge to thaw overnight or cook in a pot.
For canning, use sterilized equipment and close the jars with sterilized lids immediately after filling with the very hot elderberries. (More about sterilizing your canning equipment here.)
Alternatively simmer the filled and closed jars at 80°C for 30 minutes in a pot or use a canning machine or the steaming function of your oven. If you use a pot, lay a cloth or inlay grid at the bottom to prevent the glasses from getting too hot and fill with water about ¾ the hight of the jars. (More about canning here.)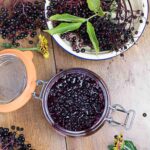 Stewed Elderberries
Rezept drucken / Print Recipe
Auf Pinterest merken / Save on Pinterest
Basic recipe for preserved elderberries incl. suggestions for variations with seasonal fruit.
Zutaten
1

lbs

elderberries

~500 gram, ~ 25 large umbels

½

cup

water

~100ml

5

tablespoons

sugar

~60 gram

¼

cup

lemon juice

~ 1 small lemon

1

pinch

of cinnamon

1

tablespoon

vanilla flavor

or vanilla sugar
Optionally with additional fruit:
½

lbs

seasonal fruit

e.g. plums, blackberries, pears, apples, peaches

25

g

additional sugar
Anleitung
Pick elderberries from the stems with a fork.

Squeeze lemon.

Cut additional fruit into small pieces. Peeling is not necessary.

Simmer elderberries with all remaining ingredients without lid for about 10-15 minutes, stirring regularly.

Remove from heat and pour into clean jam jars or serve immediately.

To preserve, see information in the blog posting above.
(c) by Angelika Kreitner-Beretits / Vienna Sunday Kitchen
August 8, 2023
Hast du das Rezept ausprobiert? Dann freue ich mich über deine Bewertung!! / Rate this Recipe!
Notizen
Can be served to lots of sweet dishes, pudding, cakes, yoghurt. Tastes delicious with a tablespoon of sour cream or greek yoghurt.
Nährwerte
Serving:
39
g
|
Calories:
35
kcal