In this recipe, you will find step-by-step instructions with pictures and video for authentic Austrian fruit dumplings from choux pastry. The choux pastry in this recipe is not baked in the oven but rather filled with fruit and then boiled on the stovetop. The dumplings can be filled as desired, for example with apricots, plums, strawberries, nougat or even spicy. After cooking, the dumplings are covered in golden roasted, caramellized breadcrumbs and served with powdered sugar - Enjoy!
Jump to: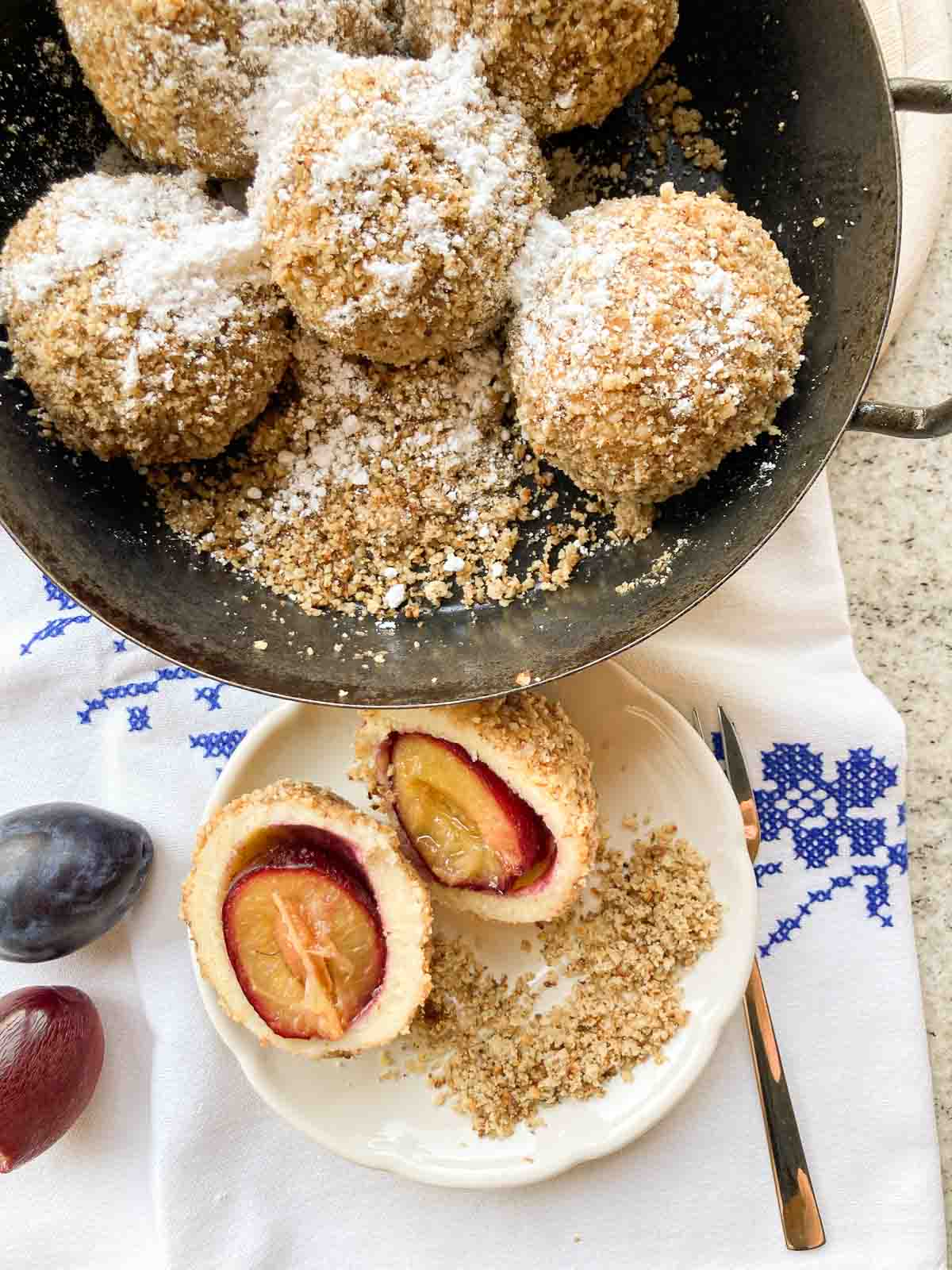 In Austria, it's very commom to eat various sweet dumplings as main dish, especially in spring and summertime. Our most popular dumplings are probably Apricot Dumplings, followed by plums and strawberries. There are 3 main types of dough for Austrian fruit dumplings, which are curd dough, potato dough and a simple choux pastry dough.
In our family, dumplings from choux pastry are not so common, we make our apricot dumplings from curd dough always according to this recipe from my grandma. I have therefore not dared for a long time to make choux pastry because the preparation of the dough sounds so complicated. But I was totally surprised how easy it actually is! And the dough is incredibly elastic - the dumplings thus are really easy to form!
Secret Pro Tipp for Apricot Dumplings: if you remove the pit and add a sugar cube instead, it will melt during the cooking process and will leave you with an explosion of your taste buds! It is soo good, you have to try. ;D
Ingredients
For 8 small dumplings, you will need:
30g butter
¼l water
pinch of salt
200g flour
1 egg
4-8 ripe stone fruits like plums (8 pieces) or apricots (4-6 pieces) or berries like strawberries (8 pieces), raspberries, blackberries (if you use smaller berries, you can fill each dumpling with about 4-6 of them. Rolling the dumplings is a bit more difficult then, though)

For the breadcrumbs you will need the following ingredients. I love my dumplings with a lot of breadcrumbs, so I am generous here, but you can also get by with about ⅔ of the amount.
60 g butter
300 g breadcrumbs (you can mix the breadcrumbs as you like or replace them entirely with other toppings like grated walnuts, almonds, hazelnuts, poppy seeds, hemp seeds,…).
60 g granulated sugar, optional
pinch of cinnamon, optional
You will also need:
powdered sugar for sprinkling
Video
In this video you can see how easy it is to prepare choux pastry. (Audio is in German only, sorry!)
You can find more recipes like this on my YouTube channel.
Maybe you are also interested in the following traditional recipes for Austrian dumplings:
Instructions
The first step is to fill a medium sized pot with 250 ml (1 cup) of water. Add 30 gram of butter (~¼ stick) and a pinch of salt and bring to a boil.
Once the butter has melted, stir 200 gram (~ 1+¾ cups) of flour into the pot. You stir until the dough separates from the pot. (This means, it does not stick to the pot anymore.) You can see how this looks in the video above.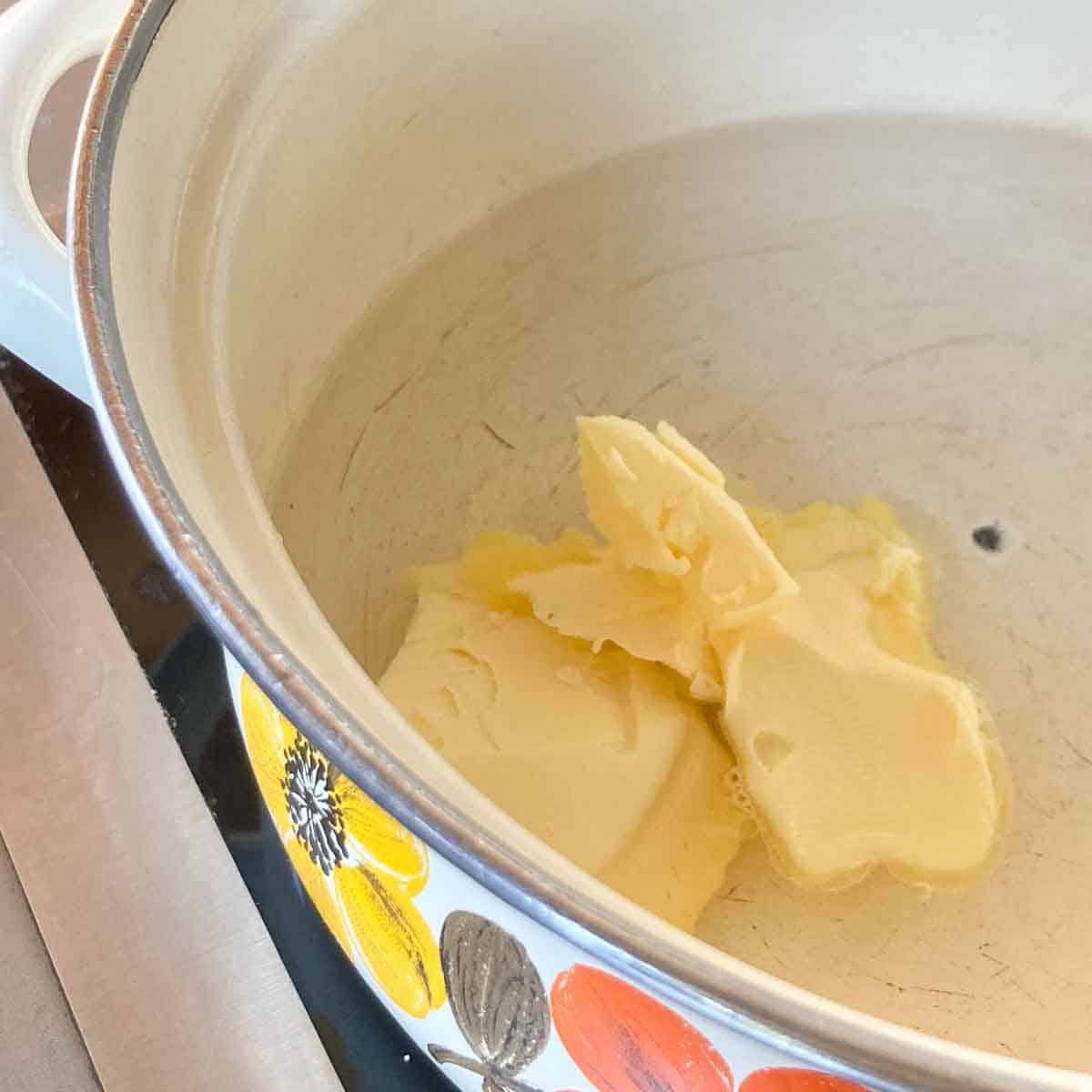 Then remove from heat and stir in the egg, knead briefly and let cool. The cooling takes about 10 minutes and goes faster if you form the dough into a roll and take it out of the hot pot.
In the meantime, toast breadcrumbs (or ground nut of your choice) with butter and sugar, optionally cinnamon, until golden brown.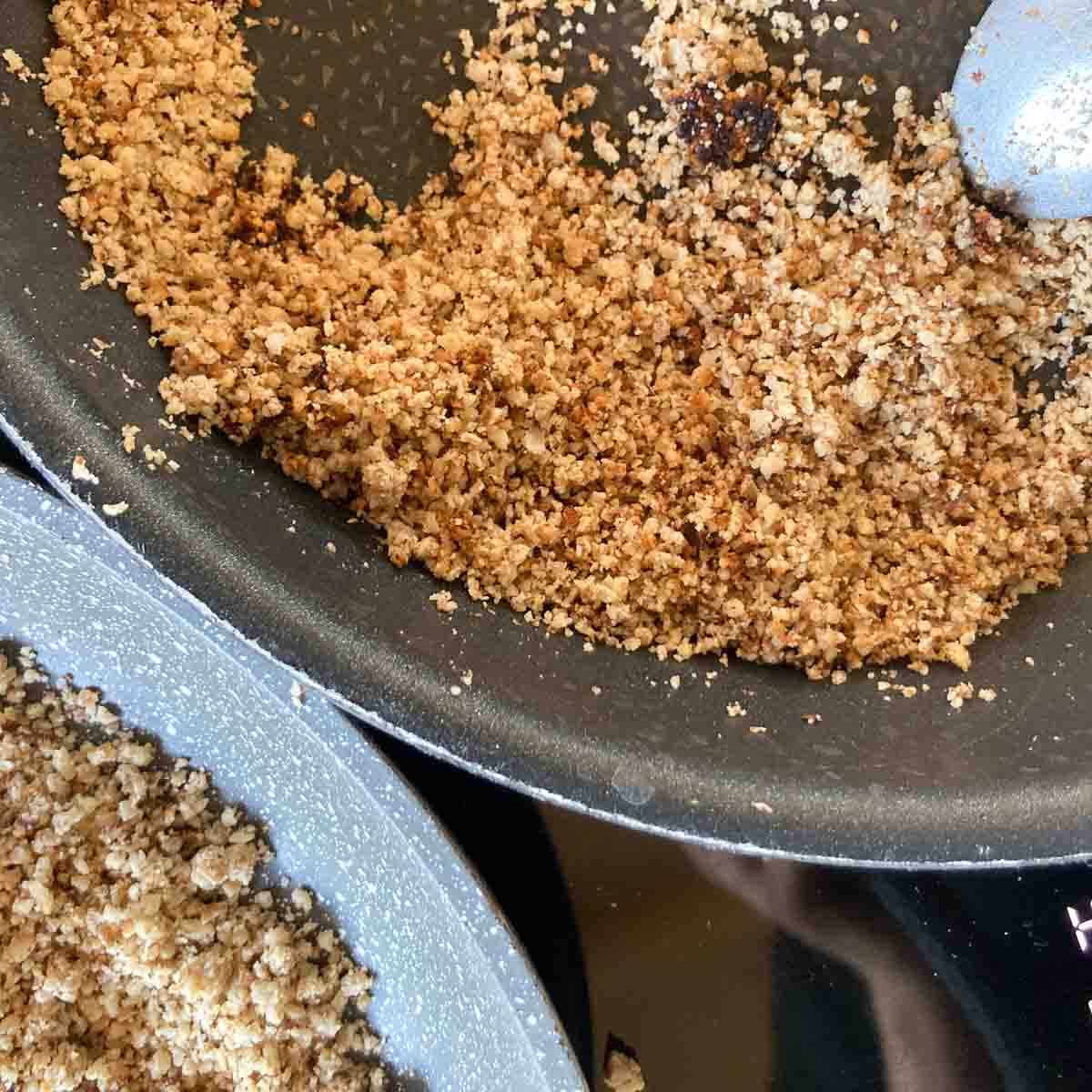 Den Teig in 8 gleich große Stücke portionieren. Die einzelnen Teigstücke zu einer dünnen Scheibe formen. Mit je einer Zwetschke füllen, die Knödel gut verschließen und zu einer Kugel rollen.
Meanwhile, bring water to a boil in a large pot. If possible, place all of the dumplings in the water at the same time, using a skimmer.
Turn down the temperature and cook over low heat for about 15 minutes. When the dumplings rise to the surface, they are done.
Strain and roll in breadcrumbs.
🖨️ Recipe Card for Print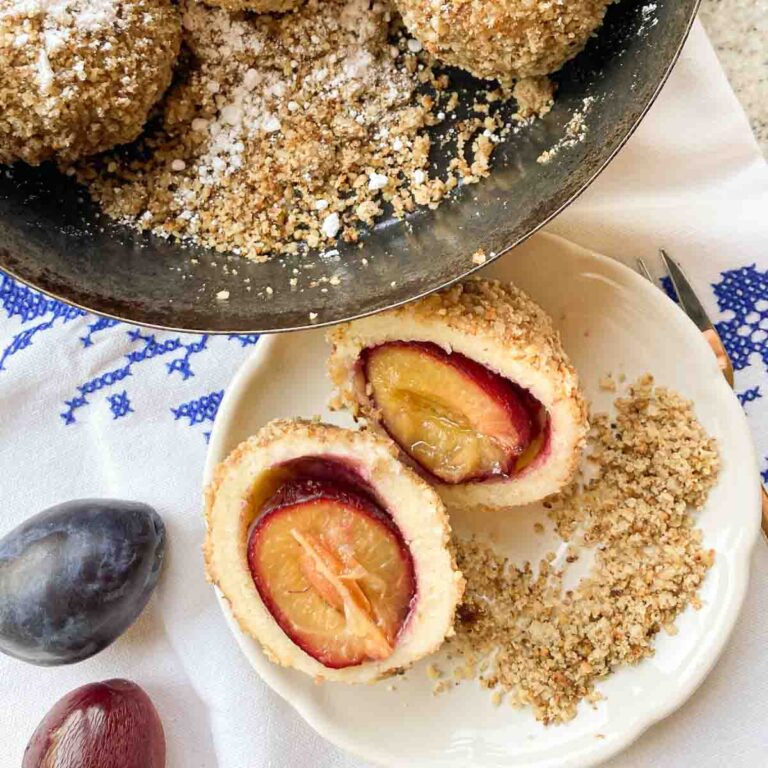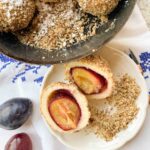 Austrian Fruit Dumplings made of Choux Pastry
Rezept drucken / Print Recipe
Auf Pinterest merken / Save on Pinterest
Simple instructions for boiled choux pastry dumplings with toasted breadcrumbs. Choux pastry is easy to make and provides a very elastic dumpling dough that makes the dumplings really easy to shape. The recipe can be used for plum dumplings, apricot dumplings, strawberry dumplings, etc.
Zutaten
For the dumplings
1

cup

water

250 ml

¼

stick

butter

30 gram, ~ 2 tablespoons

pinch

salt

1+¾

cup

all purpose flour

200 gram

8

plums or strawberries

4-6 apricots
For the breadcrumbs
½

stick

butter

60 gram, ~4 tablespoons

1-2

cups

breadcrumbs

unsalted, unflavoured

¼

cup

sugar

60 gram, ~4 tablespoons

pinch

of cinnamon

optional
Instruction
In a medium saucepan, bring the water to a boil with the butter and a pinch of salt.

Once the butter is melted, add the flour and stir well until the dough separates from the pot.

Remove from heat and knead in one egg.

Allow to cool.

In the meantime, melt butter in a pan. Toast breadcrumbs and optional sugar and cinnamon over medium heat until golden brown. Always stay by the pan and stir constantly so the crumbs don't burn.

Divide the dough into equal sized pieces.

Form the dumplings: Shape the pieces into round sclices and place the fruit in the middle of each one. Close the dumpling and press together well. With both of your hands, roll until round.

Boil in slightly salted water for about 15 minutes on medium-low heat.

Strain and roll in the crumbs.
(c) by Angelika Kreitner-Beretits / Vienna Sunday Kitchen
Juni 14, 2023
Hast du das Rezept ausprobiert? Dann freue ich mich über deine Bewertung!! / Rate this Recipe!
Notizen
For apricots, the dough is enough for 4-6 dumplings, depending on the size. For strawberries, plums and similar small fruits for about 8 dumplings.
You can mix the breadcrumbs as you like or replace them entirely with other toppings such as grated walnuts, almonds, hazelnuts, poppy seeds, hemp seeds,...