The various kinds of sweet potato dumplings filled with apricots, plums or strawberries are among almost every Austrians favorite dishes - eaten as dessert as well as a main dish! These apricot dumplings with potato dough are easier than you think and taste like Heaven!
For this potato dough, in addition to floury potatoes, you only need flour, egg and a pinch of salt. Because this recipe uses potatoes cooked the day before, the dough is not sticky and is particularly easy to shape.
The basic recipe for the simple potato dough can be used for all kinds of sweet and savory dumplings, such as strawberry dumplings or dumplings filled with cured meat, pork roast leftovers, roasted mushrooms,...
For my grandma's apricot dumpling recipe from curd cheese dough please click here.
Jump to: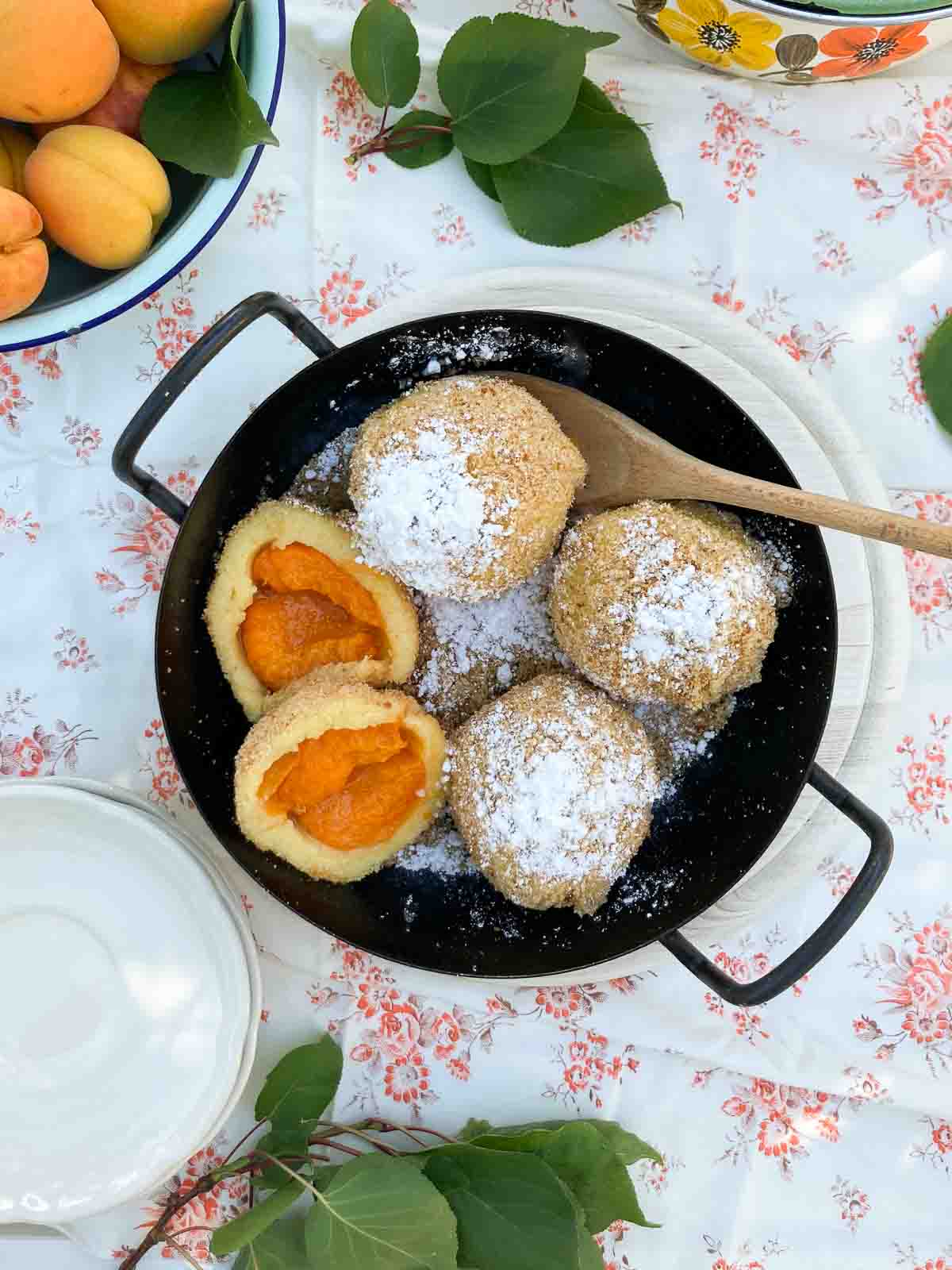 Ingredients
You will need the following ingredients for this recipe. The exact quantities are in the printable recipe card at the end of the article.
For the potato dough:
Floury potatoes (potatoes used for mashed potatoes) - If you don't have floury potatoes on hand, I recommend boiling them a little longer than usual to really soften them. Any remaining pieces in the mixture can be mashed extra with your hands after pressing.
all-purpuse flour or coarse ground wheat flour (no semolina, no whole wheat) - Coarse ground wheat flour is a little coarser than plain or all-purpose flour. It helps to make fluffier, easier to shape dumplings.
Ripe apricots - the amount of potato dough is enough for 4-6 pieces of apricots.
Apricot dumplings with sugar cubes: These apricot dumplings are filled with a piece of sugar cube instead of the core. During cooking, the sugar melts and combines with the pulp of the apricot, which leads to a real explosion of flavor when eaten - soooo good, you have to believe me!
Of course, you can also make the recipe without sugar cubes and leave the pit inside. My grandma does it that way, too 😉 She serves the dumplings with apricot jam in case the apricots are not sweet enough.
For the toasted breadcrumbs:
Vanilla sugar - optional, can also be replaced with granulated sugar or omitted altogether.
Also:
Powdered sugar for serving - to taste.
Video
Here is a short video where you can see how to knead the potato dough and shape the apricot dumplings. You can find more recipe videos like this on my Youtube Channel.
Cooking the potatoes the day before
It is best to boil the potatoes (unpeeled) the day before. This way they are already cooled down and can be processed more easily. Because much of the liquid has already evaporated, you need less flour, which makes the flavor of the potatoes more prominent.
Potatoes cooked the day before also develop resistant starch, which, among many other health benefits, is good for intestinal flora, for example.
If the potatoes are cooked immediately before preparation, the dough will be a little stickier and you will need more flour. Then knead the flour into the dough little by little, until you can easily shape the dough. The advantage of freshly cooked potatoes for the potato dough is that the potatoes are softer and easier to press with the potato masher or through the potato ricer press.
Instructions
1. make potato dough
Peel cooked potatoes and press them through a potato ricer.
If you don't have a potato ricer, you can also mash the potatoes with a potato masher or fork, press them through a sieve, or grate them.
Never mash potatoes in a blender or they will become too sticky and the mixture will not be good for shaping dumplings.
Knead the mashed potatoes with the flour, a pinch of salt and the egg.
Potato dough is best kneaded by hand. Knead the potato dough only briefly until all ingredients are mixed. If the dough is kneaded too long, the elasticity will decrease and the dumplings will not hold together so well.
If necessary (i.e., if the dough sticks strongly to your hands), gradually work a little more flour into the dough.
Cover dough and let rest. If you let the dough rest for 10-20 minutes, it becomes more elastic, the dumplings can be shaped better and they do not fall apart so easily.
Before you start forming the dumplings, you should bring the water to a boil. Fill a large pot halfway with water. Bring water to a boil and add a pinch of salt. Reduce the heat before the dumplings go in.
2. How to shape Apricot Dumplings
Optional: Remove the pit from the apricots by pressing it out with the handle of a wooden spoon. In place of the pit, press a piece of sugar cube into each apricot.
Form the potato dough into a roll and cut into 4-6 equal pieces, depending on how large the apricots are.
If the dough still sticks strongly, sprinkle your hands and work surface with flour before you start to shape the dumplings.
Flatten the dough pieces and fill each one with an apricot. You can flatten them by hand or use a rolling pin. (about ½ inch thin)
Firmly enclose the apricots with the dough. Press everything down well. Take good care that no hole remains. Then shape with both hands into a ball as round as possible.
3. How to cook apricot dumplings so that they do not fall apart
Right after shaping, add dumplings to the boiling water and simmer gently for about 10-15 minutes. The dumplings are cooked when they rise to the surface. After that, they can stay in the water for a few more minutes, but not too long so they don't fall apart.
Note: The water used to boil the dumplings should not boil too much, but it should not stop boiling completely either. When small bubbles rise, is about the right temperature. During cooking, it is best to stay close to the stove and adjust the temperature if necessary.
Make Apricot dumplings in the steamer: The apricot dumplings made from potato dough can also be prepared well in the steamer. To do this, place the dumplings on a perforated tray with a little space between them and steam at 100°C (212°F) for 20 minutes. To make the finished dumplings easier to remove from the tray, grease the tray lightly with butter or neutral oil.
4. How to toast Sugared Breadcrumbs
While the dumplings are cooking, melt butter in a pan and toast breadcrumbs with vanilla sugar on medium temperature until golden brown. The breadcrumbs should be stirred constantly with a wooden spoon, because they burn very easily if you are not careful.
How to make breadcrumbs yourself - Click here for simple instructions.
Strain the cooked dumplings and roll them in the breadcrumbs.
Serve with powdered sugar - Moizeit! (Enjoy!)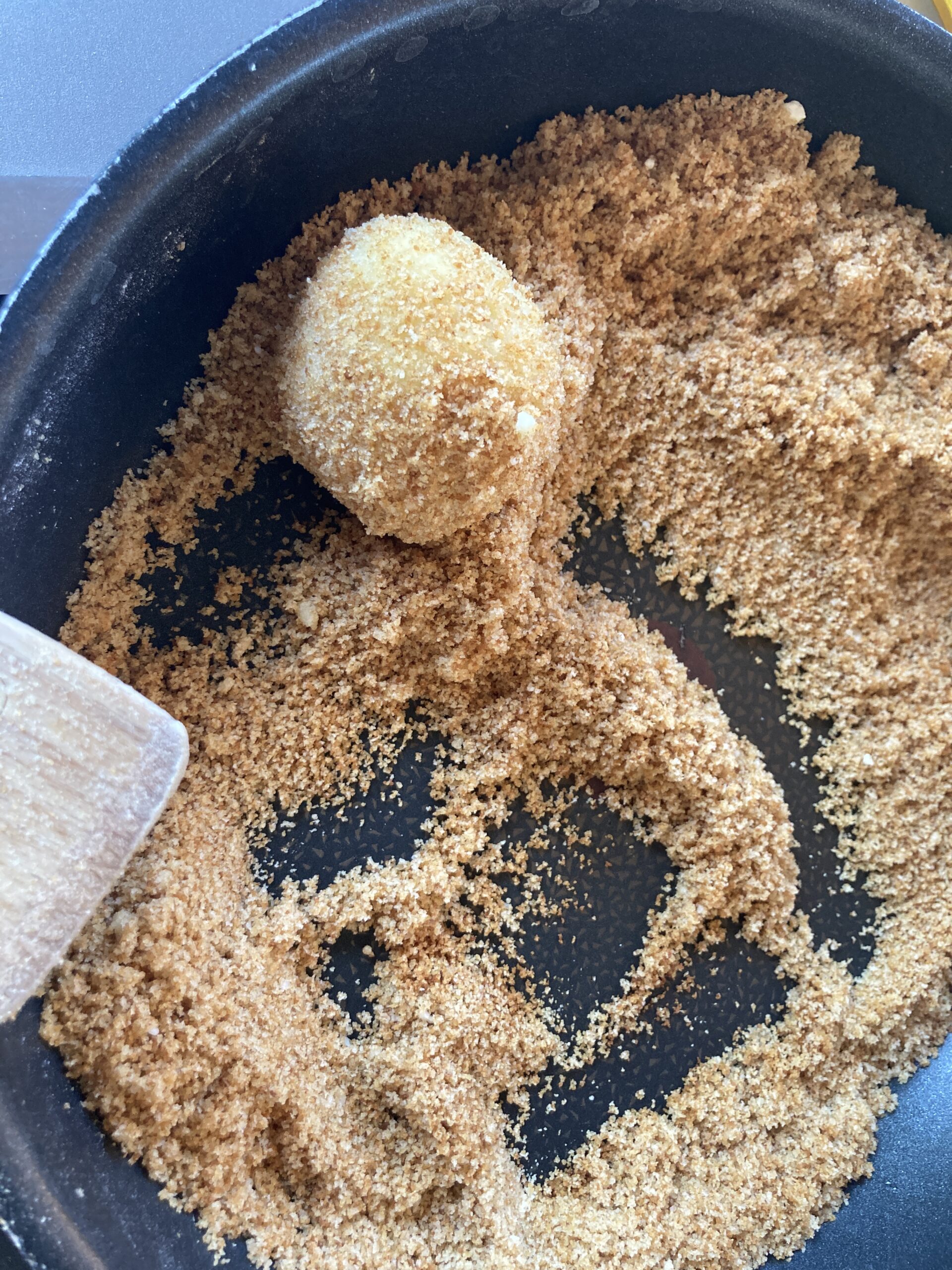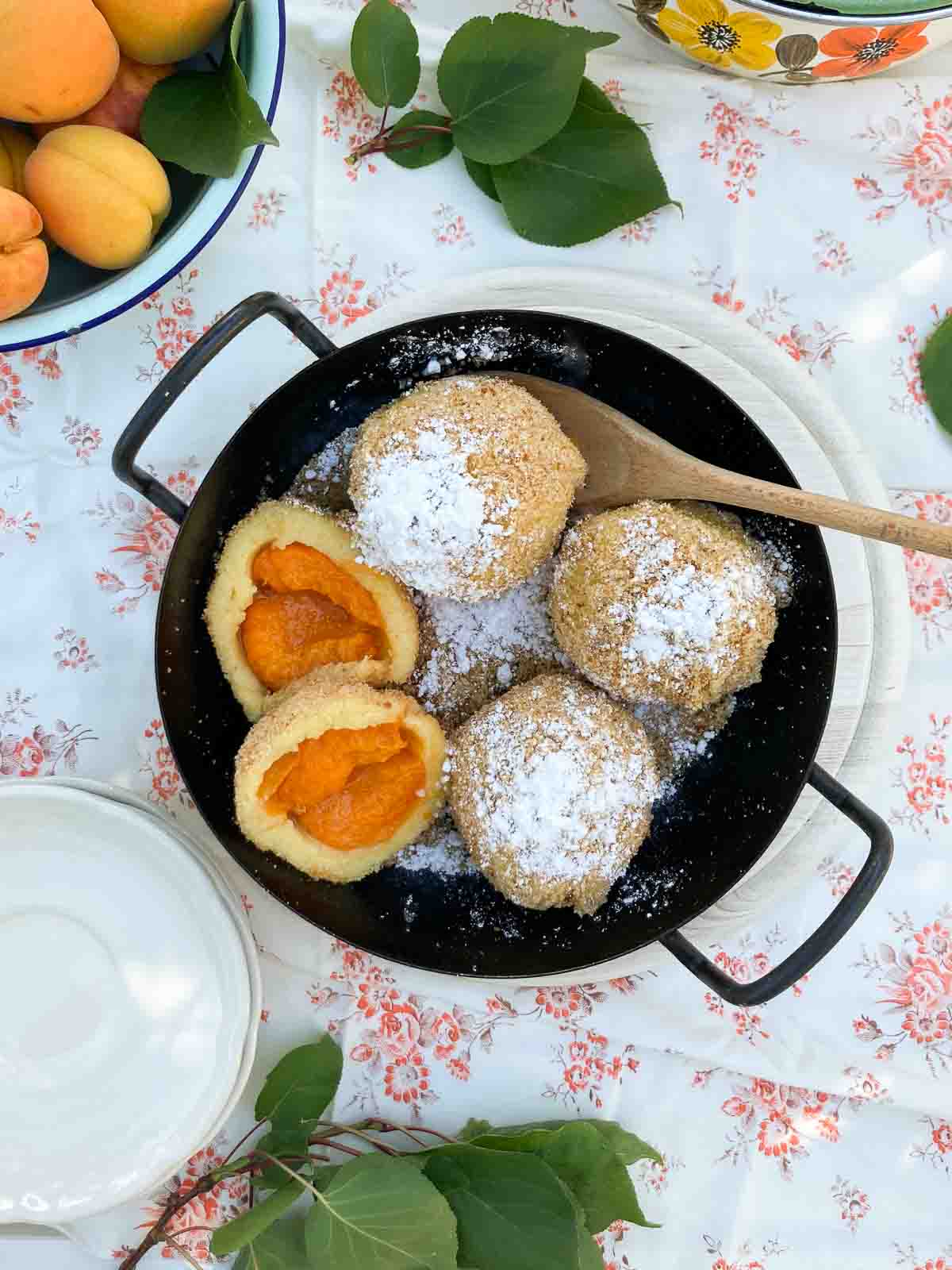 Equipment for potato dough
For pressing the potatoes best to use a potato ricer press. Potato ricers can also be used for making Gnocchi, Mohnnudeln (poppy seed noodles) and spaetzle.
If there is no potato ricer in the house, a fork or potato masher will also do. Small lumps do not normally harm the elasticity of the dough, but too large ones should be mashed with your fingers.
You can also use a grater or press the potatoes through a sieve
🖨️ Recipe Card for Print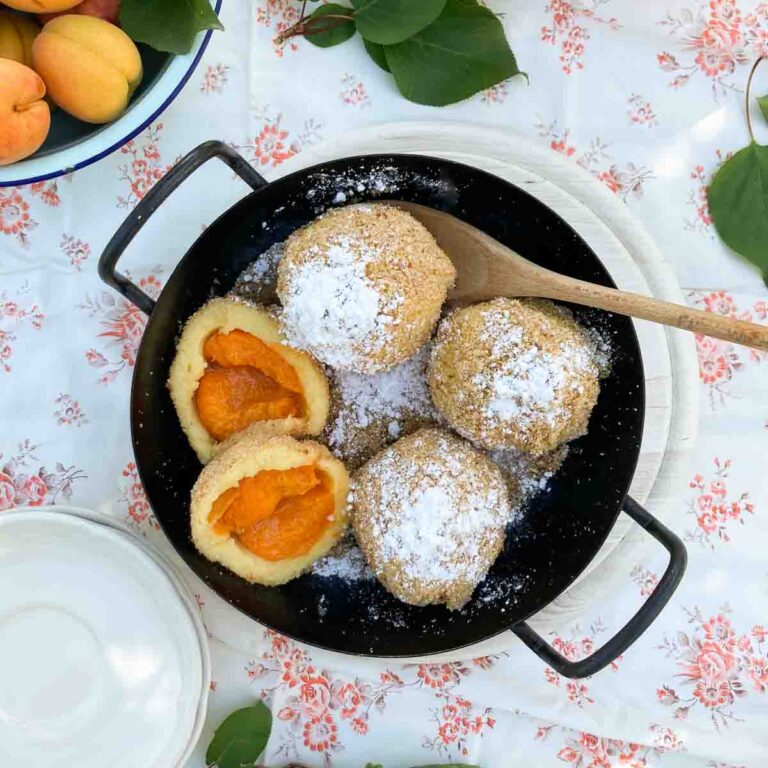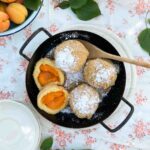 Apricot Dumplings with potato dough
Rezept drucken / Print Recipe
Auf Pinterest merken / Save on Pinterest
Recipe for easy to shape Austrian Apricot Dumplings with potato dough and toasted breadcrumbs.
Zutaten
Dumplings:
400

g

potatoes

~ 0.9lb

125

g

all purpose flour

1 cup

1

egg

pinch

of salt

4-6

apricots

depending on size

4-6

sugar cubes

optional
For the breadcrumbs:
40

g

butter

~ ⅓ stick

150

g

breadcrumbs

~ 1 cup or more to taste

1

tablespoon

vanilla sugar

optional
Further
powdered sugar

for sprinkling
Instruction
Boil potatoes with skin and let cool in the skin (best the day before). Peel just before processing.

Press through a potato ricer or grate (not in a blender!).

Knead into a dough with the flour, egg and a pinch of salt.

Cover dough and let rest for about 10-20 minutes.

Remove the apricot seeds with the handle of a wooden spoon. Pour in sugar cubes instead of the seeds.

Bring water to a boil in a large pot, salt lightly.

Divide dough into 4-6 equal pieces. If dough is still too sticky, knead with a little more flour. Fill dumplings with apricots, close well and form round.

Simmer dumplings for about 10-15 minutes until they float to the surface. Cooking time may be longer for larger or frozen dumplings.

Meanwhile, melt butter in a pan and toast breadcrumbs with sugar and vanilla sugar until golden brown.

Strain the dumplings and roll in the breadcrumbs. Serve with powdered sugar.
(c) by Angelika Kreitner-Beretits / Vienna Sunday Kitchen
Juni 14, 2023
Hast du das Rezept ausprobiert? Dann freue ich mich über deine Bewertung!! / Rate this Recipe!