This recipe for homemade potato dumplings works with flour, semolina, egg and butter.
The dumplings are easy to shape and you get fluffy dumplings that do not fall apart.
I recommend these potato dumplings especially as a side dish to Pork Roast and Sauerkraut and Roast Goose.
Jump to: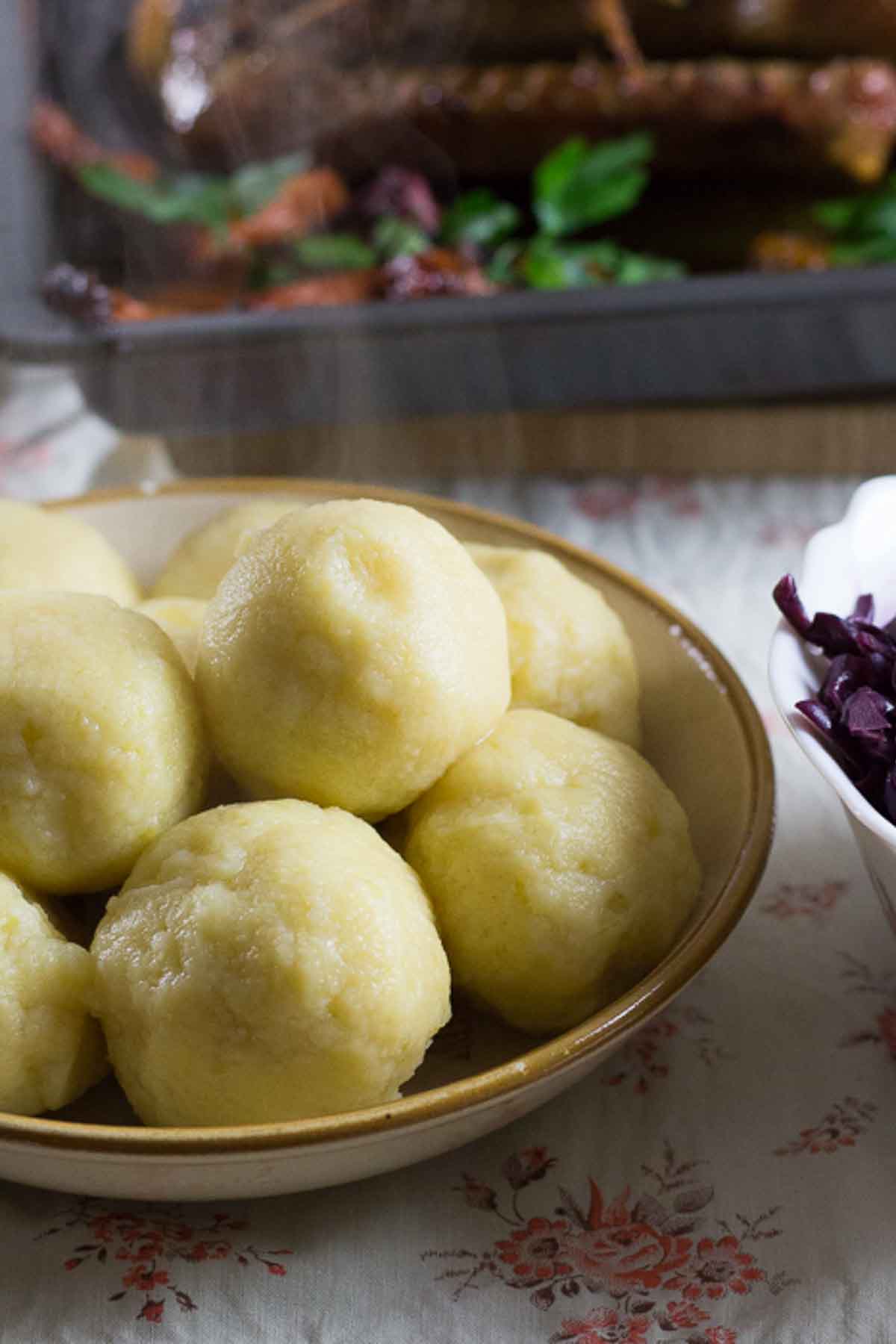 Ingredients
For this recipe you need starchy potatoes, flour, semolina, a pinch of nutmeg and salt and an egg. The exact quantities are in the recipe below.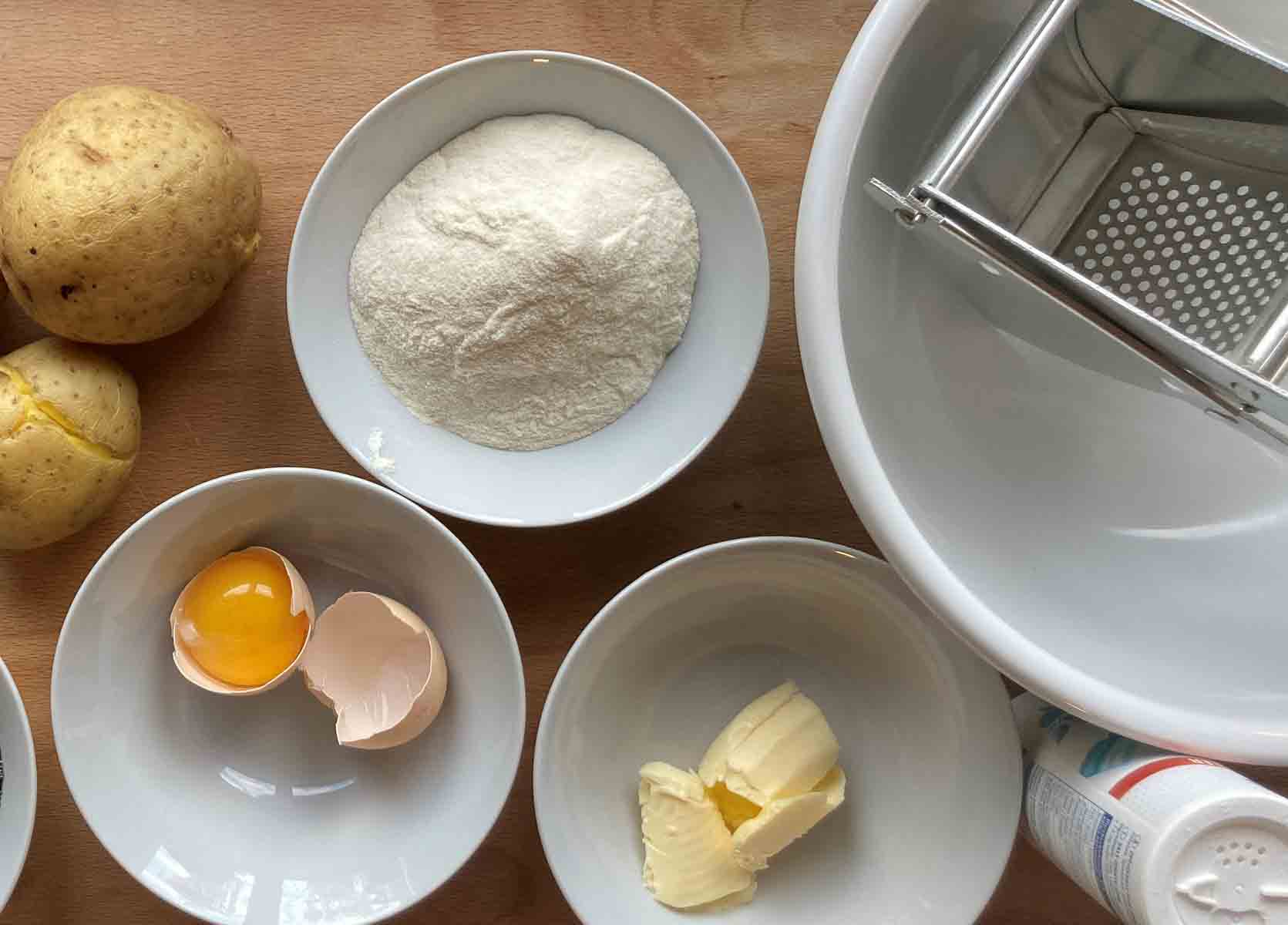 Starchy potatoes
For potato dumplings, it is best to use starchy potatoes (the one you would use for mashed potatoes) -> potatoes that are not waxy nor frshly harvested young potatoes. In this article, Martha Stewart explaines the differences about starchy and waxy potaoes.

Flour
In Austria, we use a special extra-coarse flour for dumplings. ("Griffiges Mehl") If this is not available in your area, you can use all-pupose flour as well.

Semolina
Durum wheat semolina makes the dumplings soft and fluffy. The dough is easier to shape and less sticky, if you use semolina.
On the other hand, the dumplings fall apart more easily if too much semolina is used.

Egg
Many traditional Austrian recipes for potato dumplings call for just one egg yolk. I prefer to use the whole egg though. It always gets on my nerves if I somehow have to use up or throw away the leftover egg white.
That's why I always use a whole egg for my potato dumplings. This requires more flour to be incorporated, but makes the recipe easier.
How to keep warm
Potato dumplings are ideally served fresh or kept warm in a pot with lid closed.
Do not keep in water after cooking. They might fall apart.
How to reheat
If you have to reheat the potato dumplings, you can:
microwave them
use the refresh function of your steamer
put in simmering water for just a minute or so
steam in metal strainer over saucepan with boiling water
cut into slices (~1 inch) and roast in pan with a tbsp. of oil (delicious!!!)
Please keep attention as they fall apart easily, if you reheat them for too long.
Freeze potato dumplings
Potato dumplings can be frozen very well. You can freeze uncooked, as well as cooked dumplings.
Freezing the uncooked dumplings is actually the easiest: Place on a plate or tray so they don't stick together in the freezer. After a few hours you can fill them in a container or bag. This way you can also freeze a bigger batch and just take out the amount of dumplings you need.

Before serving, do not thaw the uncooked dumplings, but rather just add directly into boiling water.
You can also freeze cooked potato dumplings, although they fall apart easier when reheating. To thaw, put out of freezer a few hours before cooking. To reheat, microwavecook, simmer in water for short time, or cut into slices and roast in some oil.
Freezing the dumplings is a great way to save time when you have lots of other dishes to make at the same time! (e.g. when you cook for a holiday)
You can freeze the uncooked dumplings a few days (or weeks) before the party and simply cook them 15 minutes before serving.
Best Austrian Potato Dumpings Recipe
Rezept drucken / Print Recipe
Auf Pinterest merken / Save on Pinterest
Recipe for homemade potato dumplings with flour, semolina, egg and butter.
Kochutensilien
potato ricer

(or grater, potato masher, (do not use blender!))

cooking pan
Zutaten
500

g

potatoes

1.1 lbs

pinch

ground nutmeg

pinch

fine ground salt

125

g

flour

1 cup

40

g

semolina

¼ cup

25

g

unsalted butter

2 tbsp.
Anleitung
Boil the unpeeled potatoes in salted water until soft. Leave to cool.

I recommend to boil the poatoes on the day before and keep in fridge overnight. This way, they dough is less sticky and the dumplings are easier to shape.

Peel potatoes and press through a potato ricer.

Alternatively use a grater or potato masher/fork.

NEVER use the mixer or blender, this kind of "destroys" the texture of the dough and the dumplings get almost impossible to shape.

Add salt, nutmeg, flour, semolina, egg and lukewarm butter.

Shortly knead together with your hands. Never knead for too long, the dough could loose its binging.

I do not recommend the kitchen maching for kneaing the dough, as it takes very little time and the result is much better with your hands.

Bring water to a boil in a big pot. Add a pinch of salt.

Form dough to a roll and cut into 6-8 equally sized pieces.

Of each piece, shape a dumpling with both of your hands.

If the dough is very sticky, dust your hands with flour. You might also have to sprinkle the dough with a little more flour. Start with just a teaspoon and use more if still very sticky.

Add dumplings to cooking water immediately. (Don't let them sit for too long)

Let simmer for about 10 minutes, depending on the size of the dumplings.

IMPORTANT: The water should always be simmering! Meaning: there should be tiny air bubbles dancing to the top but it should never boil to much or stop to simmer at all. (Stay close to pot and adjust the heat accordingly.)

If you cook frozen, uncooked dumplings, cook a few minutes longer.
(c) by Angelika Kreitner-Beretits / Vienna Sunday Kitchen
Februar 15, 2016
Hast du das Rezept ausprobiert? Dann freue ich mich über deine Bewertung!! / Rate this Recipe!
Nährwerte
Serving:
100
g
|
Calories:
150
kcal