Semolina Dumpling Soup (Griessnockerl Soup) is one of the most popular Austrian classics. Ultimate Austrian "Soulfood"!
Semolina dumplings are usually served in a clear soup.
I made the semolina dumplings here with a quick, homemade vegetable soup.
Alternatively, beef soup or chicken soup also goes very well.
Jump to: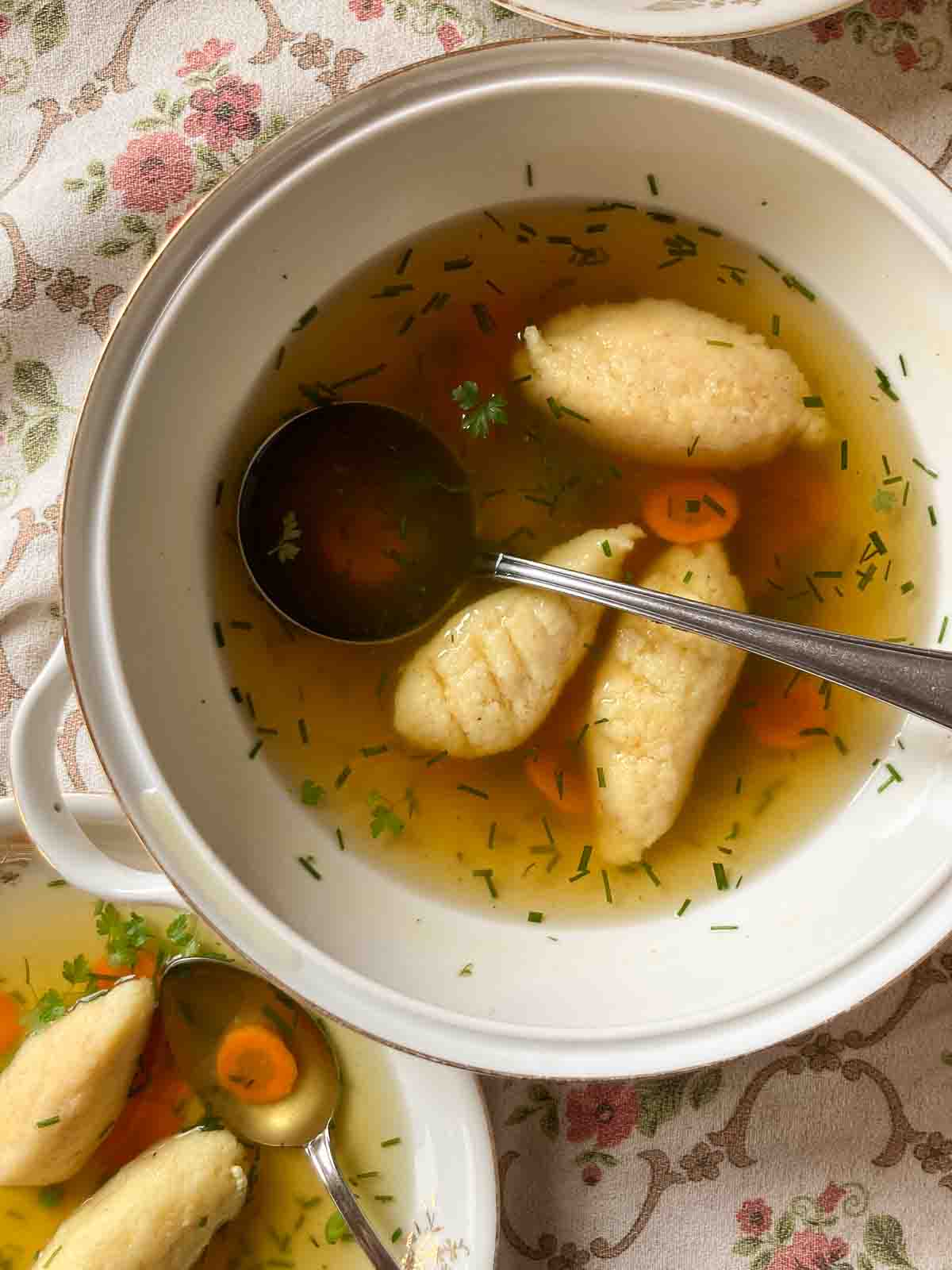 Ingredients
For the semolina dumplings:
Durum wheat semolina - finely grated, the packaging usually states which dishes the semolina is suitable for
egg
butter - unflavored
salt
nutmeg - grated
The traditional basic recipe for semolina dumplings is
weigh 1 egg (usually weighs about 40-50 grams)
add exactly as many grams of butter as the egg weighs
add twice as many grams of semolina as the egg
But for us personally, the taste of butter is too dominant in the traditional basic recipe. The recipe below therefore only uses 30g of butter for 1 egg. As a result, you also need a little less semolina (i.e. not twice the amount), so that the dumplings don't become too hard.
How to form Grießnockerl (Semolina Dumplings)
The semolina dumplings can be formed with the help of 2 wet spoons or with just one spoon and the palm of your hand. In the video below I show both ways.
The advantage of shaping with 2 spoons is that you don't get your hands dirty. The dumplings are not pressed together as hard with the spoons, which makes them fluffy but also allows them to fall apart a little more easily.
When shaping with the palm of your hand, you can press the dumplings together a little harder. This means they won't fall apart as easily, but will also be firmer and less fluffy. (Fluffy is what we aim for 😉 )
Freeze
Semolina dumplings are good for freezing.
Place the semolina dumplings on a plate, foil or similar so that they do not touch each other when freezing. Once frozen, you can transfer them to a container/bag etc.
This way, the dumplings do not stick together and can also be removed separately.
To thaw, you can add the frozen dumplings directly into the hot soup or let them simmer briefly in hot water. Don't overcook or they will fall apart.
Alternatively, the deep-frozen dumplings can also be thawed at room temperature for 1-2 hours and then placed in the hot soup, a few minutes before serving.
Recipe Card for Printing:
Austrian Grießnockerl (Semolina Dumplings)
Rezept drucken / Print Recipe
Auf Pinterest merken / Save on Pinterest
Recipe for traditional Austrian Grießnockerl (Semolina Dumplings)
Zutaten
1

egg

30

grams

butter

70

g

durum wheat semolina

1

pinch

grated nutmeg

salt
Instruction
Whisk together the softened butter with the egg and salt. Mix with semolina and season with grated nutmeg.

Cover and let rest in the fridge for 15 minutes.

In a saucepan, bring water to simmer, salt.

Form 6 dumplings with two wet tablespoons: Use one spoon to take the dough out of the bowl and use the second to shape the dumplings. (See video in blog posting above.)

Carefully slide the dumplings into the simmering water.

Let simmer for 15 minutes: very small air bubbles should rise to the surface, but it should never boil too much.

Turn off the heat, cover with lid and leave in hot water for 15 minutes. The cooking time is slightly shorter for small dumplings.
(c) by Angelika Kreitner-Beretits / Vienna Sunday Kitchen
März 1, 2023
Hast du das Rezept ausprobiert? Dann freue ich mich über deine Bewertung!! / Rate this Recipe!
Notizen
Serve in clear soup like vegetable, beef or chicken broth.
Nährwerte
Serving:
50
g
|
Calories:
100
kcal