My personal favorite recipe for chanterelle mushroom sauce for pasta tastes a bit lighter than the usual mushroom sauces you get in Austrian restaurants.
The recipe for this yellow chanterelle mushroom sauce is with lots of zucchini and chives, and less cream than in many traditional recipes. This makes the sauce taste summery and light, despite the cream.
Jump to:
In Austrian cuisine, chanterelle sauce is usually served in combination with bread dumplings. This tastes wonderful, but it's a bit too heavy for a hot summer day in my opinion.
So this time I combined the sauce with my homemade green herb pasta. The pasta has parsley and chives added, typical herbs for Austrian cuisine.
A good alternative to the homemade herb pasta would be green pasta with spinach.
Harvesting Yellow Chanterelle Mushrooms
Please be careful when you go mushroom picking and do not know your way around. Inform yourself well beforehand which varieties are edible and which are poisonous, or go collecting together with an expert person.
This Mushroom Guide on Chanterelle by "Wild Food UK" provides a good overview on how to identify chanterelle mushrooms and their poisonous doppelgaengers in the wilderness.
Real chanterelles can be confused with false chanterelles (Hygrophoropsis aurantiaca), which are orange, or with zhe rare, but poisonous Jack O'Lantern (Omphalotus illudens). So please inform yourself before collecting or take an expert with you.
In the picture below you can recognize the chanterelles well by their continuous yellow color and lamellae. They grow in groups in the forest and have season from June to autumn, depending on the region.
How to Cook Chanterelle Mushrooms
The most important thing when cooking chanterelle or any other fresh mushroom is not to wash them! The mushrooms will soak up the water and become slushy and slippery.
Instead, carefully clean with a cloth or paper towel. Mushroom dishes are easily perishable and should never be kept warm for too long or stored outside the refrigerator.
Leftovers should be refrigerated as soon as possible after eating, and used within a day. In addition, leftover mushroom dishes should be reheated no more than once, because if reheated too often, toxic substances can form that cause stomach upset.
Maybe you'll also like the following recipes: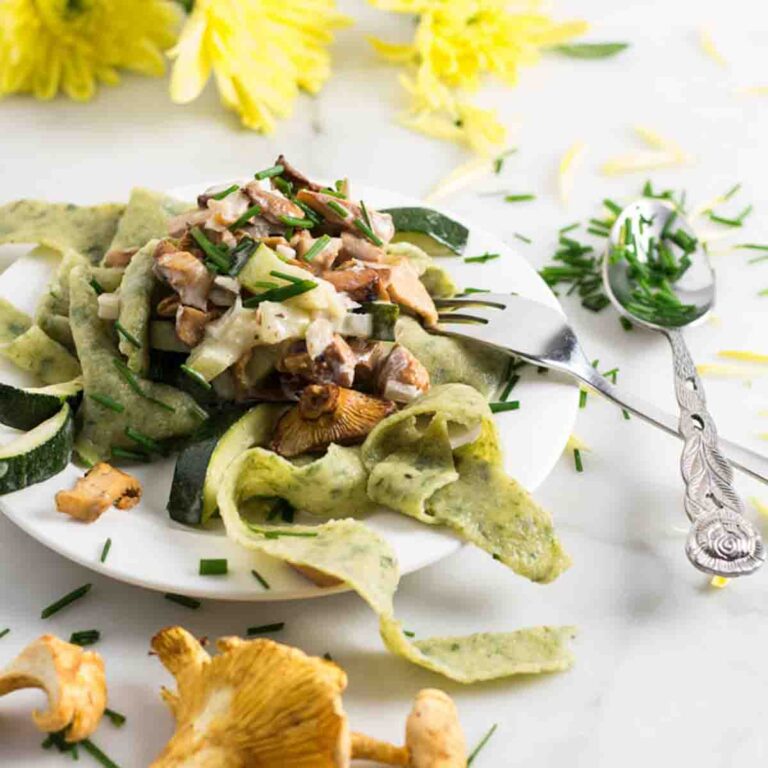 Chanterelle Mushroom Pasta with Zucchini, Herbs and Cream
Rezept drucken / Print Recipe
Auf Pinterest merken / Save on Pinterest
Quick and easy Chanterelle Mushroom Pasta Recipe with Zucchini, Herbs and Cream.
Zutaten
250

g

chanterelles

0.5 lb / 8-9 oz

1

small onion

2

cloves

garlic

1

small zucchini

250 g / 0.5 lb / 8-9 oz

100

ml

cream

½ US cup

4-5

tbsp.

oil

~300

g

pasta

e.g. green pasta with spinach or herbs

salt

pepper
Instruction
Bring to boil a pot of water. Add pasta (+ 1 pinch of salt). Cook until al dente. Drain the water.

Clean the chanterelles carefully with a paper towel and /or a pastry brush. (Do not wash them!) Cut into pieces.

Chop small the onion, the zucchini and the chives. Press or chop small the garlic.

Heat up a pan with 4-5 tbsp. of oil. Add the onion and cook until translucent.

Add garlic and chanterelles. Cook until the chanterelles are soft (high to medium heat for just a few minutes, eventually add more oil).

Add the zucchini and the cream. Stir regularly. Cook for another few minutes (I prefer when the zucchini is not too soft). Salt and pepper.

Serve with the pasta and add chives on top.
(c) by Angelika Kreitner-Beretits / Vienna Sunday Kitchen
August 21, 2023
Hast du das Rezept ausprobiert? Dann freue ich mich über deine Bewertung!! / Rate this Recipe!