This homemade green pasta is made with parsley and chives. It tastes wonderfully fresh and "green" and fits perfectly with a sauce of chanterelles, which are now in season (at least in Austria). The herbs are from my granny's garden in Burgenland, so you can't compare the taste to bought ones… 😉 (Go to recipe directly)
Last week I drove my grandmother to her "summer residence" in Burgenland (at the countryside, two hours drive from Vienna). There she spends the summer months, pulling her zucchini, cooking jam and pouring the flowers (this is actually pretty hard work, even more for a 88-year old).
Before we leave Vienna, we stuff the car with about 100 cooling boxes, packed to the top with Schnitzel, Marillenknödel and Goulash (and heavy stones, I assume). My granny prepares all of that in advance, in case of famine. Or in case the rest of the family announces a surprise visit and 30 people appear all at once. (You never know!)
... after that we drag about 20,000 plant pots with geraniums, which have been hibernating in Vienna. Most importantly, we add a few bags of empty jam jars (for pickling), and LOTS of breadcrumbs (for the Austrian way of cooking and living, you need lots of it!). And off we are! Roadtrip!
From this wondeful garden of hers, I obtained lots and lots of parsley and chives. Parts of it I processed into noodles.

Tips for homemade green pasta
I think the noodles taste best when they are eaten fresh (let it dry only 1-2 hours). Thus, the herbs are not yet dried, and taste more intense. However, they can of course dry for longer and be kept in stock. This way, let them dry in a place with enough air (don't put in a box when not fully dried). Let dry for 1-2 days.
I prepared the noodles without a pasta machine, because in my apartment is no place for kitchen tools that you only need once a year ;). The preparation of the dough is not particularly onerous, but rolling out the dough can be a bit exhausting. One should really roll out the dough as thin as possible!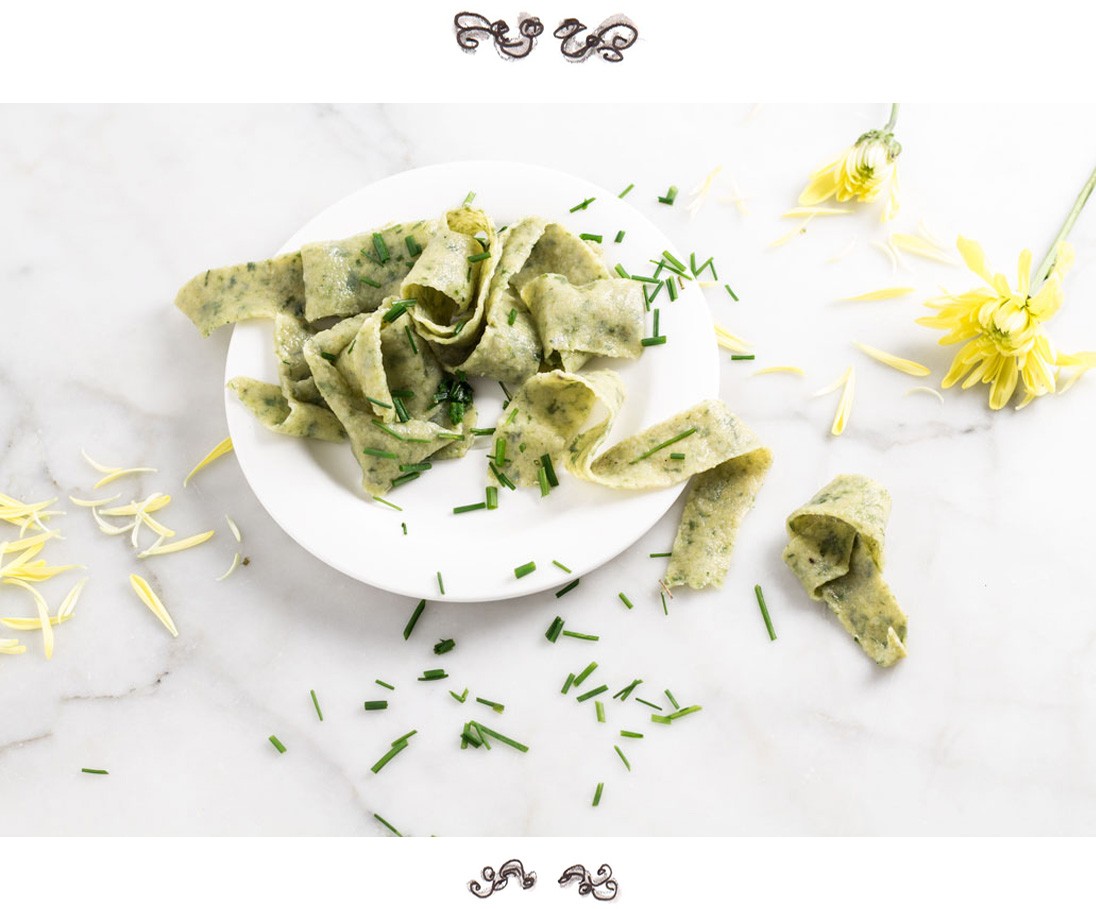 Instructions for homemade green pasta
Homemade green pasta with granny's garden herbs
Rezept drucken / Print Recipe
Auf Pinterest merken / Save on Pinterest
Zutaten
30

g

all purpose flour

~0.24 US cup or 1oz

50

g

spelt flour (wholemeal)

~0.42 US cup or 1.76 oz

50

g

pasta wheat (durum wheat)

~0.3 US cup or 1.76 oz

25-30

g

herbs (fresh or frozen)

~1 US cup or 0.9 oz; e.g. parsley and chives

1

egg

1

tbsp.

water

1

tbsp.

olive oil

½

tsp.

salt

pepper
Instruction
Mix herbs with 1 tbsp. of water, puree to a paste. For example, with a hand mixer, or chop small with a knife. Add salt and pepper.

Mix wheat flour, spelt flour and durum wheat in a bowl.

Whisk the egg and add to the bowl.

Now mix all of the ingredients in the bowl and knead well with your hands. Depending on the nature of the flour you may need to add more flour or more olive oil.

Cover the bowl and let rest in the fridge for half an hour.

With a rolling pin, roll out as thin as possible on a floured surface. Cut pasta in any form. I rolled the dough like an Austrian Crepe (Palatschinke) and cut pieces thick as a thumb (see pictures). (Or you have a pasta machine, then you hopefully know what to do.)

Allow the pasta to dry for 1-2 hours and then cook for 3-4 minutes in salted water. (The waiting time is not absolutely necessary but kind of improves the texture of the pasta)
Hast du das Rezept ausprobiert? Dann freue ich mich über deine Bewertung!! / Rate this Recipe!