In this recipe for pickled peppers with vinegar, olive oil, garlic and chili, the peppers are baked in the oven before pickling and then peeled.
This makes them taste deliciously sweet and aromatic.
The dish is perfect as a side for meat or fish, with all kinds of mediterranean dishes and pita bread and, for example, for bbq on a hot summer evening.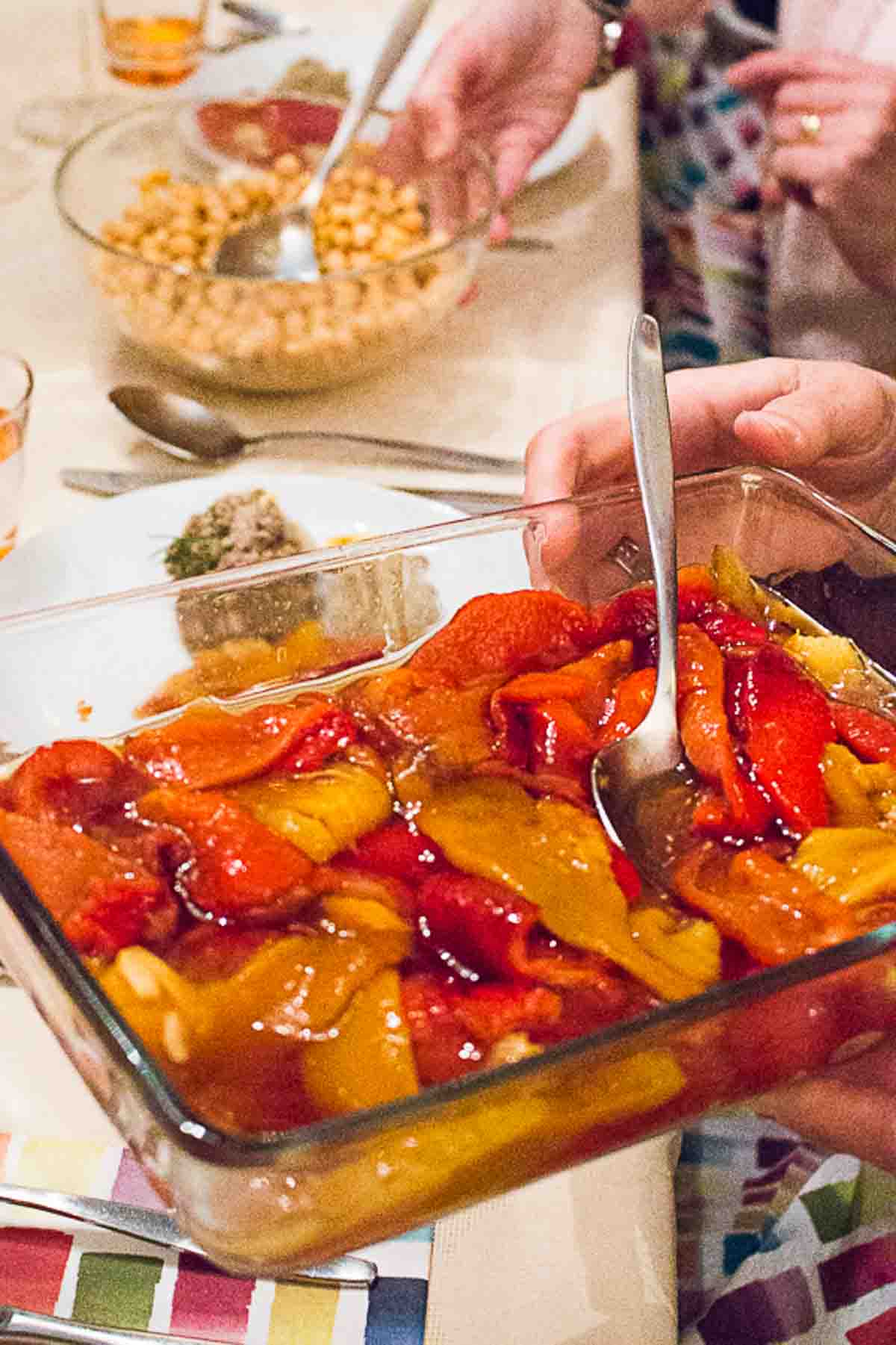 The recipe for pickled peppers comes from a cooking class by Maschi Mermelstein-Stössel and was so well received by all participants that I don't want to withhold it from you!
You can learn more about Maschi's Kosher cooking classes in Vienna and Tel Aviv here.
And here is the recipe for the Pickled Peppers to print or save:
Mediterranean Pickled Peppers (Baked in Oven)
Rezept drucken / Print Recipe
Auf Pinterest merken / Save on Pinterest
Pickled Peppers baked in the oven and pickled with vinegar, olive oil, garlic and chili. Serve as starter or side dish for meat or fish, with all kinds of mediterranean dishes and pita bread, but also for bbq on a hot summer evening.
Zutaten
5

large red paprika or red and yellow mixed
For the marinade
2

tablespoon

apple vinegar

2

tablespoons

mild white wine vinegar

Salt and sugar to taste

2

cloves

of garlic

chili flakes to taste

3

tablespoons

olive oil
Anleitung
Rinse large, fresh paprika quickly under cold water and dry well.

Turn the grill on in the oven.

Cover the grill grate with aluminum foil and fold the edges of the foil slightly upwards so that the leaking juice does remain on the foil.

Place the peppers on the griddle next to each other, and do not leave the oven out of your eyes, as the paprikas get burnt easily.

Turn the peppers clockwise every 3-5 minutes, until the skin gets bubbles and looks quite burnt. Attention! It can get very hot.

Remove the peppers from the oven, fold the aluminum foil immediately over the peppers, close well, and let cool for ½ hour.

Then the core can be easily removed and the skin can be easily peeled off. It is best to work over a dish on which a sieve has been placed. Thus, no juice is lost and the seeds and skin remain in the sieve. The pods are cut into wide strips.

Each piece of paprika is salted well so that the natural sweet taste is slightly attenuated. Add garlic flakes and chili and put into a baking form.

Make a light marinade from vinegar, the juice of the peppers, olive oil, sugar and some water. Heat this marinade in the microwave briefly and immediately pour over the peppers.

The marinated peppers should rest a night in the refrigerator before serving them to crispy challah or baguette. Well-chilled, these marinated peppers remain fresh for several days.
(c) by Angelika Kreitner-Beretits / Vienna Sunday Kitchen
Juni 7, 2017
Hast du das Rezept ausprobiert? Dann freue ich mich über deine Bewertung!! / Rate this Recipe!