Schupfnudeln are a popular Austrian and German homestyle dish which is served in lots of sweet and savoury variations. In this article, I show you how to make Schupfnudeln from potato dough at home.
The most popular Austrian dish with Schupfnudeln is to serve them as "Mohnnudeln" with poppy seeds, melted butter and sprinkled with powdered sugar...
Jump to:
Advice for making potato dough
Use floury potatoes
High-starch, floury potatoes (the ones you use for mashed potatoes) are best suited for potato dough.
In case of "emergency" it is also possible to make Mohnnudeln with waxy potatoes, but they are not as easily crushed, and often larger pieces of potatoes stay in the mass.
Cook potatoes the day before
It is easier to knead the dough, when the potatoes are cooked the day before. If this is not possible any more, it also works with freshly cooked ones, but you will need more flour in this case. The potatoes should be chilled in any case.
Press the potatoes through a ricer, never mix with a blender
Use a potato ricer or potato press for pressing the potatoes. Do not use the blender or mixer. As a result, the potatoes would become sticky and we do not want that!
If you don't have a potato ricer, you can use a grater, a sieve or even a fork or potato masher.
Advice for rolling the noodles
The dough is rolled into thick noodles, each noodle by hand, one by one. To do this, take a tablespoon of dough out of the bowl and roll the noodle with one hand on the table surface. The noodles are traditionally thicker in the middle and tapering at both ends. To achieve this, I roll the noodles with a somewhat hollow hand.
The rolling of the noodles can take some time if you do it alone.
-> So this is a perfect opportunity to watch TV or listen to music meanwhile, or to ask your crew to join you!
This is how the rolling looked at my last try. I could not find floury potatoes at the time when the video was made, therefore you can still see the potatoe chunks I talked about!
Shelf life & Freezing
Schupfnudeln taste best fresh, but can be kept in the fridge for a few days. To reheat it is best to heat it in the microwave or in a pan with a little butter, but do not cook again.
Schupfnudeln are best frozen when they are already rolled but not yet cooked.
To freeze, place the uncooked Schupfnudeln on a plate or board in the freezer. When they are frozen, transfer them to a container or baggie. This way they won't stick together and can be taken out one at a time.
To prepare, place the frozen raw Schupfnudeln directly into boiling water and simmer gently as in the recipe. The cooking time is extended by a few minutes compared to fresh noodles.
Schupfnudeln can also be frozen when they already have been cooked. To freeze as described above, separately on a board. Thaw them for a few hours in the refrigerator. Then fry them in a pan. After defrosting do not cook again because otherwise they might easily fall apart.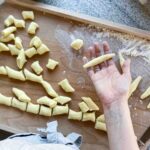 Schupfnudeln - Austrian Style Gnocci
Rezept drucken / Print Recipe
Auf Pinterest merken / Save on Pinterest
Schupfnudeln - Austrian Style Gnocci made of potato dough can be used for a variety of sweet and savory dishes, for example with poppy seeds and powdered sugar or also with fried Sauerkraut.
Zutaten
400

g

floury potatoes

125

g

pastry flour

25

g

unsalted butter

1

egg yolk

pinch

salt
Instruction
Take the butter out of the fridge a few hours before kneading the dough. It should be at room temperature

Cook potatoes one day ahead. Peel and press the potatoes until a fine mass without chunks.

In a bowl, mix all ingredients for the dough. Knead with your hands for a minite or so until a smooth dough. Do not knead for too long.

Form rolls and cut them into evenly sized pieces.

To make a noodle, take about 1 spoonfull of dough and roll it with one hand. (see video in posting)

Add noodles into boiling water and let simmer on medium temperature for 10 minutes. When cooked, they'll swim on top. Sieve well.
(c) by Angelika Kreitner-Beretits / Vienna Sunday Kitchen
September 14, 2023
Hast du das Rezept ausprobiert? Dann freue ich mich über deine Bewertung!! / Rate this Recipe!
Nährwerte
Serving:
150
g
|
Calories:
150
kcal