In Austrian and Viennese Cuisine you need the breadcrumbs for (almost) every dish.
Making them at home is very easy to do in a blender, even without a special grinder.
Benefits of Homemade Breadcrumbs
Better taste: my grandma swears by homemade bread cubes and breadcrumbs. Because they are fresher, they are less dry than bought ones. You can taste that in the end product.
Zero Waste - no waste of old cakes
Healthier options: breadcrumbs can also be made from dark bread. However, these do not go so well with most sweet pastries. (Exception: spelled breadcrumbs)
For savory dishes such as bread dumplings, breadcrumbs made from rye bread are also an option.
you can quickly make breadcrumbs yourself if you don't have any at home. Fresh rolls or white bread can be dried in the oven at a low temperature.
Instructions
Step 1 - Dry rolls
Cut rolls, baguettes or white bread that you no longer eat into small pieces or slices and let them air dry for a few days.
When drying, it is important to find a place where there is not too much moisture. (For example in the kitchen not directly by the kettle or stove, because water is constantly evaporating here…)

Tipp: It is easier to roughly cut the pastries before drying. Already dry cutting is more effort and crumbles more ;). In addition, the pastry dries faster if it is already cut into small pieces. This can prevent any mold growth.
If it has to go faster, you can also let the small rolls dry in the oven at 50°C for about 2 hours. It also helps to leave the oven door slightly ajar with a wooden spoon so that moisture can escape. (Alternatively, keep opening the door briefly while baking.)
The time in the oven depends on how many rolls are dried and how small they are cut.
Stale remains of white bread and rolls can be continuously collected and dried over several weeks and months. If stored properly, the dried rolls will keep for several months (and longer).
A box or cloth bag, for example, is suitable for storing the rolls.
Do not store near onions, garlic or sausages, etc., so that the rolls do not absorb the smell.
Instead of breadcrumbs, the dried bread is also great for bread dumplings, bread cubes or as a soup ingredient.
Step 2 - Grate breadcrumbs
When the breadcrumbs have dried, they are grated. You can do this in many different ways:
If you don't have a crumb grinder or food processor with a suitable attachment, you can use a mixer or blender instead:
Do not put too many pieces in the blender at once so that the crumbs are evenly sized.
The dried rolls can also be grated with a hand grater.
Alternatively, there is also the option of packing the crumbs in a plastic bag and then rolling them over them with a rolling pin until everything is small.
Storage
Store the breadcrumbs airtight, for example in a container or a jar.
Important: the breadcrumbs must be completely dry so that they don't start to mold!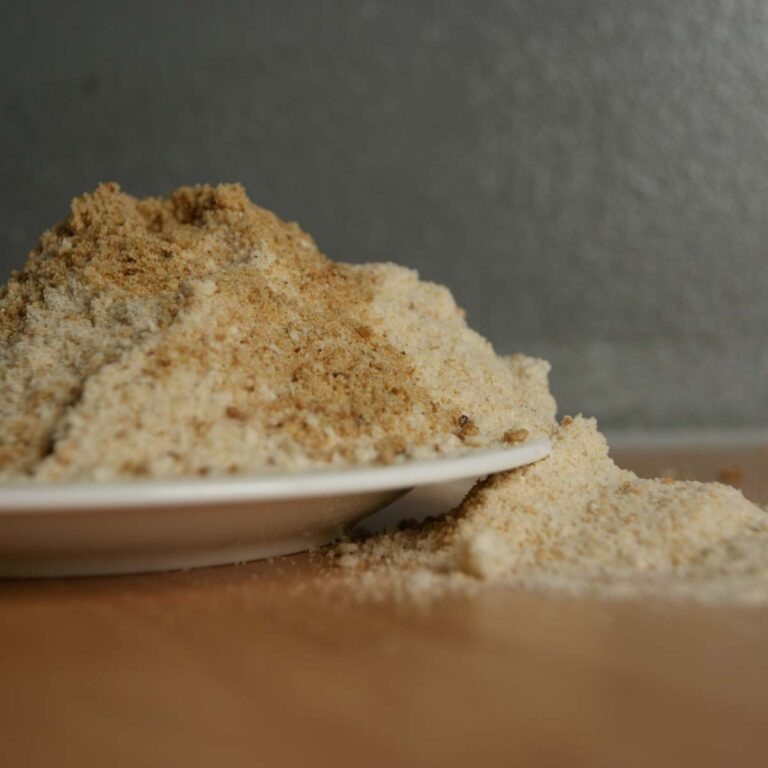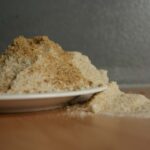 Homemade Dried Breadcrumbs
Rezept drucken / Print Recipe
Auf Pinterest merken / Save on Pinterest
Making homemade breadcrumbs is very easy, also without a grinder or food processor.
Kochutensilien
blender
(alternatively kitchen grater, plastic bag & pasta roller, grinder, food processor)
Zutaten
white bread, rolls, baguette
Instruction
Tear apart or cut bread in small pieces.

Leave to dry for a few days.

Alternatively let dry in oven at low tempertaue for about 1-2 hours.

Put in mixer and grind until small crumbs. (Don't overfill)

With plastic bag and pasta roller: put bread in plastic bag, close well and roll with pasta roller until small crumbs.

Store in airtight container. (make sure breadcrumbs are fully dried)
(c) by Angelika Kreitner-Beretits / Vienna Sunday Kitchen
Februar 15, 2016
Hast du das Rezept ausprobiert? Dann freue ich mich über deine Bewertung!! / Rate this Recipe!
Nährwerte
Serving:
100
g
|
Calories:
395
kcal