With this simple recipe and detailled instructions, your bread dumplings (Semmelknödel) will be a success and not fall apart when shaped and cooked.
Further down in the article there are all the bread dumpling tips from my Viennese Grandmother and the detailled recipe.
Jump to recipe
---
Making bread dumplings at home is not difficult, and above all much better than buying them.
I like them with roast pork, with roast goose, beef goulash or a pan of cooked lentils with onions. Bread dumplings also go very well with smoked meat and Sauerkraut.
Leftovers of bread dumplings taste super yummy when roasted in a pan with onions, bacon and eggs. (You can even toss in some of this leftover short pasta or potatoes and call the dish a "Grenadiermarsch")
Jump to:
Ingredients
To make Austrian bread dumplings, you'll need:
white bread, dried and cubed, unflavoured - I usually buy the cubes, but depending on where you live, they might not be available in your local grocery store. You can easily make them at home: cut white bread into cubes (½ inch) and leave them to dry on a plate for about 3 days. Alternatively, you can dry them in the oven. (For about 1-2 hours at 50°C/120°F) If they are not fully dried you can still use them for the dumplings, but you might have to adjust the amount of milk or bread crumbs later on in the recipe.
onion, white or yellow, medium-sized
parsley, chopped - I prefer to use frozen parsley that's already chopped when it's not in season. (You can also freeze it yourself in the summer.)
egg
butter, unsalted - alternatively some neutral oil, but they taste much better with butter
milk - alternatively, the dumplings also work well with oat milk or soy milk, then of course they taste a bit different
breadcrumbs, unflavoured - when the dumpling mixture is ready, you need some more breadcrumbs so that the mixture is not too sticky. Many recipes use flour instead, but I find the dumplings with breadcrumbs fluffier and better in taste.

How to make breadcrumbs from scratch

salt
nutmeg, grated - optional
pepper - optional
Video
Instructions
Benötigte Zeit: 30 Minuten.
Detailed instructions with pictures for fluffy bread dumplings that don't fall apart:
Warm the milk and pour over the breadcrumbs

Weigh the breadcrumbs and place in a large bowl. Heat the milk (it can also be hot) and pour it over the cubes. Stir the bread cubes so that the milk can be absorbed evenly by all bread cubes.

Cut onions

Cut onions into very small cubes.

Cook onions

Melt butter in a pan. Add onion and sauté until translucent. This means that you sauté the onions on medium heat, stirring constantly, until they are soft and look a little "transparent". Stirring will prevent them from browning.

Add onions, spices and egg

Mix the soaked bread cubes with the onions, parsley, salt, pepper and nutmeg. When the mixture is no longer hot, add the egg as well. (If the egg comes into contact with milk or onions that are too hot, it may scramble.)


Let rest

Let rest for about 10 minutes.

Add breadcrumbs

Depending on how sticky the bread dumpling mass is, you may have to add breadcrumbs.
Bit by bit, add a few tablespoons of crumbs and mix in with your hands. When the mass does no longer stick on your fingers, you can start to form the dumplings.
If too many crumbs were accidentally added, the dumplings might fall apart. An extra egg will then come to the rescue.


Shape dumplings (see also video above)

Depending on how big you want the dumplings, divide the dough into equal portions and shape into balls.
Many people like to shape the dumplings with wet hands when the dough is very sticky. With the recipe below, however, that has never been necessary for me.

Cook dumplings

Bring water to a boil in a large pot. (5-6 litre pot or about 6 quart or bigger)
Add a pinch of salt.
Using a ladle, lift the dumplings into the water.
Let simmer for about 15 minutes (low heat). Big dumplings a bit longer.

The water for the bread dumplings should always simmer, but never boil too much. That's why you should always stay close to the pot and adjust the cooking temperature if necessary.

Important: do not stir the dumplings, they might fall apart!

When the dumplings rise to the surface, they are done cooking.
After cooking, the dumplings should not sit in the hot water for too long so that they don't fall apart.

FAQ
Bread dumpling mass is too sticky
If the mass sticks too much to your fingers when forming dumplings, wet hands can help.
It could also be that the dumpling mass is too moist and needs a little more breadcrumbs: add the breadcrumbs little by little so that the dumpling mass does not become too dry. "Work" well into the mass with your hands so that everything mixes well. When the mass does not stick to your hands anymore, you can shape the dumplings.
Bread Dumplings fall apart
If the uncooked bread dumpling mass does not hold together well, it might be either too wet or too dry. An additional egg provides more binding, when too dry. Mix the mass again very well with your hands so that the egg is evenly distributed. Then let it rest for 10 minutes.
If the mass is very sticky and wet, add breadcrumbs and mix in until it no longer sticks on your hands.
Bread Dumplings fall apart during cooking
If the bread dumplings fall apart during cooking, there can be several reasons, including:
1. The water is boiling too much
2. The water boils too slowly or has stopped boiling
3. Not enough egg was mixed in
4. The dumpling mass could not rest long enough
5. The dumplings have been "forgotten" after boiling in the water
6. The dumplings were stirred during the cooking.
….
To prevent the dumplings from falling apart during cooking, you can first cook a small "test dumpling". If this one falls apart, the mass has to be improved with egg, possibly more milk or breadcrumbs.
---
Maybe, you also like:
---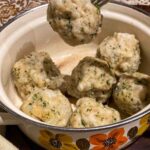 Recipe for Austrian Bread Dumplings (Semmelknödel)
Rezept drucken / Print Recipe
Auf Pinterest merken / Save on Pinterest
With this simple recipe and detailled instructions, your bread dumplings (Semmelknödel) will be a success and not fall apart when shaped and cooked.
Kochutensilien
bowl
to mix dumpling mass
cooking pot
5-6 litres / 6-8 quarts
Zutaten
5

cups

dried bread cubes

200g, white bread, unflavoured

1+½

cups

milk

300ml

1

tbsp.

butter

40g

1

onion

white or yellow medium-sized

1

tbsp.

parsley

chopped

1

pinch

nutmeg

grounded

1

tsp.

salt

1

pinch

pepper

optional

4

tbsp.

breadcrumbs

50g, unflavoured
Instruction
In a large bowl, pour warm/hot milk over the breadcrumbs. Stir well.

Chop the onion very finely and sauté in a pan with butter until translucent. (I.e. until soft and "transparent" but not too brown yet.)

Mix onion with bread cubes, add parsley, nutmeg salt and pepper.

When the mass is no longer hot, add an egg, mix well with your hands. Let rest for 10 minutes so that the bread cubes can absorb the liquid well.

If the mass is still very sticky after the resting time, gradually knead in breadcrumbs.

Form 4-8 bread dumplings depending on the desired size.

Meanwhile, bring water to a boil in a large pot, add apinch of salt.

Place dumplings in boiling water and simmer at low temperature for about 15 minutes. When the dumplings rise to the surface, they are done.

Alternatively in the steamer: at 100°C (212°F) for 20-30 minutes (depending on the size of the dumplings)
Hast du das Rezept ausprobiert? Dann freue ich mich über deine Bewertung!! / Rate this Recipe!
Notizen
Goes well with roast pork, roast goose or even a Jägerschnitzel, goulash, mushroom sauce or lentil sauce. Bread dumplings also go very well with smoked meat and Sauerkraut.
You can find frequently asked questions and tips about the bread dumplings in the blog post above.
Nährwerte
Serving:
88
g
|
Calories:
150
kcal