The elderberry bush has long enjoyed great popularity for its delicate white flowers and the beguiling aroma they exude.
In addition to their beneficial effect on the senses, elderflowers also offer numerous health benefits.
In the kitchen, both the flowers and berries of the black elderberry (Sambucus nigra) are used in the preparation of elderflower and elderberry dishes.
While the flowers of the black elderberry can also be used in an uncooked state, the red or black berries are slightly poisonous raw and must always be cooked before consumption. In addition, the stems and leaves of elderberry are also slightly toxic and should not be consumed.
In this article I collect the most important information for identifying and collecting elderberry flowers.
Jump to:
How To Recognize Black Elderberry
In order to correctly identify black elderberry (Sambucus nigra), it is necessary to be attentive and know the characteristic features of this plant. Below are some notes that may be helpful for identifying black elderberry:
Growth habit: black elderberry is a shrub or small tree that usually reaches a height of 3-8 meters. It has a broad, bushy form with many branching branches.
Bark: The bark of young branches is greenish-brown and smooth, while older branches may have a grayish-brown bark with elongated cracks.
Leaves: The leaves of black elder are arranged opposite, which means that they grow in pairs along the stem. Each leaf consists of 5-9 opposite leaflets that are pointed and have a serrated or serrated edge. The leaves are dark green and have a slightly wrinkled surface.
Flowers: elderberry flowers are a characteristic feature of this plant. They are arranged in large, umbrella-like, flat inflorescences and consist of many small, fragrant white flowers with yellow stamens in the center. The flowers have a pleasant, sweet fragrance.
Fruits: After flowering, black elderberries develop. These are green at first, but then ripen into dark purple to black berries. The berries are round and have a slightly shiny, dark skin coating. Note, however, that the berries are not edible raw and must be cooked before eating.
You might like the following elderflower recipes:
If you consider all of these characteristics, you should be able to successfully identify black elderberry. However, it is always advisable to rely on local experts, wild herb dictionaries, or trusted sources for plant identification to avoid confusion with similar looking (poisonous) plants.
I also like to use the app "PictureThis" (for a fee) to identify plants I don't know. You just take a picture of the plant and within a few seconds the app finds the name and also information about toxicity, etc.
Attention: There is a risk of confusion with the poisonous dwarf elderberry, whose flower umbels and leaves look similar, but which smells much more unpleasant.
On this page, poisonous plants similar to elderberry are well described with pictures.
Collecting elderflowers
When collecting and processing elderflowers, the following should be observed in order to take full advantage of the aromas and health benefits:
Elderflowers develop their aroma best when the sun is shining around midday. It is even more ideal if the sun has also shone on the days before.
Do not pick elderflowers on busy roads or in polluted areas (factory grounds, near gas stations, etc.).
Do not pick the entire bush, so that berries can still ripen from the flowers in late summer.
Elderberry is readily attacked by aphids. It is best to pick only cones that are not infested. Aphids take some time to reproduce. This means that if you pick at the beginning of the flowering period, you will have fewer problems with aphids.
To transport, it is best to place the elderberry umbels loosely in a basket or box with a cloth or similar, do not crush them
Process the same day, unfortunately the flowers do not keep fresh for long.
Only pick the umbels where the flowers have fully bloomed. If there are still too many small white balls instead of flowers on the umbel (see picture below), the umbel does not have enough flavor yet (and is more bitter).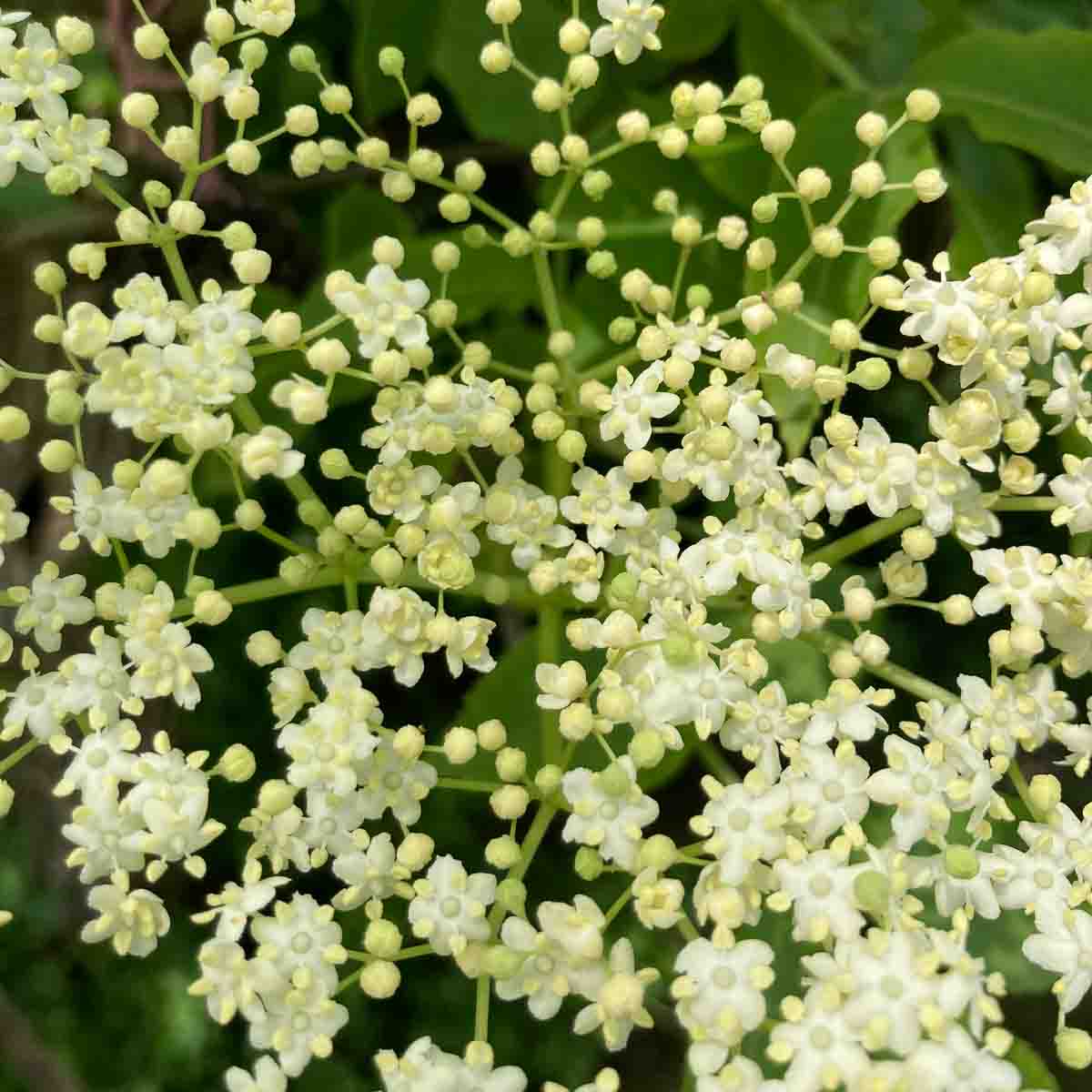 How to free elderflowers from insects
Even if you take good care when picking elderflowers, there are usually still a few small bugs or spiders hiding in the abundantly branched umbels.
Nevertheless, you should not wash the elderflowers or shake them too much, because this will cause a large part of the aroma to disappear along with the pollen.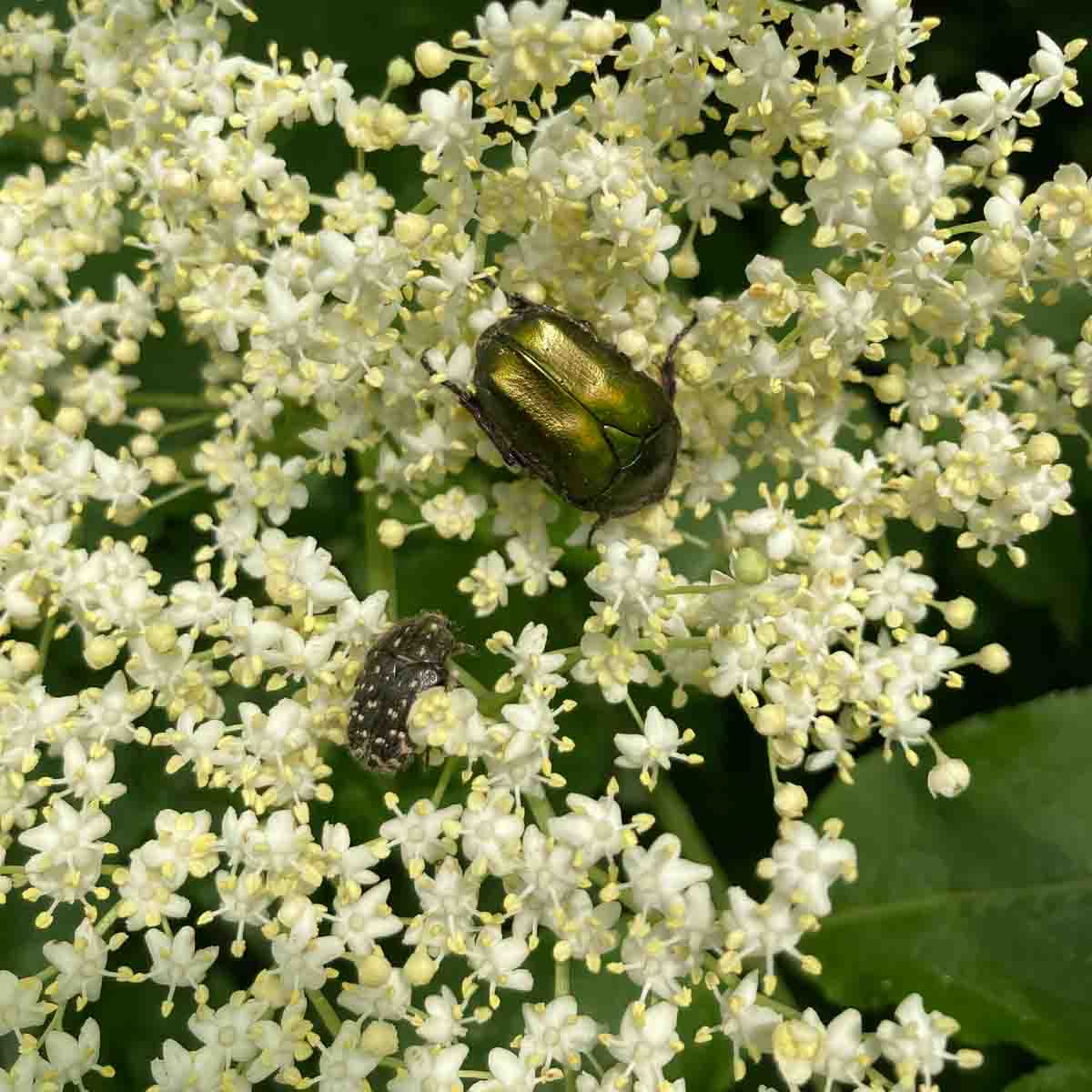 You can remove the insects by hand or you can also
put the umbels on a yellow support like a paper or cloth which attracts the insects.
Alternatively, you can cover the flowers with a cloth for a while (see picture) and hope that the insects climb out ;D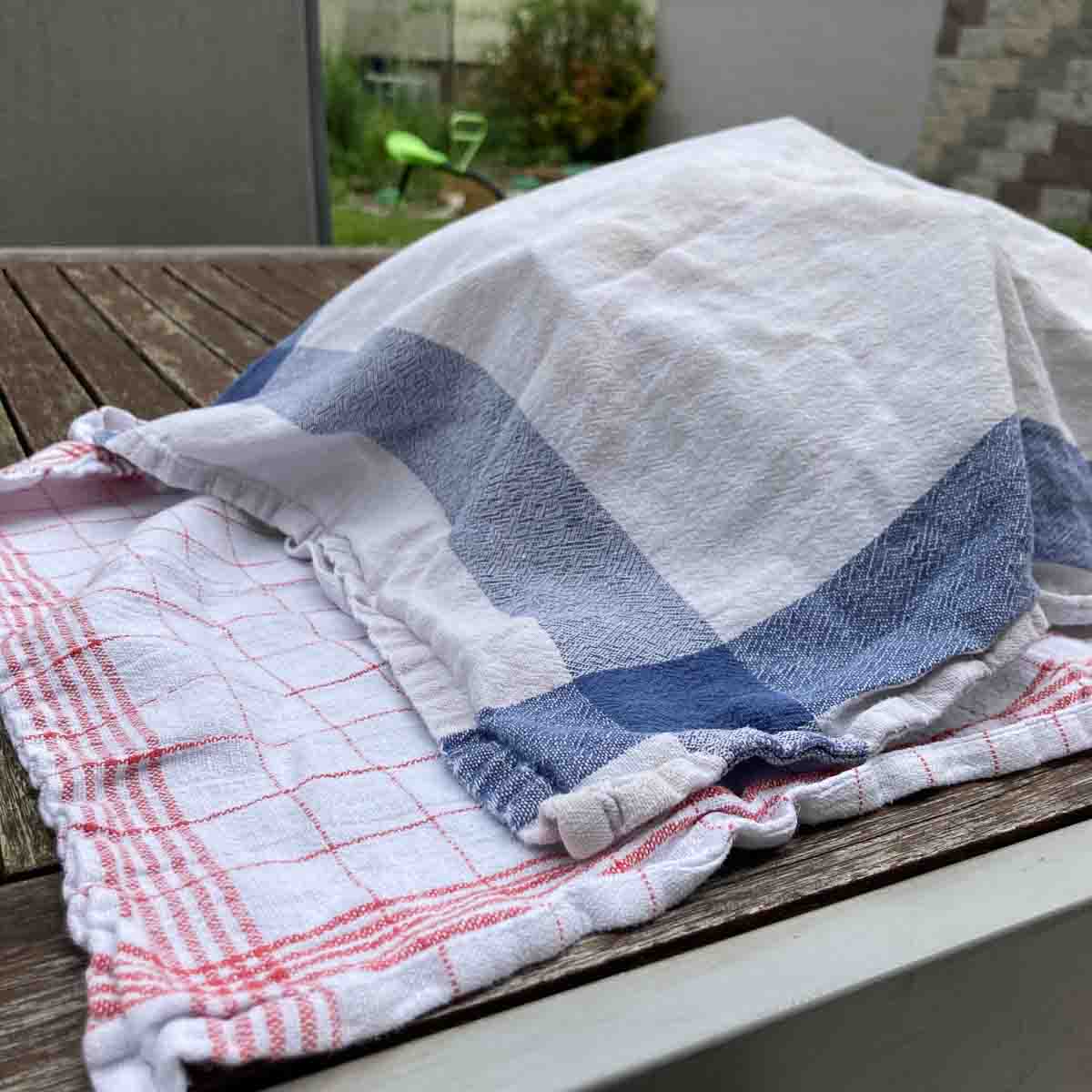 Recipes with elderflower: