Here comes a heavenly recipe for an elderflower cream dessert made from whipped cream, curd cheese and sour cream. This recipe works with fresh elderflowers, which together with the whipped cream infuse overnight in the refrigerator and thus give off their incomparable aroma.
The cream can be served as a dessert in a glass (for example, together with strawberries, blueberries, etc.) or used as a cream filling and glaze for cakes.
You can also make the recipe using cream cheese instead of curd, and eldeflower syrup instead of the fresh flowers.
Further down in the post, there are also a few tips on how to collect elderflowers and a few ideas on what you can combine the cream well with.
Kitchen chat
In our garden behind the house is a very very old elderberry tree, with which I have a hot love affair. There is something irresistible, indescribably fresh about the scent of elderflowers. One of the best things you can ever smell at this time of year! (Ranking right behind the scent of a freshly washed baby's head and just an inch better than the smell of a freshly cut lawn). And fantastic for lying under in a hammock. (And to have the blossoms rain down on your head).
When picking in May and June, I usually have to be quick before the aphids take over the terrain. Then the blossoms are made into syrup (instructions for homemade syrup), or just this dessert here. But I also like to dry the cones of elderflowers for tea.
From the dark berries in August and September you can also make syrup or elderberry stew. And some of the berries are always dried for tea as well.
Information for collecting elderflowers
Elderflowers are easy to recognize with their incomparable fragrance. In Austria, the bushes of the edible black elderberry shrub (Sambucus nigra) bloom "at every corner" in many areas. In Vienna, for example, there are many parks and open spaces where elderflower and elderberry can be picked.
The white elderberry flowers are edible. The black elderberries are slightly poisonous when raw should always be cooked before eating.
Here's what to look for when picking elderflowers:
Caution: The umbels of elderberry flowers can be confused with the flowers of the highly poisonous spotted hemlock or the poisonous dwarf elder. (However, you can additionally distinguish them by smell).
If you're unsure about identifying wild plants, I can recommend the (paid) app "PictureThis". Take a photo of the plant and after a few seconds, you'll receive information on the type, toxicity, etc.
Don't use elderflowers that grow next to busy roads. Since the flowers shouldn't be washed, too many pollutants would be added to the food.
Never pick the entire bush bare. Otherwise, there won't be enough left for wildlife and birds.
The flowers don't stay fresh for long after being picked. Therefore, it's best to process them right after picking (or as soon as possible).
For transport, ideally, place them in a basket lined with a cloth. Plastic bags or similar are not as suitable.
The elderflower mousse can be combined well with the following things:
fresh berries
compote
fresh or canned fruit
can be used as a filling or topping for various cakes, cupcakes etc.
can also be frozen and eaten as ice cream!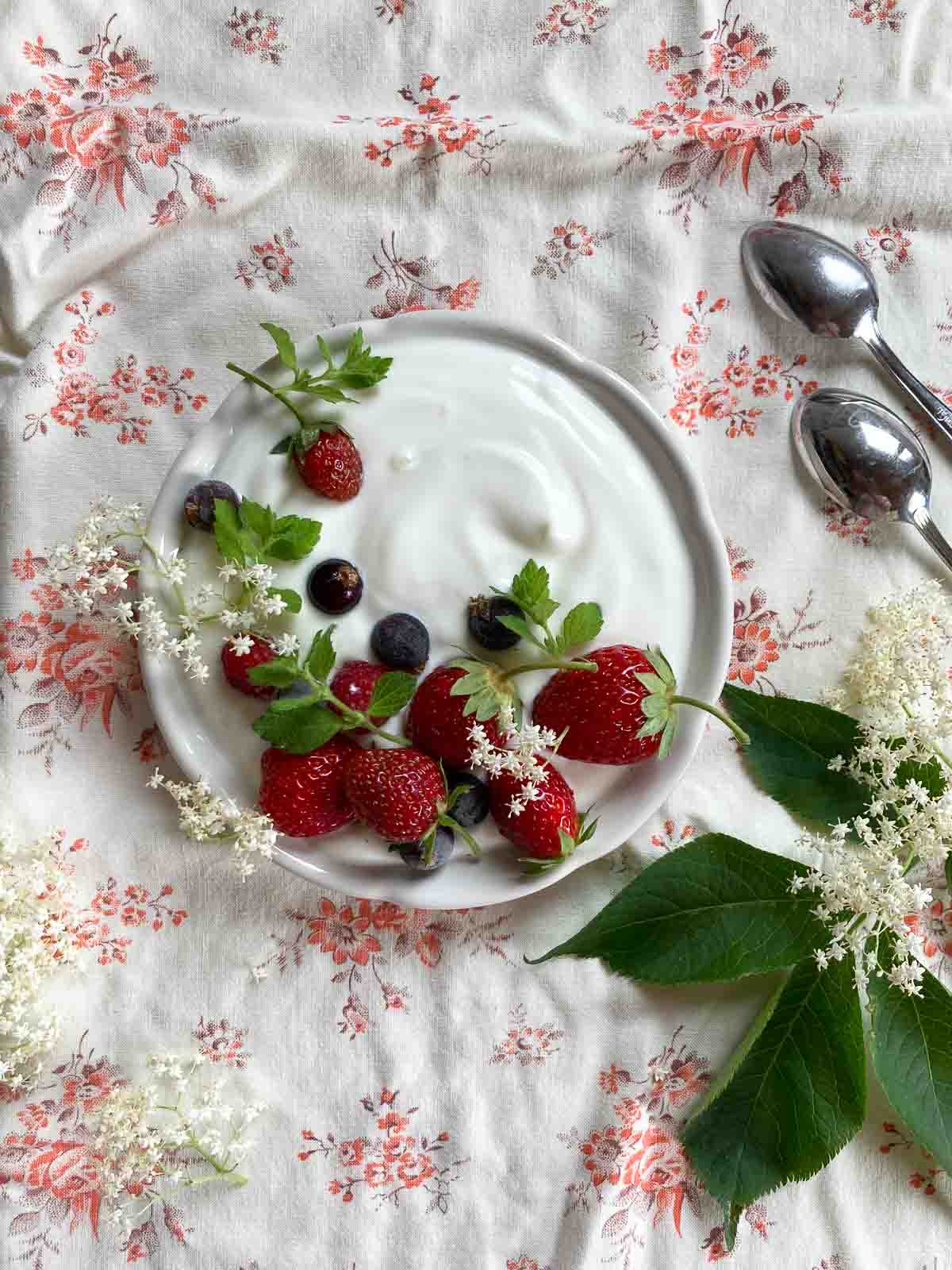 Elderflower Cream Dessert Recipe with fresh Elderflowers
Rezept drucken / Print Recipe
Auf Pinterest merken / Save on Pinterest
Recipe for elderflower mousse made with fresh elderflowers, cream, curd cheese, and sour cream.
Zutaten
20-30

umbles (heads)

elderflowers

(20 big or 30 small umbles)

2

cups

whipping cream

~500ml or heavy cream

1

cup

cream cheese

~250g

1

cup

sour cream

~250g

½

cup

sugar

~6 tablespoons

½

lemon

juice
Anleitung
Pick the elder flowers one day before preparation and pluck the flowers from the stems.

Mix the elderflowers in a bowl with the (not yet whipped) whipping cream and leave for about 12 hours in the refrigerator.

Sieve the elderflowers after 12 hours. (You only need the cream, not the flowers)

Add the sugar and with a hand mixer or kitchen aid, beat the cream until stiff.

Mix with the cream cheese, sour cream, and lemon and enjoy immediately or refrigerate once more for 1 hour if you want the cream to be stiffer.
(c) by Angelika Kreitner-Beretits / Vienna Sunday Kitchen
April 26, 2023
Hast du das Rezept ausprobiert? Dann freue ich mich über deine Bewertung!! / Rate this Recipe!
Notizen
If you have little time, you can also use syrup instead of the genuine elderflower and mix with the remaining ingredients.
The elderflower mousse fits well with fresh berries, compote, fresh or pickled fruit. It can be used as a filling or topping for various cakes, cupcakes etc. and can also be frozen and eaten as ice cream!