In this article, I show you how to harvest and dry elderflowers for homemade elderflower tea. Further, I collected some ideas on how to mix eldeflower tea with other herbs that can be harvested at the same time.
Elderflowers, scientifically known as Sambucus nigra, have long been treasured for their medicinal properties and delicate flavor. As the elderberry plant blooms in late spring and early summer, it offers a brief window of opportunity to harness the immune-boosting benefits of dried elderflowers. In this article, we will explore the easy and rewarding process of drying elderflowers for homemade elderflower tea, a delightful and refreshing drink with a range of health benefits.
Jump to:
Health effects of Elderflower
Elderflowers possess a rich history of use in herbal teas, particularly for soothing sore throats and respiratory infections. These delicate white flowers boast anti-inflammatory and antiviral properties, making them an excellent ally during flu season. When dried, elderflowers retain some of their medicinal potency, allowing you to enjoy their benefits throughout the year.
Elderflower tea offers a range of health benefits, thanks to its high antioxidant content and vitamin C. It is supposed to help alleviate flu symptoms, allergies, and even certain skin problems. By incorporating elderflower tea into your routine, you're providing your body with a natural boost that supports the immune system and promotes overall well-being.
Recipes with elderflower:
Harvest elderflowers
To start, gather fresh elderflowers at their full bloom in late May or early summer. Ensure that you pluck the flowers from the elderberry plant (Sambucus nigra) and not other similar-looking plants. Remove any insects or debris from the flowers and gently shake them to release any excess pollen.
In this article, I collected the most important information on how to harvest elderflowers. It is important to identify Black Elderberry correctly. A problem with elderberries is that they can look similar to poisonous berries like dwarf elderberry, pokeweed, devil's walking stick, and water hemlock (very poisonous!).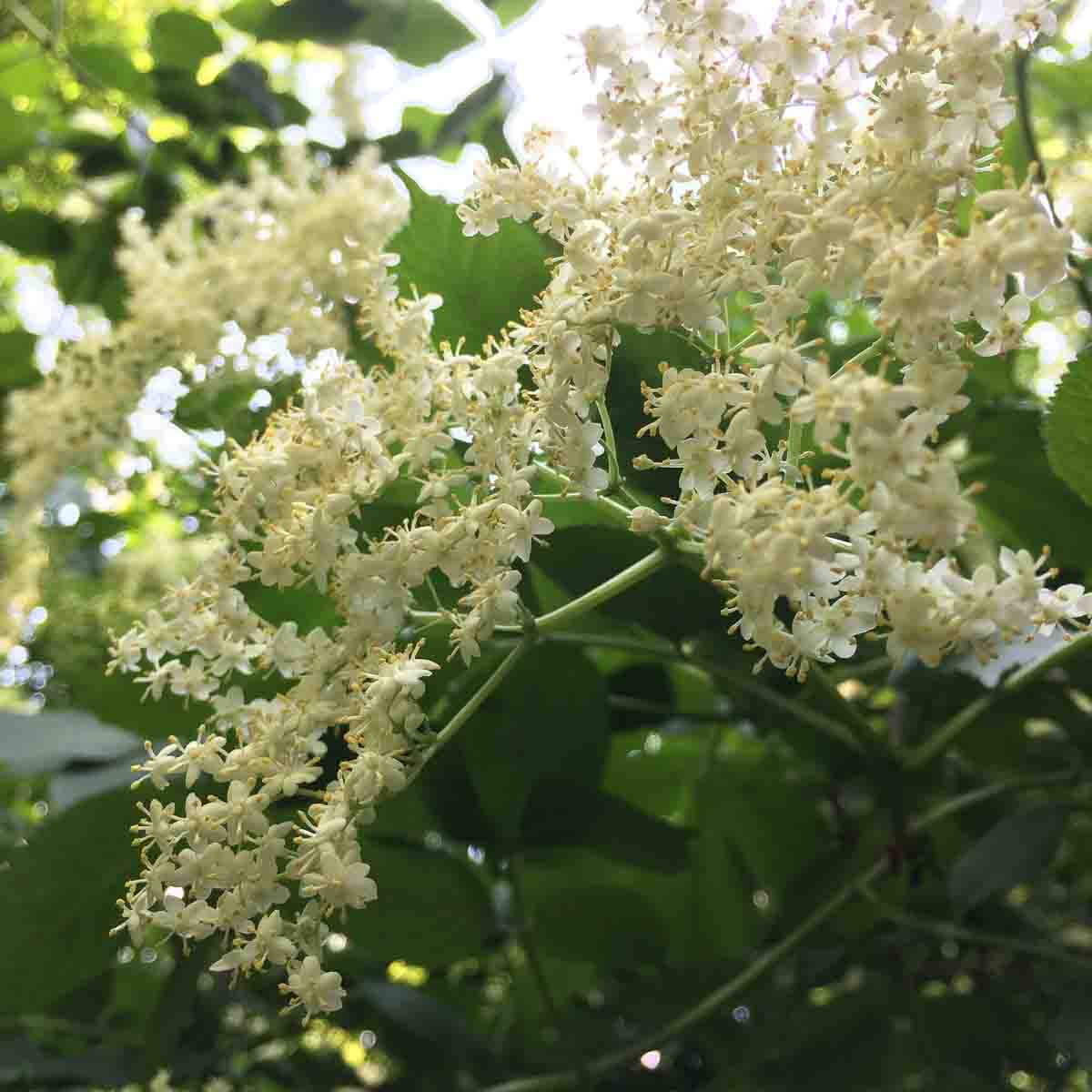 Timing is crucial when harvesting elderflowers for drying. Depending on the climate in your region, elderberries bloom between may and july. The perfect time to harvestis when the flowers are in full bloom and possess their highest medicinal properties. Harvesting too early or too late may result in reduced flavor and effectiveness. So, keep an eye on the elderflower season and seize the moment when the blooms are at their peak. Also, you wanna be faster than the aphids, which love elderflower as well!
How to dry elderflowers
After collecting, you can choose your preferred drying method: You can either let the elderflowers air dry by spreading them out in an airy place on a grid or a clean cloth, away from direct sunlight. Or you can dry them in a dehydrator at a low temperature.
Not good places for drying are kitchen or bathroom, because there is generally a higher humidity.
I prefer to lay out the elderflowers on parchment paper because it helps to collect the fallen pollen. Make sure the flowers are not too close together to avoid mold.
You can cut off the stems before or after drying. If you cut them off before drying, the flowers dry faster and are at less risk to get moldy. On the other hand, it is much easier to remove the stems when they are dried. (And the flowers don't fly away as easily.)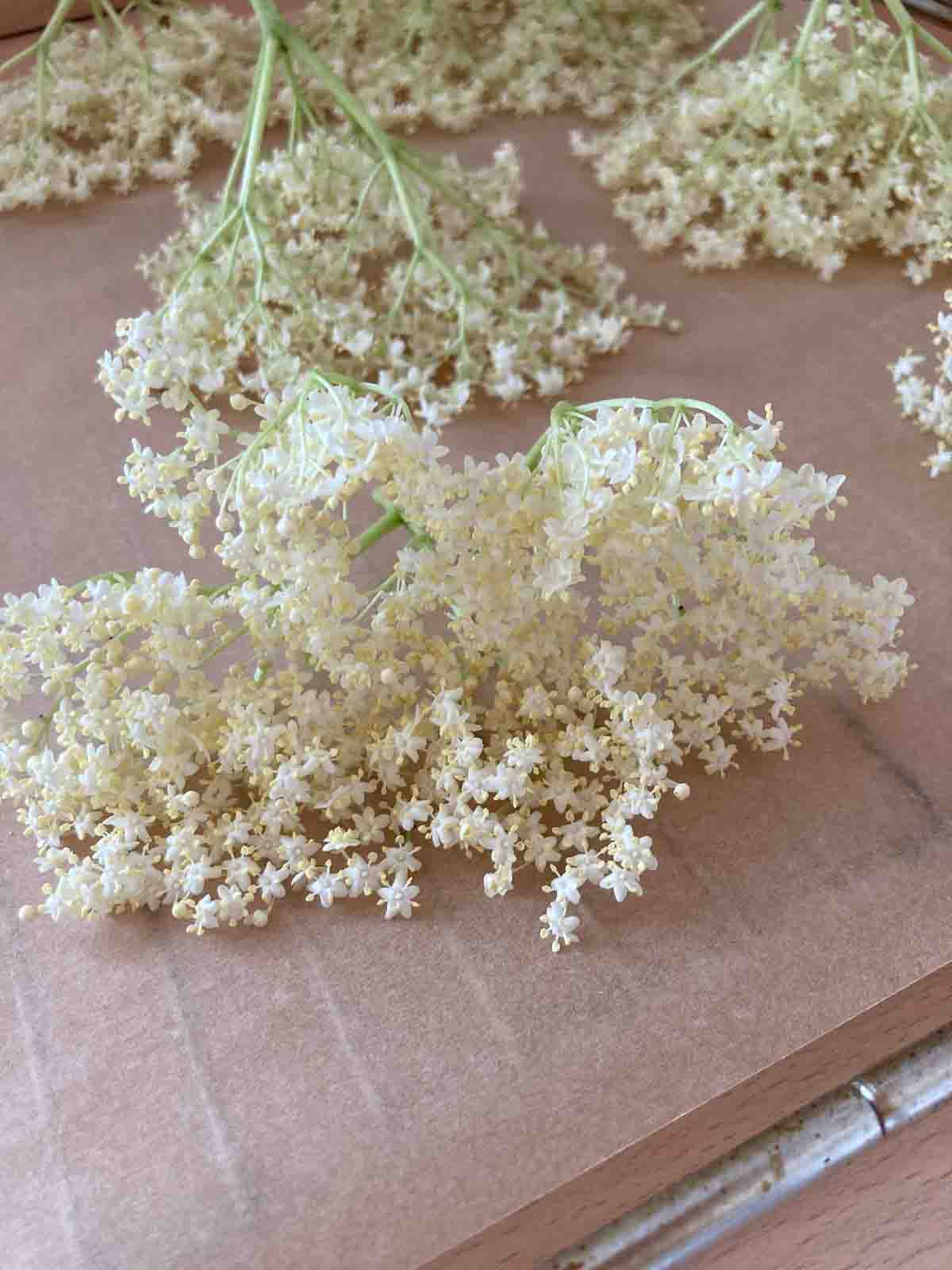 How long does it take for elderflower to dry?
Depending on the temperature and humidity, it takes about 1-2 weeks for the elderflowers to dry completely. Make sure they are crisp and crumbly when you rub them between your fingers.
How to store Elderflower Tea
Once the elderflowers are dry, you can easily remove the stems and store them in an airtight container, such as a screw-top jar or sealable plastic bag. Store them in a cool, dry and dark place to preserve the aroma.
I love to re-use glass containers of jam to store my homemade tea.
Easy Recipe for Elderflower Tea
Once your elderflowers are completely dry, it's time to brew a delicious cup of elderflower tea. Here's a simple recipe to get you started:
Ingredients:
2 tablespoons of dried elderflowers
1 cup of hot water
1 slice of lemon (optional)
1 teaspoon of elderberry syrup (optional)
Honey or sweetener of choice (optional)
Instructions:
Place the dried elderflowers in a teapot or heat-resistant container.
Pour hot water over the flowers and let steep for about 5-7 minutes.
Add a slice of lemon and a teaspoon of elderberry syrup for enhanced flavor, if desired.
Sweeten with honey or your preferred sweetener, if desired.
Stir well and strain the tea into your favorite mug.
Homemade tea blends with elderflowers
I prefer to mix the dried elderflowers with herbs from the garden that can be harvested at the same time and also help with colds.
These herbs go well with elderflower tea and can be harvested at the same time. It is best to harvest the leaves of the herbs listed here before they bloom.
Peppermint
Lemon balm
Thyme
Ribwort
Sage
Marigold (flowers)
Lime blossom
My favorite tea blend is half elderflower and half peppermint and thyme. Honey goes especially well with this tea.
The following ingredients also go well with elderflower tea:
dried lemon peel
dried orange peel
flower pollen (available in well-stocked supermarkets or delicatessens)
dried rose hips (to be picked in late autumn and winter)
Drying elderflowers to create homemade elderflower tea is not only a delightful way to savor the flavors of this exquisite floral tea but also a fantastic means of harnessing the numerous health benefits associated with elderflowers. With their long history of use as medicinal plants, elderflowers have earned their place as a favorite among herbal enthusiasts. So, why not grab a cup of elderflower tea, take a moment to indulge in its delicious taste, and let its soothing properties transport you to a state of pure relaxation and well-being?