In this recipe, I'll show you how my grandma cooks her sauerkraut so that it not only tastes great, but is also wonderfully creamy and easily digestible.
Sauerkraut is a possible side dish for classic roast pork and bread dumplings. But it also goes great with potato dumplings, with sausages or smoked ham.
Jump to recipe
---
Ingredients
For this recipe you need the following ingredients. You can find the detailled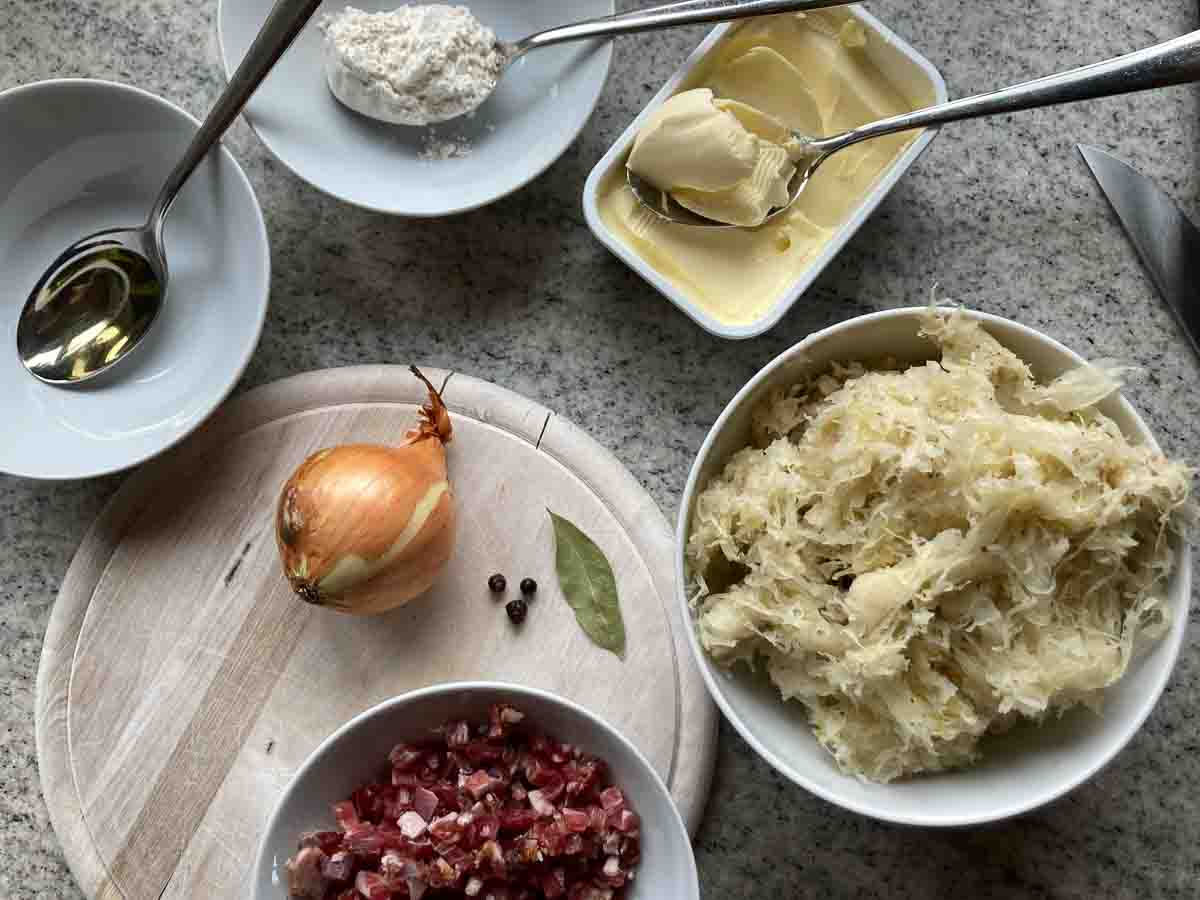 oil - neutral tasting oil for frying like corn or rapeseed
bay leaf - dried or fresh
bacon - optional (I don't use bacon if I serve the Sauerkraut with meat.)
For the roux that makes the sauerkraut so creamy and soft:
flour - plain white flour, no whole wheat etc.
butter - unflavoured, unsalted for the roux .
Video
FAQ
Should I cook Sauerkraut?
Uncooked (raw) sauerkraut has, among other things, vitamin C and lactic acid bacteria, which are good for the immune system and digestion. But not everyone tolerates raw sauerkraut well.
In my grandma's traditional recipe, it is cooked for quite a long time. This makes it easily digestible, but unfortunately loses the vitamins and lactic acid bacteria.
If you want to preserve the good ingredients, you should only warm up the sauerkraut and not bring it to a boil. (Unlike in this recipe. ;D )
In order to get it creamier and not so sour, you can add a roux and some sugar, as shown in the recipe below.
How can I make Sauerkraut taste less sour?
You can drain the liquid and wash the Sauerkraut a bit, if it's to sour for you.
In addition, my grandmother cooks it for 45 minutes, and adds sugar and a roux to make it taste more mild. (Please be aware that the vitamins and healthy lactic acid bacteria get lost this way.)
Can I eat sauerkraut straight?
Yes, you can eat ready fermented (or storebought) Sauerkraut straight. This way it is the most healthy, because during cooking it looses most of it's vitamins and lactic acid bacteria.
But not everyone tolerates raw sauerkraut well. If you cook it, it tastes more mild and is easier to digest, on the other side.
Storage, Duration & Freezing
How do I store Sauerkraut?
Raw, fermented Sauerkraut can be stored in the fridge or a cool place (like unheated cellar) for a few weeks.
Cooked Sauerkraut, however, only lasts 2-3 days in the fridge. (Cook once more for a few minutes before eating.)
How long keeps cooked Sauerkraut in the fridge?
Cooked Sauerkraut lasts 2-3 days in the fridge. Cook for a few minutes before eating the leftovers.
Can I freeze cooked Sauerkraut?
Cooked sauerkraut (see recipe) can easily be frozen for a few months. To thaw, I leave it in the fridge overnight and boil it in a saucepan for a few more minutes the next day.
Raw, on the other hand, Sauerkraut does not have to be frozen. You can store raw, uncooked Sauerkraut for a few months in the fridge or another cool, but not frosty place like an unheated cellar or garage at wintertime.
Best Austrian Sauerkraut Recipe with Canned Sauerkraut
Rezept drucken / Print Recipe
Auf Pinterest merken / Save on Pinterest
In this traditional recipe, I'll show you how my Austrian grandma cooks her sauerkraut so that it gets wonderfully creamy and easily digestible.
Kochutensilien
big saucepan
(for cooking the Sauerkraut)
Zutaten
Sauerkraut
16

oz

sauerkraut

canned or in a bag, ~450g

1

onion

yellow or white, medium-sized

2

tbsp.

bacon

diced, optional, ~50g

1

tbsp.

oil

1

bay leaf

3

juniper berries

1

tbsp.

sugar
Roux
2

tbsp.

flour

2

tbsp.

butter
Instruction
Cook Sauerkraut
Heat up oil in a big pan and sauté onion until golden brown.

Optional: Add bacon and roast for a minute.

Add the sauerkraut to the pan, stir well.

Pour water until everything is covered.

Add sugar, bay leaf and juniper berries and stir well.

Simmer gently with the lid closed for about 45 minutes. Stir occasionally.
Make a Roux
Just before the sauerkraut is done cooking, melt butter in a small pan. Add flour and stir well until no lumps remain. Remove from the stove immediately.

When the sauerkraut is soft, stir in the roux and serve.
(c) by Angelika Kreitner-Beretits / Vienna Sunday Kitchen
Januar 13, 2023
Hast du das Rezept ausprobiert? Dann freue ich mich über deine Bewertung!! / Rate this Recipe!
Nährwerte
Serving:
163
g
|
Calories:
133
kcal