This simple recipe for Austrian Style Beef Salad with red beans and onions ("Saures Rindfleisch") is a light and healthy main course or starter. Saures Rindfleisch is a traditional meal when you have leftover boiled beef like Tafelspitz from the day before.
The red beans make the beef salad a filling meal that can be varied with different ingredients.
To make sure the recipe turns out well, I included some important information below on how to cook, store and slice the beef.
Jump to: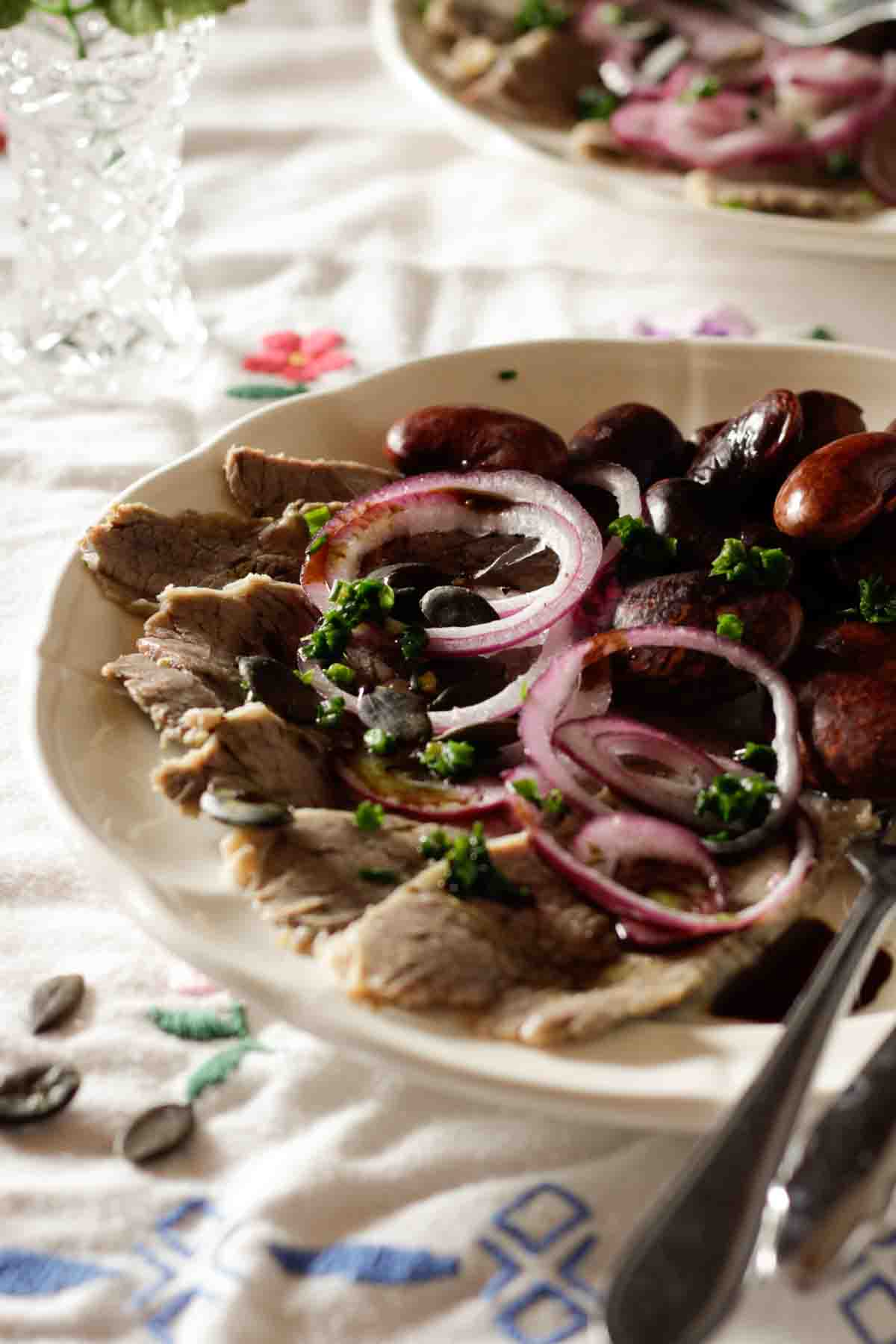 This traditional dish is very popular in Austria for lunch or dinner in the summer time, or when we have leftover beef from the day before (for example, from a Tafelspitz recipe).
Another (less traditional) recipe for a summery, refreshing beef salad with a sweeter dressing and seasonal fruit can be found here.
In the post below, in addition to the basic recipe for simple Beef Salad with red beans an Pumpkin Seed Oil, you'll also find several ideas to vary the dish.
Which meat for beef salad?
For this kind of Austrian beef salad, it is best to use beef that contains lots of collagen and is recommended for boiling (simmering) instead of grilling or frying.
Various cuts of beef are suitable for simmering. Tafelspitz is one of the most popular (but expensive) Austrian beef cuts (standing rump, top round, topside or rump cap in English).
Other popular cuts of beef for simmering include chuck, legs, shoulder or brisket. The easiest way is to ask at the meat counter or your butcher for beef that is suitable for simmering.
Cooking beef for beef salad
To get flavorful, juicy beef after simmering, there are a few simple things to keep in mind:
Don't cut the meat before simmering, leave it a s a whole.
Place the meat in salted, already boiling water. This keeps it juicy.
The meat sholud be fully covered with water.
The beef tastes much better if you add soup vegetables, roasted onion halves including peel, garlic and spices such as bay leaves, juniper berries, peppercorns and lovage. Soup bones can also be added.
Simmer gently for about 1-1.5 hours per 1 kilogram (~2lbs) of meat and at a low temperature.
To check if the meat is done, pierce it with a meat fork. If it comes off the fork easily, it is done and can be taken out of the water.
Never pierce too early or the meat will leach out more easily.
See my instructions for Viennese Tafelspitz for even more detailed information on simmering beef.
If, on the other hand, you want to cook a particularly strong beef broth, boil the beef and veggies in unsalted water. In the process, the meat then releases its flavor into the soup. (But that's not what we want for our beef salad recipe here).
Storing cooked beef
Many store their simmered beef in the soup over night so that it doesn't dry out. However, I do not recommend this. I can share the following experience with storing simmered beef with you:
It is better not to store simmered beef in water or soup, as this will cause it to leach out and taste more dry.
The beef stays very juicy if you wrap it in aluminum foil while it's still hot after cooking, and then store it in an airtight container in the fridge over night.
If you don't want to use aluminum foil, you can also just use a container or box.
It is important to cover the meat as soon as possible after cooking, and not leave it to dry out in the air for too long.
After it has cooled down, it can be put in the refrigerator, where it will keep well for 2-3 days.
Moreover, the meat remains juicier if it is whole and has not yet been cut open. Therefore, ideally, cut the meat in slices just before serving.
It is best to leave the fatty parts on the meat during cooking and storage, this also protects it from drying out.
But don't worry, beef salad is also the ideal dish when the boiling meat has become a little dry! (For this, after all, it is served with vinegar and oil! ;D )
Cutting beef for beef salad
Whether it's for a festive Tafelspitz menu or for a simple beef sandwich or beef salad, the meat is always cut against the grain.
In the picture below you can see the horizontal fibers of the meat. The slice is thus cut against the direction of the fibers. (You can read more about cutting against the grain on wikihow.com)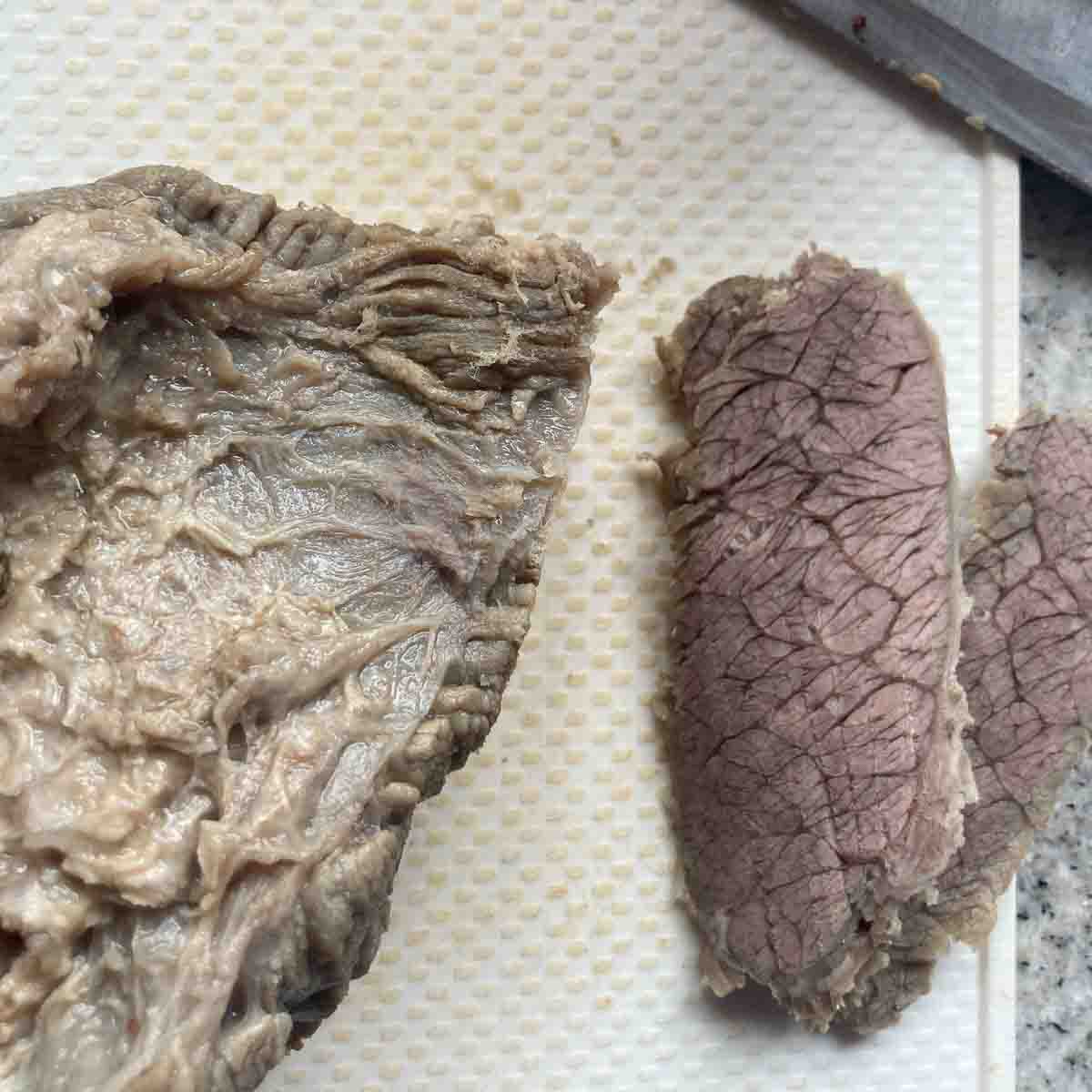 In the next picture below, the left slice is cut against the grain (as it should be). On the right side, the meat is incorrectly cut in the same direction as the fibers run. When this happens, the meat is not as easy to chew when eating.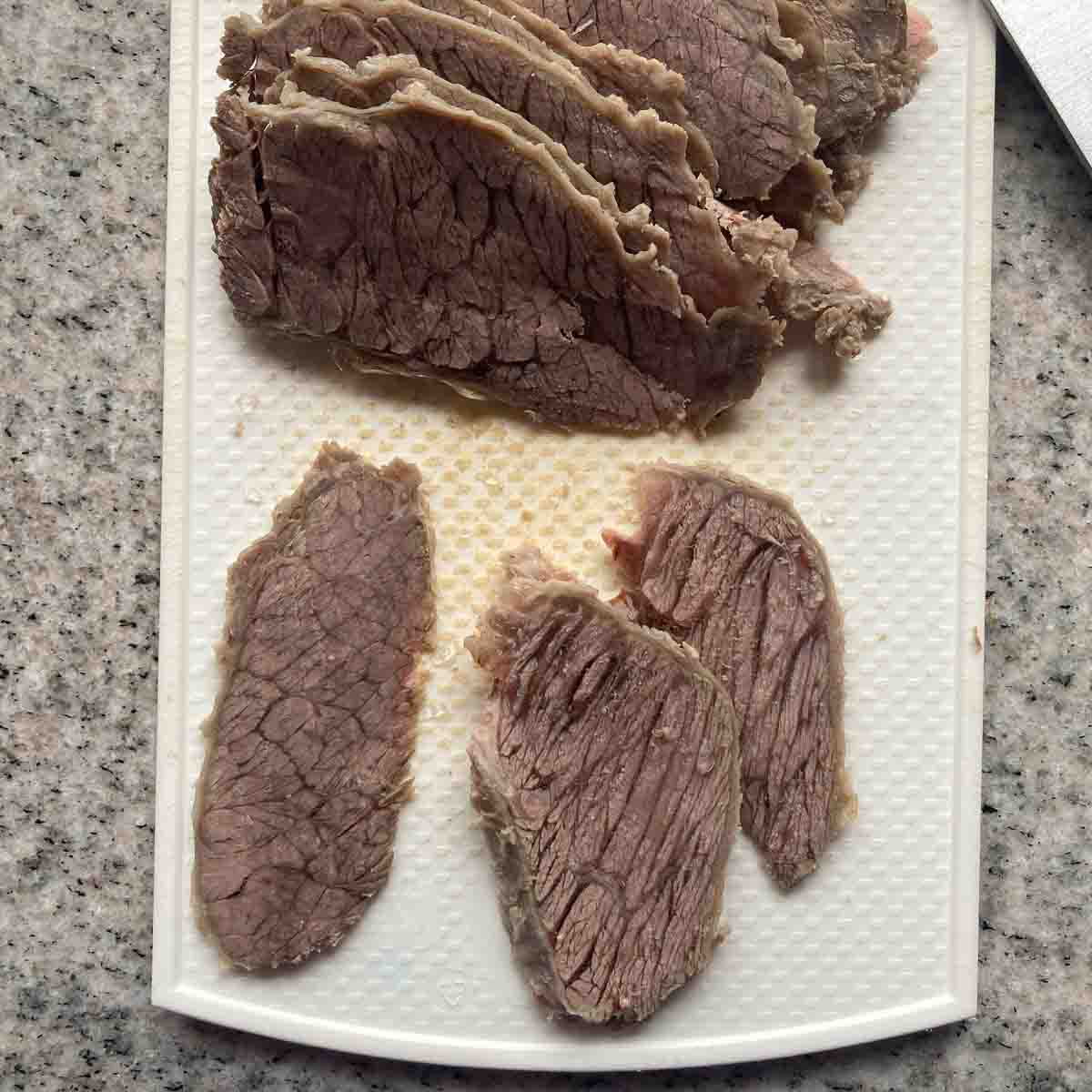 Sometimes it is not so easy to see in which direction the fibers run in a piece of meat. Often the course also changes, and you have to change the cutting direction after a few cut pieces.
For cutting, you need a very sharp knife so that the slices become really thin. Alternatively, a slicing machine ensures uniformly thin slices.
Information on Ingredients & Variations
Here you will find detailed information about the basic ingredients you need for the beef salad.
You can find the exact measurements of the ingredients in the printable recipe card below.
JUMP TO RECIPE
To make this beef salad recipe, you'll need:
boiled beef, cooled down - for example Tafelspitz (standing rump, top round, topside or rump cap in English) or chuck, legs, shoulder or brisket
red beans - either freshly cooked or canned; in Austria, for this kind of salad, we love to use a bean variety called Käfebohnen ("Scarlet Runner Beans"); alternatively use other beans of your choice
red onion
apple cider vinegar - alternatively white wine vinegar, but the dish also tastes great with balsamic vinegar!
pumpkin seed oil - alternatively corn oil or rapeseed oil
pumpkin seeds - alternatively sunflower seeds, can also be omitted completely
chives - alternatively cress or other fresh green sprouts
The following optional ingredients can be used to vary and spice up the beef salad:
green lettuce
bitter lettuce such as endive or chicory
arugula
sweet corn
tomatoes
bell peppers
cucumbers
pickled gherkins
horseradish
boiled eggs, halved or quartered
Serve the beef salad with slices of bread or bread roles.
---
If you like this recipe, you may also be interested in these:
🖨️ DIRECTLY TO RECIPE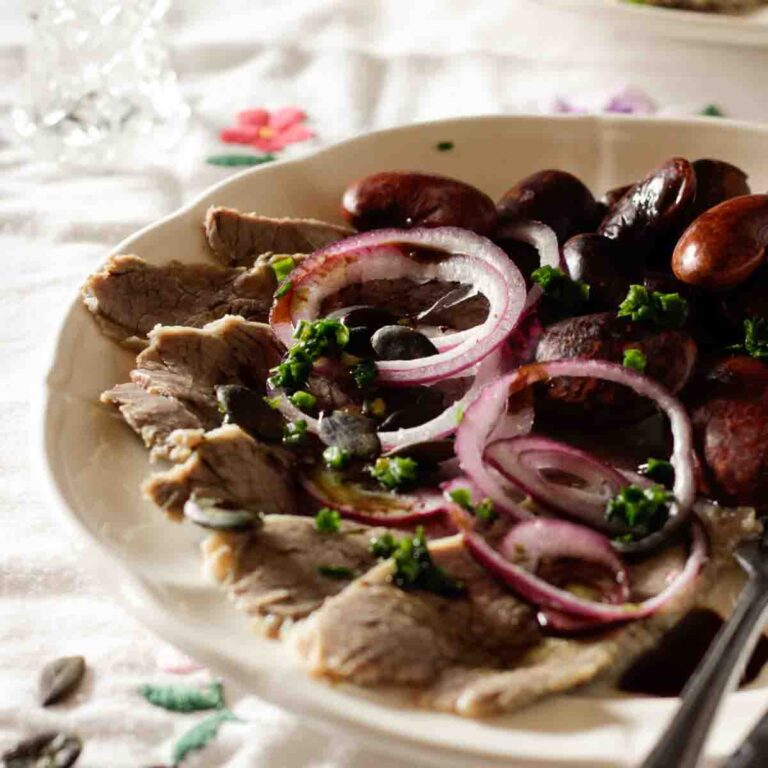 Austrian Beef Salad (Saures Rindfleisch)
Rezept drucken / Print Recipe
Auf Pinterest merken / Save on Pinterest
Saures Rindfleisch - Austrian beef salad recipe with red beans, onion, apple cider vinegar and pumpking seed oil.
Zutaten
6

oz

beef

~150 gram, simmered and cooled down (e.g. the day before)

1

cup

beans

cooked or canned, e.g. Scarlet Runner Beans

1

handful

pumpkin seeds

2

tablespoons

pumpking seed oil

alternatively corn oil or rapeseed oil

3

tablespoons

apple cider vinegar

tastes also good with balsamico vinegar

1

tablespoon

chives

8

tablespoons

water

1

pinch

salt

1

pinch

pepper
Instruction
Mix water with vinegar and salt.

With a sharp knife, cut beef into very thin slices. (Against the grain.)

Arrange beef on the plates.

Add cooked (or canned) beans to the plate.

Peel red onion and cut into thin rings, sprinkle over meat and beans.

Pour vinegar mixture over meat. The meat should be quite well covered with vinegar.

Season with pumpkin seed oil and sprinkle with pumpkin seeds, chives and pepper.
(c) by Angelika Kreitner-Beretits / Vienna Sunday Kitchen
August 8, 2023
Hast du das Rezept ausprobiert? Dann freue ich mich über deine Bewertung!! / Rate this Recipe!
Notizen
This recipe is made with only little meat per portion. If you use more meat, I recommend adding more vinegar and water to your dressing.
Nährwerte
Serving:
275
g
|
Calories:
460
kcal