This easy Austrian Kaiserschmarrn recipe can be ready in just 10 minutes.
Quick and easy, yet delicious, this Austrian pastry will satisfy your sweet tooth while filling your stomach.
In my family, we often have Kaiserschmarrn as a quick lunch, served with stewed plums, apple sauce or Stewed Elderberries. I usually replace 50% of the flour with whole wheat.
Jump to:
Video
Ingredients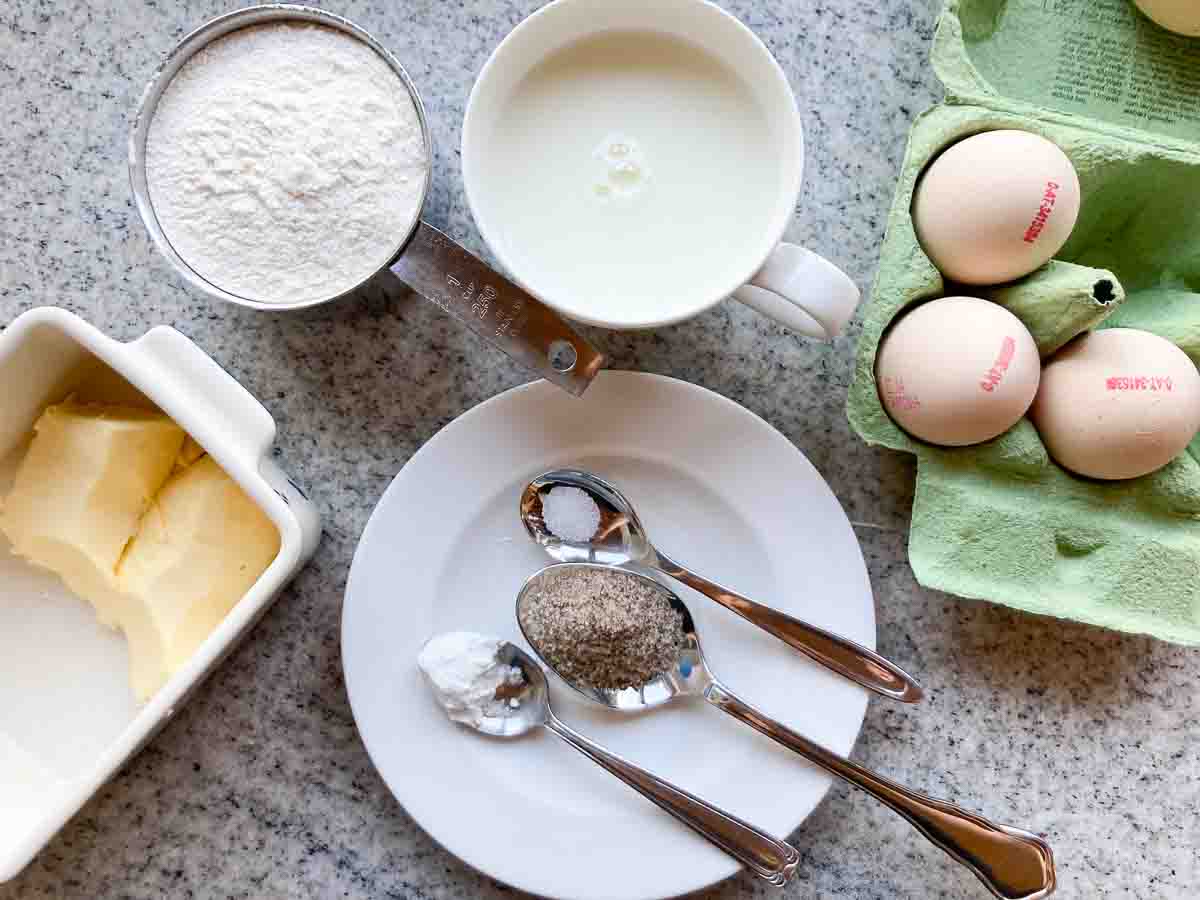 For this easy Austrian kaiserschmarrn recipe, you need the following ingredients. The exact amounts can be found in the printable recipe card below this article.
flour - can be replaced with about 50% whole wheat flour or spelt flour
milk - I use whole milk, but you can use any milk of your choice, this recipe works also well with plant based milk like soy milk, almond milk etc.
eggs - medium sized
fine salt
baking powder - no baking soda (because it would need acid in the batter)
vanilla sugar - is an Austrian baking specialty where sugar is mixed with vanilla flavor (or vanilla powder). You can use vanilla flavor and extra sugar instead.
powdered sugar - to sprinkle on top
Equipment
The equipment needed is very simple. We need:
a small pan - if the recipe is made for more people, then a larger one.
ideally, a lid for the pan - can also be from another cooking pot of suitable size.
a bowl - for mixing the dough
a whisk - alternatively a mixer, but I like to save myself the time to plug in the mixer, clean it, etc.
Instructions
In traditional Kaiserschmarrn recipes, the eggs are separated first, and stiff peaks are beaten from the egg whites for more volume. The Kaiserschmarrn can also be baked in a preheated oven after a short browning in the pan.
However, in real life, I never take the time to beat the egg whites 😉 . With a pinch of baking powder, the dough in this easy Austrian Kaiserschmarrn recipe still gets fluffy.
First, you mix all the dry ingredients for the batter: Add flour, salt, baking powder and vanilla sugar to a big bowl and stir together well.
Then, you add the eggs and milk and stir well, until you have a creamy batter without lumps.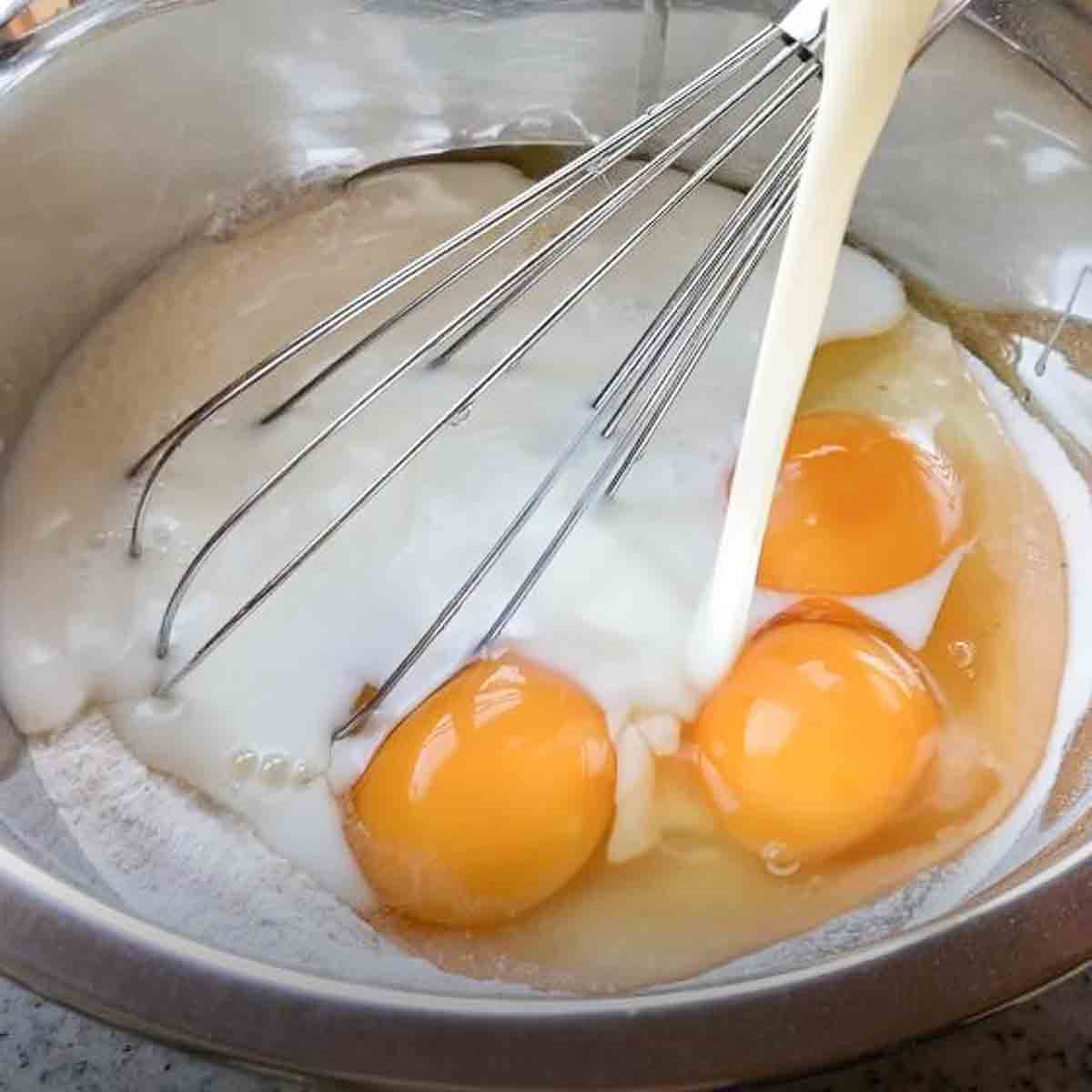 You add some butter to your pan and let it melt.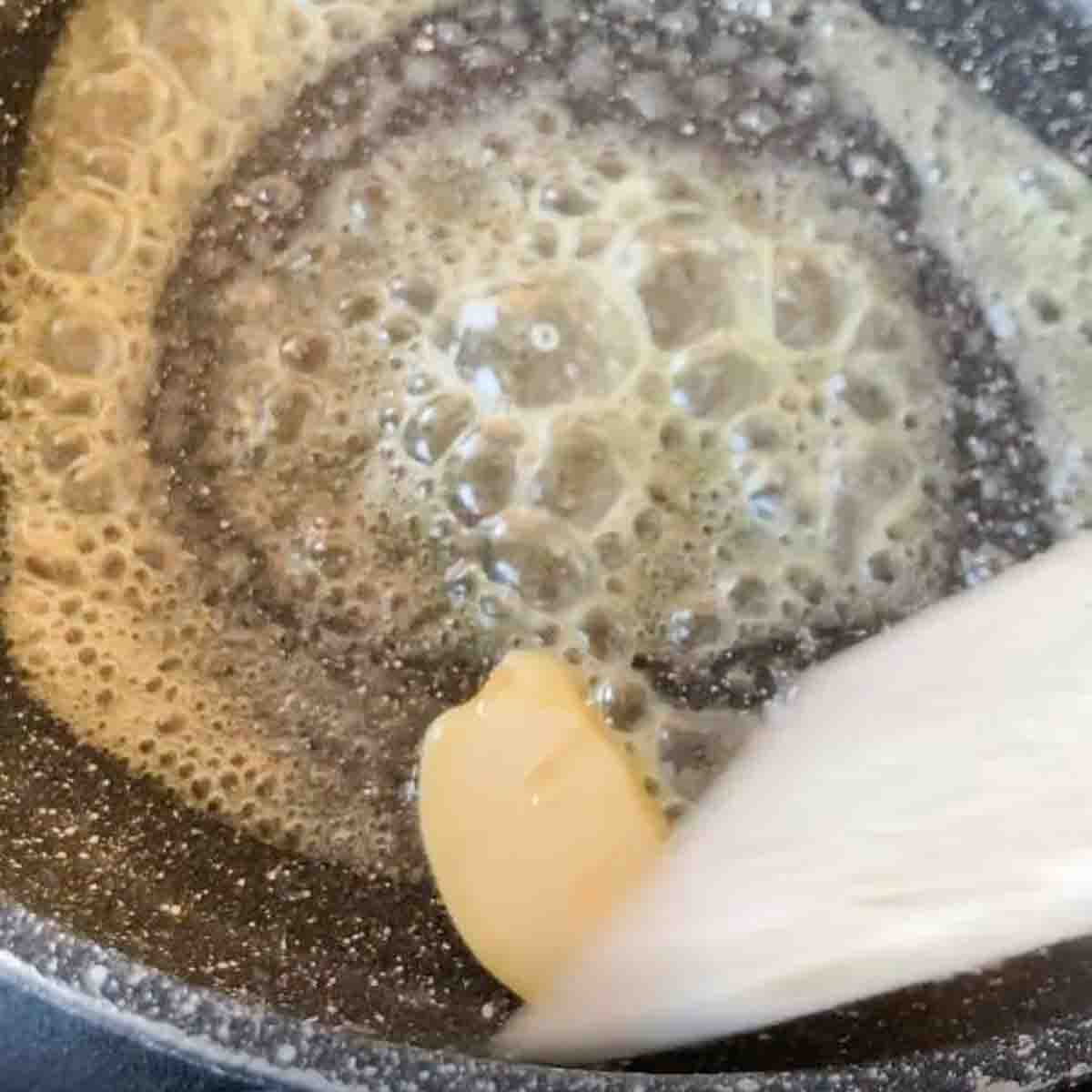 Add the Kaiserschmarrn batter.
Reduce heat and put a lid on the pan. (I turn down the heat from 12 to 9 on my stovetop, but this really is different for every stove.)
After about 5 minutes, cut the Kaiserschmarrn into 4 slices and turn it in the pan. Bake on the other side.
Tear the pancake apart, with the help of two forks.
Sprinkle with sugar and serve with stewed plums, apple sauce or any other compote, jam, etc. - Enjoy! 🙂
Shelf Life & Freezing
Because Kaiserschmarrn tastes best when served fresh, the following recipe is made for only 2 servings. Kaiserschmarrn is not ideal for freezing and has a short shelf life. However, you can, in theory, store it in the freezer for a few days, as well as freeze ist.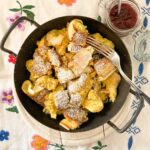 Austrian Kaiserschmarrn
Rezept drucken / Print Recipe
Auf Pinterest merken / Save on Pinterest
Quick & easy Austrian Kaiserschmarrn recipe for 2 servings. On the table in 10 mins.
Kochutensilien
Bowl for mixing the dough
Lid for pan
((can also be from another pan of the same size))
Zutaten
For the dough
1

cup

flour

150 gram

1

cup

milk

150 milliliter

3

eggs

3

tablespoon

vanilla sugar

(or sugar + vanilla flavor)

½

teaspoon

baking powder

1

pinch

salt
Further
1

tablespoon

butter for frying in a pan

powdered sugar for serving
Instruction
In a bowl, mix the flour with salt, cream of tartar baking powder and vanilla sugar.

Add eggs to the flour in the bowl and stir in with the milk. Mix with a whisk or mixer until smooth.

Melt butter in a skillet and pour in batter.

Turn stove top to medium heat and let rise (ideally covered with a lid) for about 5 minutes.

On my induction stove, I turn to 12/12 at the beginning and to 9 after pouring.

Turn kaiserschmarrn over and bake on the other side.

Tear apart with two forks.

Sprinkle with powdered sugar and serve with plum roast, applesauce or other compote.
(c) by Angelika Kreitner-Beretits / Vienna Sunday Kitchen
April 14, 2023
Hast du das Rezept ausprobiert? Dann freue ich mich über deine Bewertung!! / Rate this Recipe!