Parsley potatoes are a very classic Austrian side dish to all kinds of fried fish, sometimes to Schnitzel, or other kind of fried and grilled meat. I prefer Parsley Potatoes with chicken schnitzels.
Mostly, when ordering parsley potatoes in an Austrian restaurant, they taste pretty boring and dry. I don't know why, but I always get hiccups when eating such dry potatoes.
The parsley potatoes of my grandma taste quite different than in restaurants. And here comes the reason why!
The secret ingredient of my granny's parsley potatoes is .....
.... As with almost every incredibly delicious granny dish....
...Scroll down for more information... (isn't it exciting?)
the secret ingredient is, of course:
... butter, butter and even more butter!
That is, you have to fry the potatoes and parsley in butter, add some salt, then again add butter, salt again and then AGAIN add some butter.
Yes that's how you do it, but at least you do not eat parsley-potatoes every day ...
What to serve with Parsley Potatoes
This fits perfectly to the parsley potatoes:
all kinds of schnitzel (I prefer chicken schnitzel with parsley-potatoes instead of potato salad),
Meat loaf or meat balls
grilled meat
grilled vegetables
Enjoy!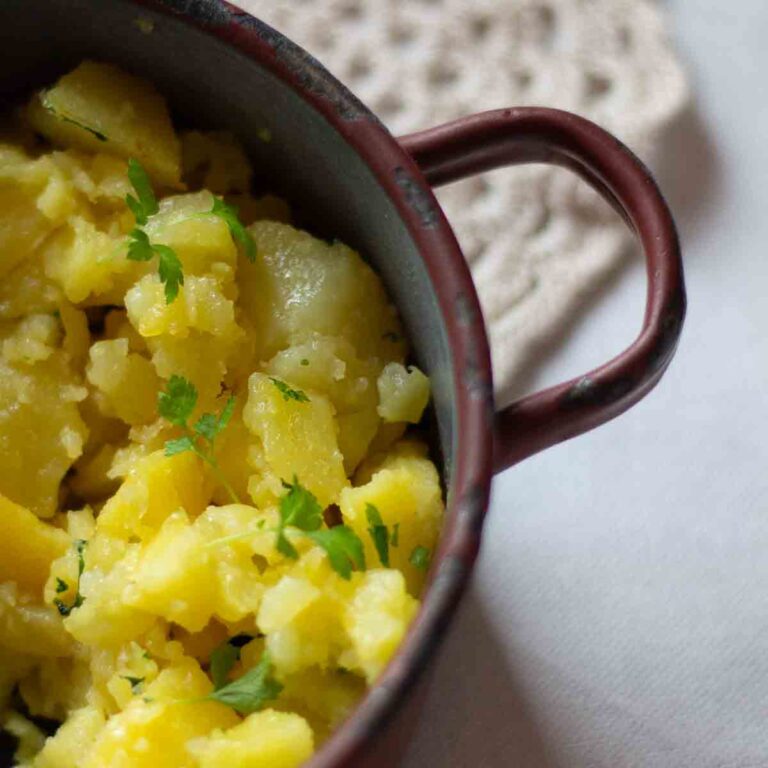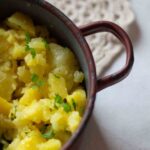 Granny's Austrian Parsley Potatoes Recipe
Rezept drucken / Print Recipe
Auf Pinterest merken / Save on Pinterest
Easy and traditional Austrian side dish wit potatoes, parsley and butter.
Zutaten
2

lbs

potatoes

~1 kilogram

1

bunch

fresh parsley

1

stick

butter

~100 gram

salt
Anleitung
Cook potatoes in salted water until soft. Peel and cut small.

Chop parsley.

Melt butter in a pan, add parsley, potatoes and salt.

Fry in pan until the potatoes get a bit brownish.

Eventually, add more salt and butter and fry some more... 😉
(c) by Angelika Kreitner-Beretits / Vienna Sunday Kitchen
März 17, 2016
Hast du das Rezept ausprobiert? Dann freue ich mich über deine Bewertung!! / Rate this Recipe!