This recipe for strawberry dumplings made from potato dough requires less butter and sugar than is common in many traditional recipes. And the dumplings still taste heavenly!
The potato dough consists of (floury) mashed potatoes, flour and egg. Because this recipe uses potatoes that have already been cooked the day before, the dough is not sticky and is particularly easy to shape.
The basic recipe for this simple potato dough can be used for all kinds of sweet and savory dumplings like apricot dumplings, plum dumplings or dumplings filled with ham, leftover pork roast, onions and mushrooms, etc.
Jump to:
Ingredients
For the recipe you need the following ingredients. The exact quantities are in the printable recipe card at the end of the article.
For the potato dough:
floury potatoes (the ones you would use for mashed potatoes)
all purpose flour (no whole wheat, no rye)
egg
big ripe strawberries, if you only have smaller ones, you can also fill one dumplings with 2-3, shaping them is a bit more difficult, though
For the toasted breadcrumbs
Further:
powdered sugar for serving
Instructions
Boil potatoes (preferably the day before) with skin. Peel and press through a potato ricer.
If you don't have a potato ricer, you can also mash with a potato masher or fork, press them through a sieve or grate them.
Never mash potatoes in a blender/mixer or they will become too sticky and the dough will not hold together.
Mix the mashed potato with the flour, a pinch of salt and the egg.
Quickly knead into a dough by hand. Do not knead the dough too long, otherwise it will be too sticky.
If necessary (i.e. if the dough sticks strongly to the hands), gradually work a little more flour into the dough.
If you cover and let the dough rest for another 10-20 minutes, it becomes more elastic, the dumplings can be shaped better and they do not fall apart so easily.
Before you start forming the dumplings, you should bring the water to a boil. Fill a large pot halfway with water. Bring to a boil and lightly salt the water. Reduce the heat before the dumplings go in.
Form the potato dough into a roll and cut into 8 equal pieces.
If the dough still sticks strongly, sprinkle your hands and work surface with flour.
Remove the stem end from the strawberries.
Flatten the dough pieces by hand and fill each with a strawberry. You can also use a rolling pin to roll the dough pieces flat.
If the strawberries are very small, you can also put two or three in a dumpling.
Shape the filled dumplings: Enclose the strawberries with the dough. Take good care that really no hole remains. Then, with both hands, shape into a ball as round as possible.
Put the dumplings into boiling water and simmer gently for about 5-7 minutes. When they rise to the surface, cook for a few more minutes, then they should be ready.
Caution: the water used to boil the dumplings should not boil too much, but neither stop boiling. If very small bubbles rise, then it's perfect ;). Therefore, while cooking the dumplings always stay by the stove and adjust the temperature if necessary.
While the dumplings are cooking, melt butter in a pan and toast breadcrumbs with vanilla sugar on medium temperature until golden brown.
Strain the finished dumplings and roll them in the breadcrumbs.
Serve with powdered sugar - Enjoy!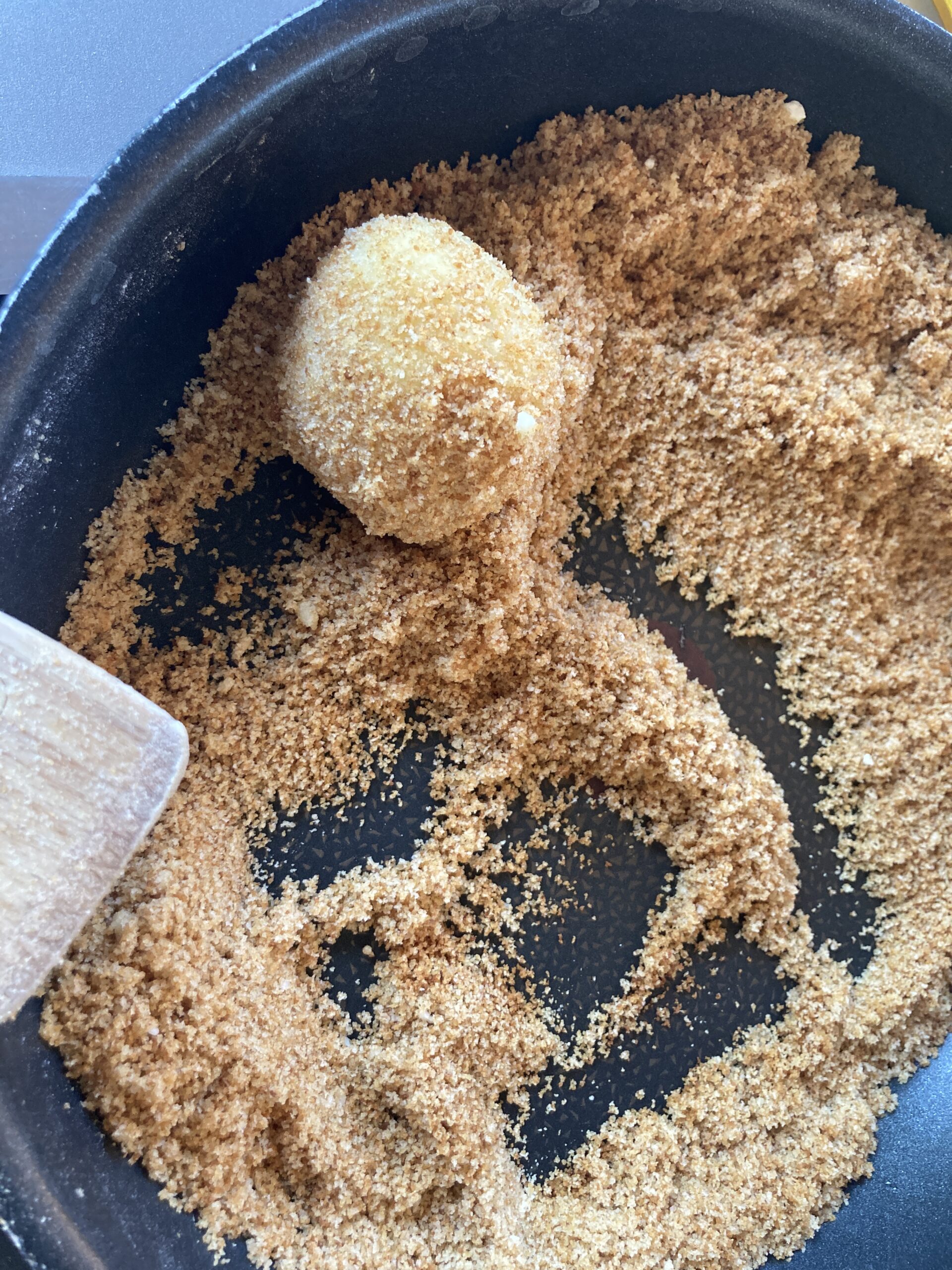 Advice for the potato dough: cook the day before
The potato for the dough is best cooked the day before. Then the potato dough does not stick as much and less flour must be used. The recipe also works with freshly cooked, but they should be cooled in any case.
Dumplings made from potato dough are also perfect when there are too many potatoes left over from the day before.
I also like to plan a dish with cooked potatoes in my weekly meal plan the day before, so that the potatoes for the strawberry dumplings can cook right along with them.
How to freeze strawberry dumplings with potato dough
The strawberry dumplings are best frozen when still uncooked. To thaw, put directly into boiling water and then cook like fresh dumplings, just a few minutes longer.
It is important to freeze the dumplings separately on a tray or similar for a few hours at the beginning so that they do not pick at each other. After that, they can be transferred to a common container.
Already cooked dumplings can also be frozen. When they are not covered in breadcrumbs yet, To thaw, heat up in hot water, slightly simmering, for a few minutes. However, you have to be careful when doing this. They fall apart more easily when cooked again. If you want to be on the safe side, you can also defrost them in the microwave, or heat up in the oven. The results are not as good as if you freeze and thaw uncoked dumplings, though.
You can also freeze cooked dumplings, that are already coated in breadcrumbs. To thaw, use the microwave or put in an oven-proof dish with lid and thaw on medium-low temperature. The dumplings are a bit more dry and the breadcrumbs not as crunchy anymore, but still taste okay;).
🖨️ Recipe Card for Print
Strawberry Dumplings with Potato Dough
Rezept drucken / Print Recipe
Auf Pinterest merken / Save on Pinterest
Strawberry dumplings made from potato dough in roasted butter crumbs. Simple dough made from boiled potatoes, flour and an egg.
Kochutensilien
potato ricer
(or potato masher)
Zutaten
For the dumplings:
400

g

potatoes boiled and peeled

~ 0.9lb

125

g

all purpose flour

1 cup

1

egg

pinch

of salt

8

Strawberries

medium/big
For the breadcrumbs:
40

g

butter

~ ⅓ stick

150

g

breadcrumbs

~ 1 cup

1

tablespoon

vanilla sugar

or normal sugar

powdered sugar

for sprinkling on top
Instruction
Make potato dough:
Boil potatoes with skin and let cool in the skin (best the day before). Peel just before processing.

Press potatoes, knead with flour, egg and pinch of salt to a dough.

Cover dough and let rest for about 10-20 minutes.
Shape dumplings:
Before you shape the dumplings, bring water to a boil in a large pot, salt lightly.

Divide dough into 8 equal pieces. If dough is still too sticky, knead with a little more flour.

Fill dumplings with strawberries, close well and form round.

Cook dumplings over medium heat for about 5-7 minutes. Cooking time may be longer for larger dumplings.
Toast breadcrumbs:
Melt butter in a pan and toast breadcrumbs with vanilla sugar until golden brown.

Strain the dumplings and roll in the breadcrumbs. Serve with powdered sugar.
(c) by Angelika Kreitner-Beretits / Vienna Sunday Kitchen
Juni 22, 2023
Hast du das Rezept ausprobiert? Dann freue ich mich über deine Bewertung!! / Rate this Recipe!
Nährwerte
Serving:
2
dumplings
|
Calories:
300
kcal