This recipe provides step-by-step instructions for homemade beef soup with blanched beef bones, roasted onion halves and soup vegetables.
There is also a short video below, where the steps are shown.
The blog post goes into more detail on the most frequently asked questions about beef broth. For example, all questions about blanching beef bones, salting beef soup, shelf life and freezing beef soup.
Jump to:
Which meat to use for beef soup
You will get the best results with beef cuts that are rich in connective tissue, fat and tendons, for example: Bone-in short rib, Bottom Sirloin Flap, fatty parts of brisket, shank, beeftail,...
In theory, however, any cut of beef can be used for soup.
Blanching bones for beef broth
Blanching bones means boiling the bones in water for a short time (approx. 1 minute). Then strain the water and rinse the bones with cold water (for example in a sieve).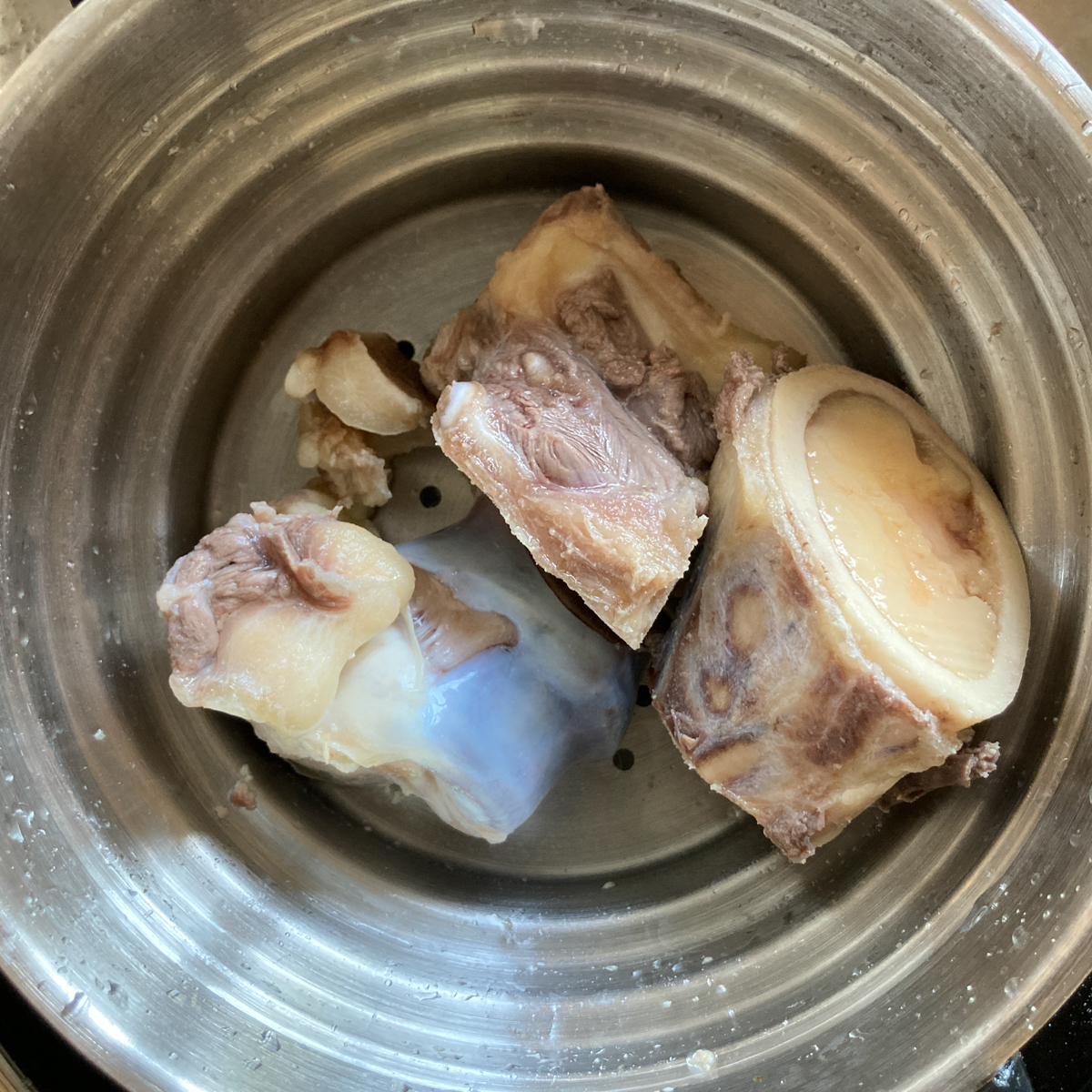 Do beef bones for soup need to be blanched?
Especially in older recipes, the bones are often blanched before you start cooking the beef soup.
In the past, bones were mainly blanched to remove bone splinters. However, thanks to the tools used today when butchering and dividing the bones, bone splinters have become very rare and blanching is no longer absolutely necessary. If the soup is strained through a sieve after cooking, any bone splinters can be avoided when eating.
However, as blanching the bones also removes clouding agents and helps to make the soup clearer, it is still popular. Removing the clouding agents has little effect on the taste, but the soup is clearer and has a nicer color.
Does the foam need to be strained?
During cooking, a white-grey foam rises to the surface of the soup, especially at the beginning.
The cooking world does not agree on whether this foam should be strained or not. Some chefs recommend constantly skimming off the gray foam to obtain a clear soup.
However, I have also often read the recommendation not to skim off the foam under any circumstances, as it sinks to the bottom of the pot during cooking and binds the previously mentioned cloudy substances there.
I've had excellent beef soups both ways, but I have to say that it's not so important to me how clear or cloudy the soup is.
Conclusion: as with so many things in the kitchen: decide for yourself how you like it best 😉
Roasting bones and onions for beef soup
In many recipes for traditional beef soup, the bones are roasted in the oven beforehand. This gives the soup a beautiful brown color and provides additional roasted flavors.
To roast the bones, place them on a baking tray or similar in the oven at approx. 360 °F / 180°C until they have roasted to a nice dark color. (Depending on the oven, for approx. 30 minutes)
Roasted onion halves also add flavor and color to the soup. To do this, cut 1-2 onions in half (no peeling) and roast the cut side in a pan without oil until dark brown. Best use a well coated pan.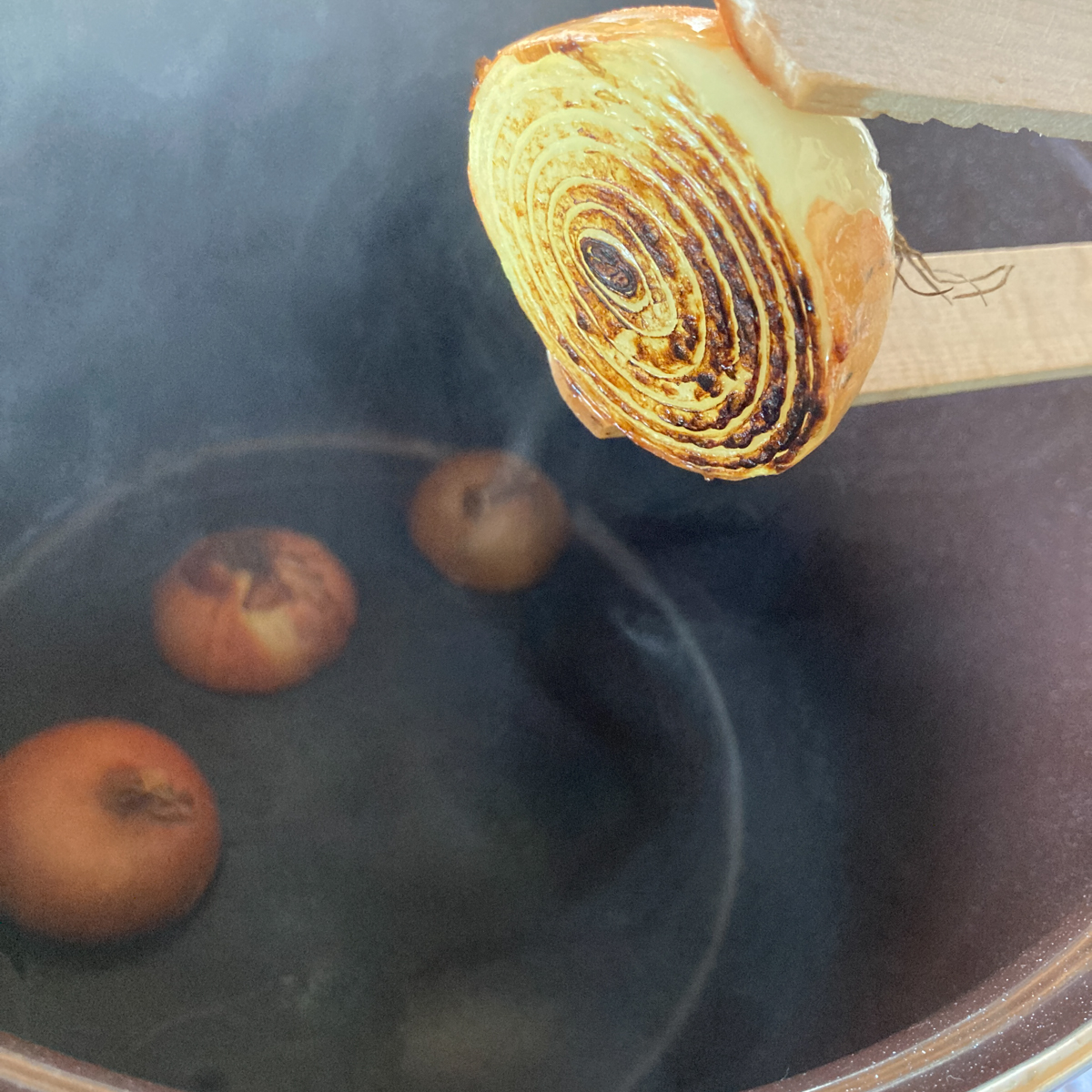 Advice: Roast onions in a pan rather than on aluminum foil! Some recipes recommend roasting the onion on aluminum foil so that you don't get the pan too dirty. However, I once melted the aluminum foil using this method! So I would definitely recommend roasting in a pan without aluminum foil. Best use a well coated pan.
---
Maybe, you'll also like:
When to salt the beef broth?
If the meat, bones and veggies are cooked in unsalted water, the flavors are better absorbed into the water. This means, do not add salt to your beef broth while you cook the soup, but only right before serving.
What to serve with beef broth
In Austria, beef broth has a very long tradition. Therefore, over the centuries, a great variety of soup toppings are served with it.
soup pasta: the easiest soup topping are small noodles like vermicelli or orzo, cooked directly in the soup, after it is strained.
pancake strips: one of the most popular beef broth toppings in Austria are strips of pancakes or crepes. To make pancake strips, cook thin crepes in a pan. Form into a roll and cut into strips, about ½ inch wide. You can also use leftover pancakes from the day before. Optionally, add some chives or parsley to the pancake batter.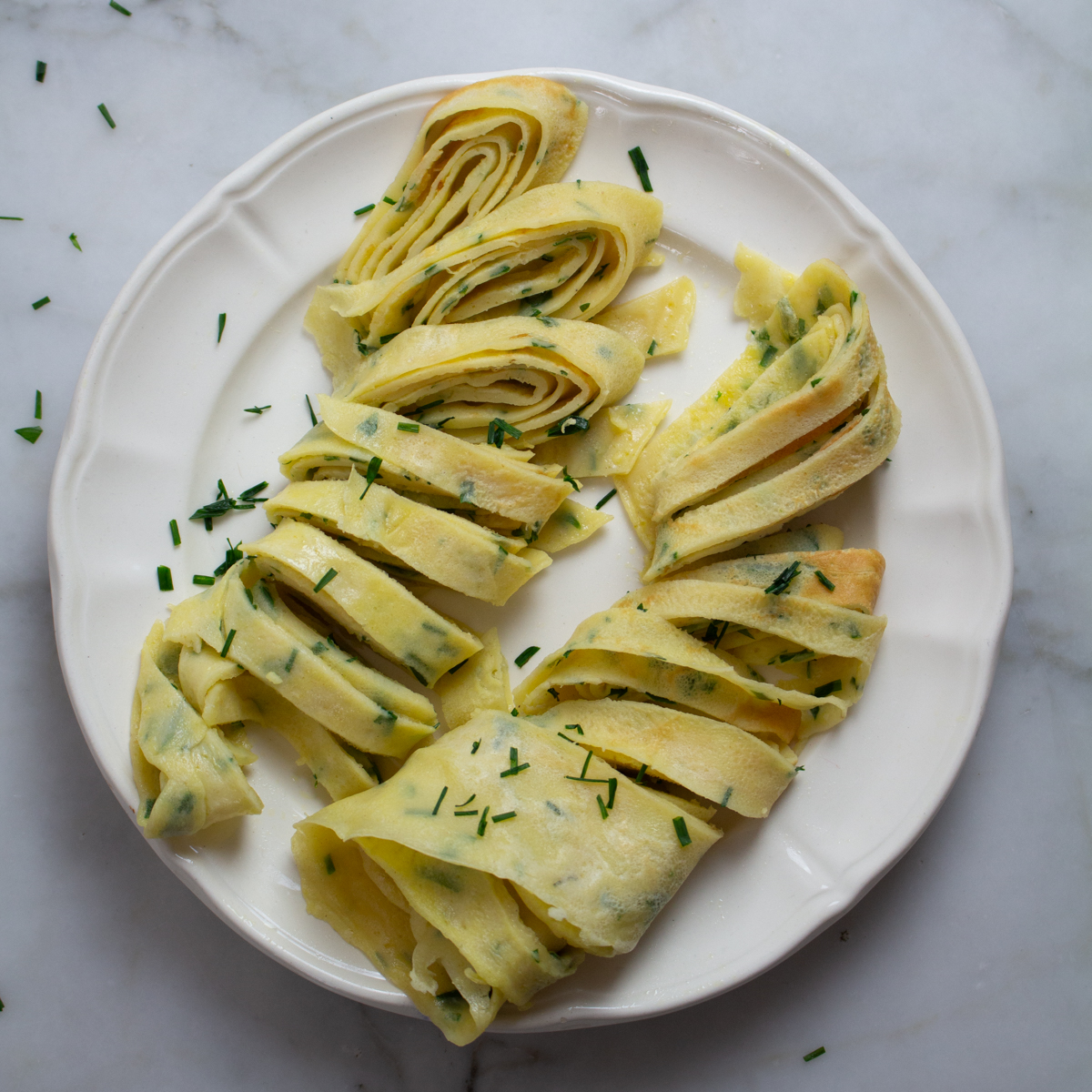 less known, but also very traditional, are Biskuitschöberl, which are a kind of rhombus shaped baked sponge cookies: Separate 2 eggs, whisk yolks, salt and fold in 40 gram of flour, grease a small baking tray or roasting tin with butter and dust with flour (optionally with baking paper), spread the mixture on top and bake for approx. 20 minutes at 140°C
for an easy, yet very traditional and delicious "Austrian granny style" soup you can also make an Egg Drop Soup with your beef broth.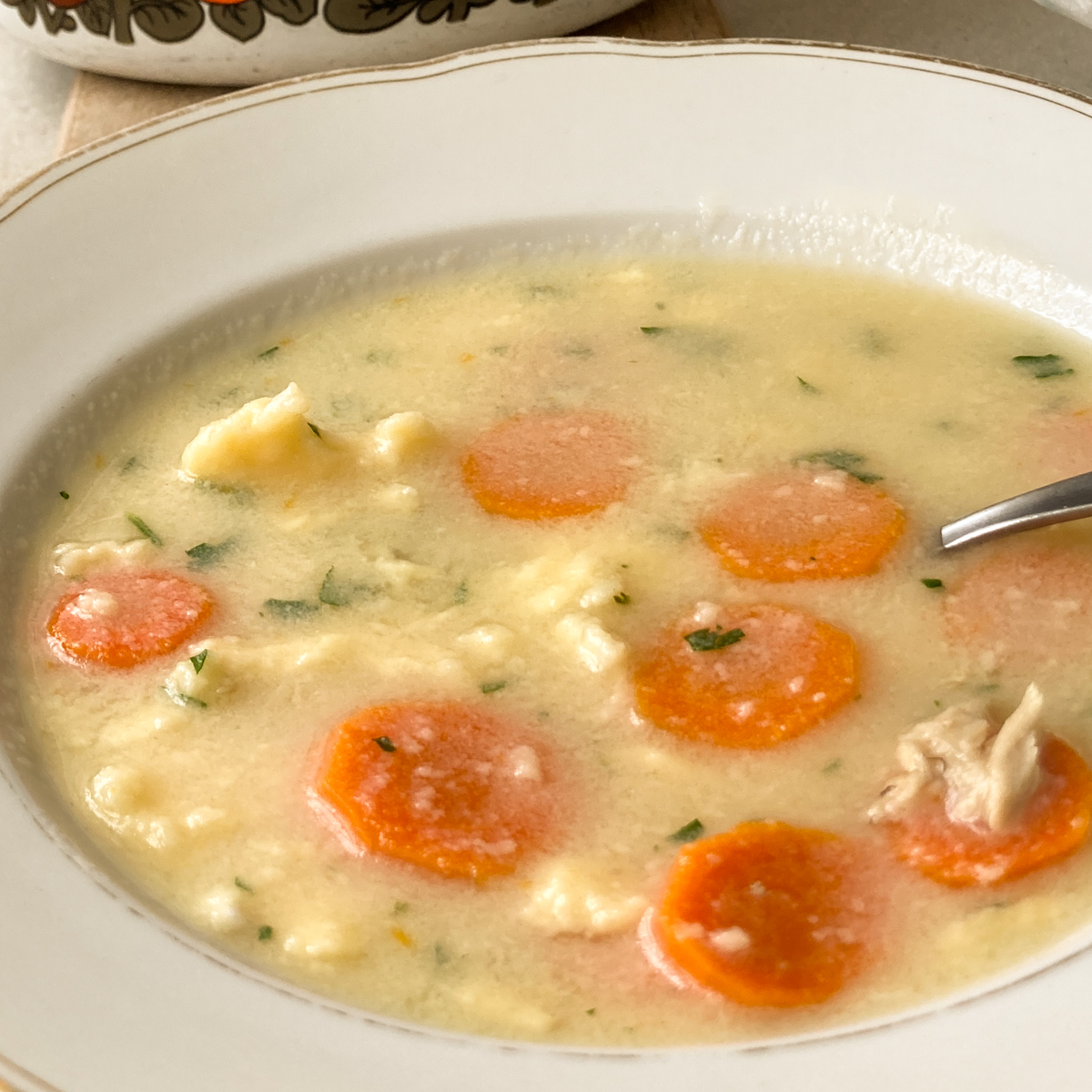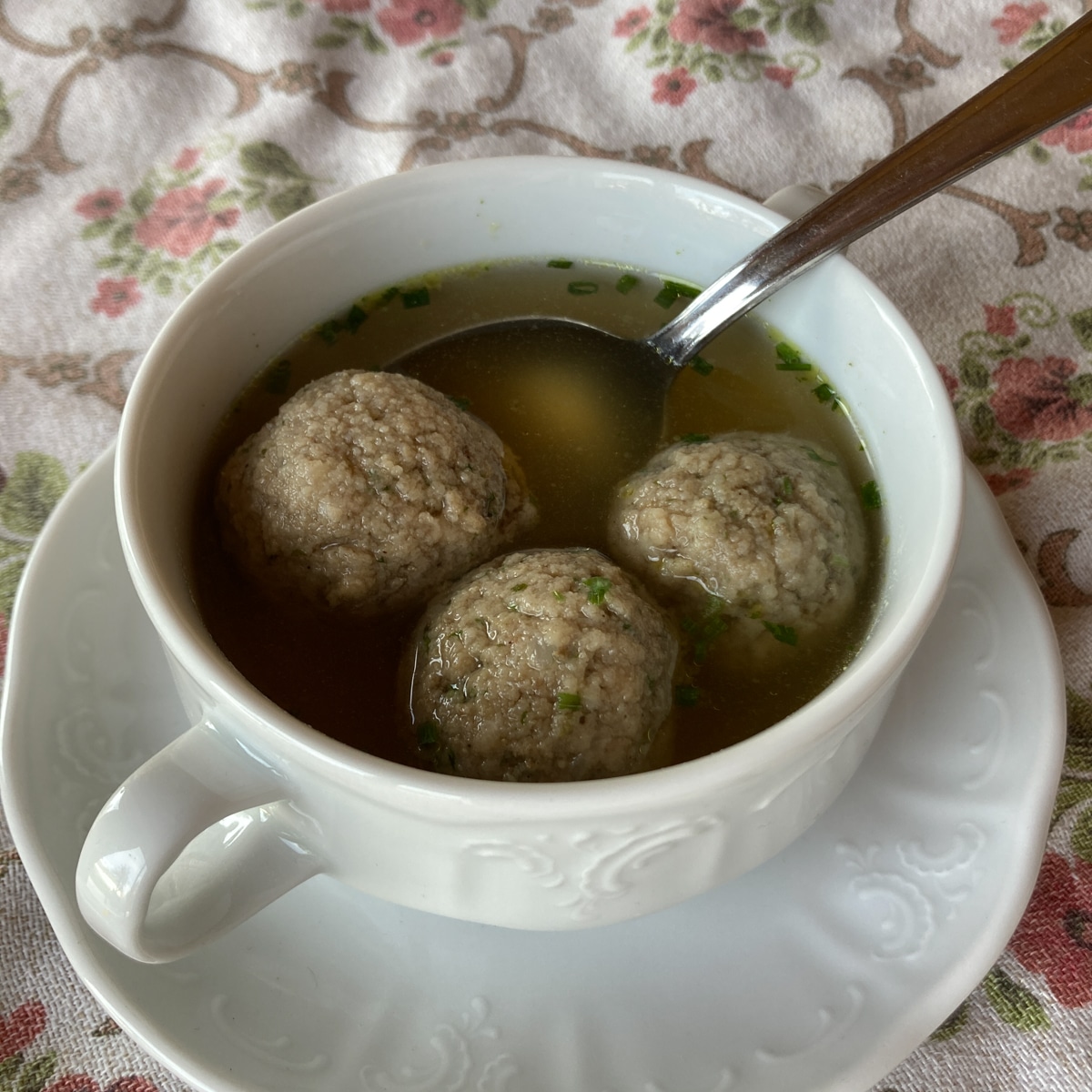 Freezing & Thawing
Can I freeze beef broth? Yes, beef soup or beef broth is ideal for freezing. It can be kept frozen for a few months.
Whenever I make beef soup, I try to make twice the amount and freeze some of the leftover soup. The frozen broth can be used very well for cooking all kinds of creamy soups or sauces.
For freezing, I prefer to sieve the soup and freeze without any vegetables or soup toppings. Screw-top jars are perfect for freezing if you don't have enough other containers and/or don't want to use plastic. The disadvantage is that they do not stack as well as square containers. (Also be aware that the glass can crack if the soup is too hot.)
Soup garnishes such dumplings should not be frozen together with the beef soup, as they can become too soft and fall apart when defrosted.
Very thin or small pasta such as vermicelli or orzo, as well as soup veggies can be frozen alltogether in the soup, in theory. But be aware thet they become much softer when reheated.
To defrost beef soup, take the frozen soup out of the freezer the evening before and leave it to defrost overnight in the fridge.
Shelf life
Beef soup can be kept in the fridge for approx. 2-3 days. To prevent it from getting sour, let cool down as quickly as possible, if it is not served immediately.
In winter, the soup should ideally be left to cool on the balcony, terrace or a windowsill. (Be careful, only if there is no risk of the pot falling on someone's head… :/ )
Alternatively, take the following measures to cool the soup quickly:
Transfer to a cold pot.
Leave to stand without the lid.
A metal ladle in the pot also conducts the heat "out of the pot".
Place the pot at a slight angle on a board so that the cold also reaches the bottom of the pot.
Alternatively: Place in the sink filled with cold water or ice cubes, or in a larger heat-resistant bowl.
Make your own beef soup
Rezept drucken / Print Recipe
Auf Pinterest merken / Save on Pinterest
Traditional Austrian beef soup with beef bones, roasted onion halves and soup vegetables.
Kochutensilien
Cooking pot approx. 5 liter capacity

Sieve for straining

Chopping board

knife for cutting vegetables and meat

Pan for roasting the onion
Zutaten
2

onions

500

g

beef cuts for soup

1 lbs, e.g. top chuck, shoulder, chuck roast, and chuck roast loin

500

g

beef bones

1 lbs

1

bunch of soup vegetables

parsley, carrot, turnip, leek, celery

10

peppercorns

5

juniper berries

3

bay leaves

1

tablespoon

lovage

2

l

water

~8+½ cups

salt

to taste

chives

to sprinkle before serving
Anleitung
Rinse the beef and bones with warm water. For a particularly clear soup, blanch the bones in boiling water for 1 minute, strain off the water and wash the bones.

Place the meat and bones in a pan with the spices (except the salt) and fill with approx. 2 liters of cold water. Everything should be well covered. Bring to the boil. Then simmer gently over a low heat.

Skim off any foam that rises (optional, this will make the soup clearer).

Cut the onion in half, do not peel. Fry in a pan until dark brown.

Halve the garlic (do not peel). Roughly chop the soup vegetables (peeling optional). Cook the onion, garlic and soup vegetables in the soup for the last 30 minutes. (If the vegetables cook for too long, the soup will be too sweet)

After a total of approx. 2 hours cooking time, strain the soup into a second pan, using a sieve. Remove the garlic, onion and spices from the soup.

For a particularly clear soup, also strain through a cloth.

Add salt to the soup and season with more spices if necessary.

Optionally serve with small pasta like vermicelli noodles. (Cook in the soup after it is sieved.)

Cut the vegetables and meat into small pieces and return to the soup.

Serve with chives sprinkled on top.
(c) by Angelika Kreitner-Beretits / Vienna Sunday Kitchen
November 16, 2023
Hast du das Rezept ausprobiert? Dann freue ich mich über deine Bewertung!! / Rate this Recipe!
Nährwerte
Serving:
425
g
|
Calories:
150
kcal