Finally! Summertime is here! This is why there is now also a grill recipe from Vienna Sunday Kitchen to match the grilling season. Glazed Pork Loin Steaks with grilled nectarins and sheep cheese zucchini rolls is my contribution for the new campaign of Austrian Supermarket Chain Hofer.
What do I need to consider when preparing pork loin steaks?
Pork Loin is a particularly low-fat meat - so well suited for the health conscious among us. At the same time it is a bit "tricky" to cook on the grill. If it is left a few moments too long, it dries out and becomes tough.
So, how do I save my pork loin steaks from drying out?
Marinade and glaze for pork loin steaks
I love to make a spicy marinade and leave the steaks overnight. (If you don't have the night, keep it in the marinade for at least 4 hours) As a result, the meat absorbs the flavors better. To this end, I asked the grill masters among my friends and came across the formula for the perfect barbecue marinade at my friend Leslie, a mathematics professor from England.
Here you can find his formula for the perfect barbecue marinade
Side dishes
Grilled nectarines harmonize wonderfully with the ork loin, giving a sweet and fruity contrast to the spicy meat.
You should leave the sheep's cheese on the grill until they are brownish and the sheep's cheese is a little bit melted. Be sure to prepare it in a grilling cup or on an aluminum foil, because the fall apart easily.
Pin this recipe on Pinterest: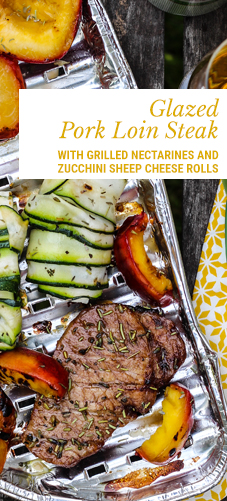 GLAZED PORK LOIN STEAKS WITH NECTARINES & SHEEP CHEESE ZUCCHINI ROLLS
Rezept drucken / Print Recipe
Auf Pinterest merken / Save on Pinterest
Grill Recipe from Vienna Sunday Kitchen: Glazed Pork Loin Steaks with grilled nectarins and sheep cheese zucchini rolls
Zutaten
For the pork loin steaks
5

pieces

pork loin steaks

4-6

tbsp.

oil

e.g. sunflower

8

tbsp.

black currant juice

or other juice (eg orange, pineapple,...)

6

tbsp.

maple syrup

or honey

½

cup

beer

1

tbsp.

rosemary

dried

2

cloves

garlic

pressed

1

tbsp.

salt, pepper

more maple syrup for the glaze
For the side dishes
5

nectarines

2

pcs.

sheep cheese

(200g each pack)

2

small zucchinis
Anleitung
Mix all the ingredients for the marinade and leave them well-capped with the meat overnight or at least for 3-4 hours in the refrigerator. Before grilling, remove from the refrigerator until the meat has room temperature. (about 30 minutes)

Shortly before grilling, add more salt and pepper.

Cook the steaks at high temperature for a maximum of 1 minute on each side.

Spread with maple syrop or honey on each side.The meat is to be protected from drying out by glazing. In addition, the sugar caramelizes and gives a good flavor contrast.

After grilling, cover and let rest for about 10 minutes.

Cut the sheep's cheese into pieces about 2 cm thick. This results in approx. 5 bars per pack.

Cut the zucchini into thin slices with a peeler (or bread slicer). Fold around the sheep cheese sticks and place in a grilling pot.

Cut nectarines into halves and remove core. Place in a grilling cup.

Grill the nectarines and sheep's cheese and zucchini rolls about 20-30 minutes at medium to low temperature until soft inside and brownish on the outside.
(c) by Angelika Kreitner-Beretits / Vienna Sunday Kitchen
Juni 18, 2017
Hast du das Rezept ausprobiert? Dann freue ich mich über deine Bewertung!! / Rate this Recipe!