Viennese potato goulash, in our family, is the typical leftover dish the day after family celebrations.
For the party itself we often cook plenty of sausages (when there are a lot of guests, it's just the easiest dish). The remaining sausages go into the goulash.
And, like most hosts, we overestimate the amount of food regularly.
So then, tons of sausages remain and we eat potato goulash the rest of the week. (That does not disturb us in any way 🙂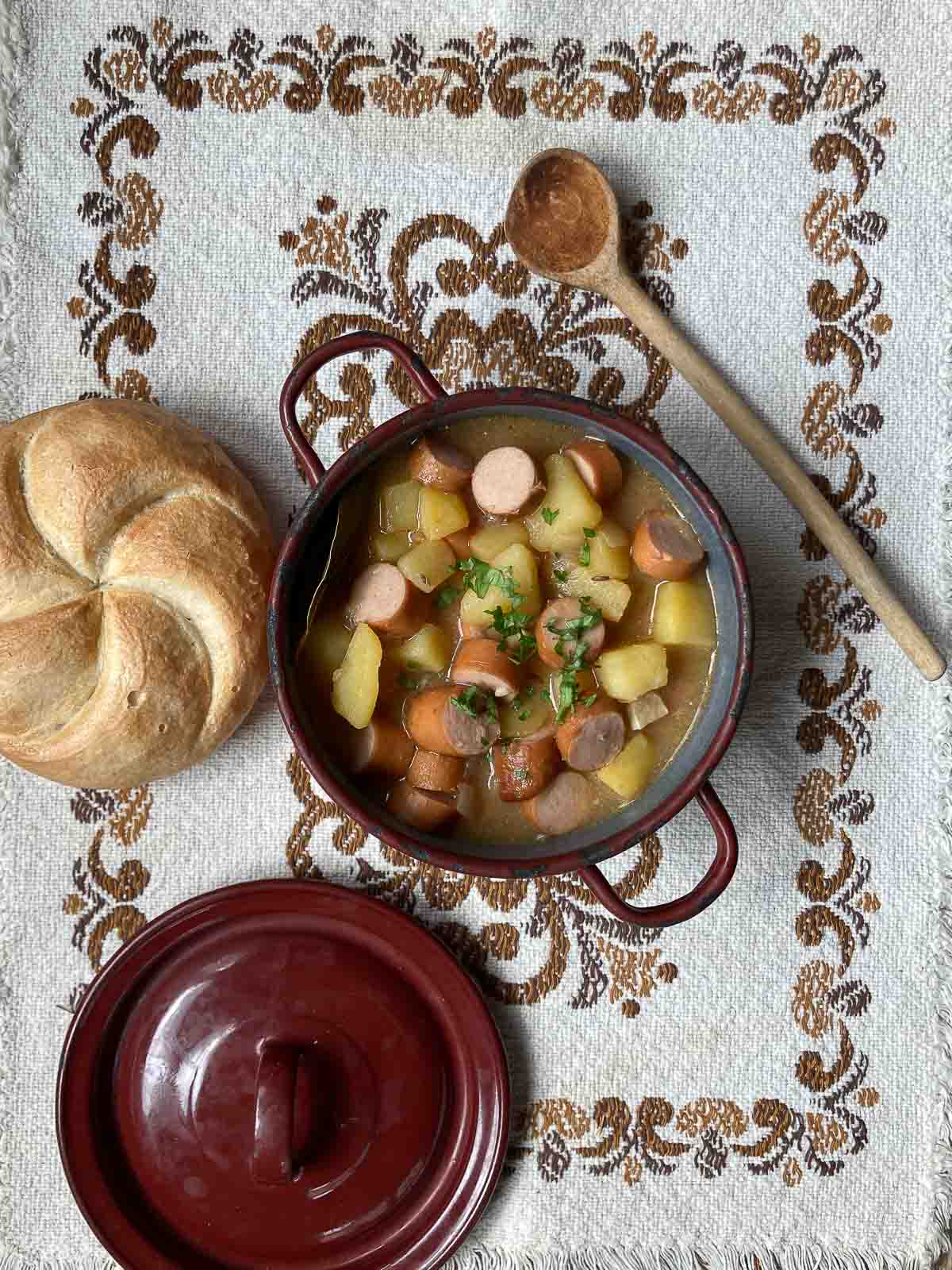 Unlike the original (Hungarian) goulash, the Viennese potato goulash is not with beef, but with sausages, and because of the long cooked potatoes, its juice is thicker and "creamier" than beef goulash. Another difference is that the Viennese potato goulash is usually not that spicy.
As a side dish to the goulash we usually eat bread or rolls.
That's how my grandma prepares the Viennese potato goulash
Ingredients:
1 onion
2-3 cloves garlic
4-5 large potatoes (1kilo)
4 pairs of Frankfurter sausages (= Viennese sausages)
1l vegetable soup (or 1 liter of water) {that's 4 cups / 2 pints}
1-2 tablespoon caraway seeds
1-2 tbsp paprika powder
1-2 tablespoon sour cream
1tsp. flour
Sunflower or corn oil (or similarly neutral vegetable oil)
parsley for topping
Directions:
Peel onion and chop into small pieces, peel the garlic and chop (or press with a garlic press), peel potatoes and cut into small pieces (about 2x2 cm - that's approx. 0.8 inches)
Heat some oil (about 5 tablespoons) in a pan and fry the onions until they are light brown
Put garlic and potato pieces into the pot and fry for 1-2 minutes
Add paprika and caraway seeds to the pan and stir well
Pour the soup (or the water) and let the potatoes cook for 5-10 minutes
Now you cut the sausages into slices (about as thick as a thumb) and add them to the pan. It works out as well with frozen sausages, just takes a bit longer to cook (and is more difficult to cut ....) The goulash is again cooked for 5-10 minutes until the potatoes are very soft and the sausages ready to eat.
Season with salt and pepper
Now the sour cream is added. This is not a "must", but it is quite typical for the taste of my granny's potato goulash. To prevent the sour cream from "flaking" it's important to prepare the sour cream a bit: Before mixing with the goulash, put the sour cream in an extra bowl and mix very well with only a small part of the goulash liquid (about 1 ladle). One can also mix with a teaspoon of flour or starch (e.g. corn starch). Then the sour cream is stirred into the goulash (which shall not cook anymore).
Ready! Garnish with parsley 😉
********