In addition to this lavender simple syrup recipe, further down in the post you'll find detailed information on when to harvest lavender, best lavender varieties for cooking and syrup, and what lavender syrup can be used for.
This recipe for lavender syrup is cooked with 1 kilogram sugar per 1 liter of water and uses organic lemons instead of citric acid. The infusion time for the lavender extract is about 24 hours.
For all syrup beginners, I've summarized the basics of syrup making in this article: basics of making syrup of herbs and blossoms.
Jump to:
I got the recipe for lavender syrup from my dear aunt and when I tasted her syrup for the first time a few years ago, it was so good that I had to present the instructions to you!
How to harvest lavender
Lavender typically blooms in the summer months between June and August, and it's best to harvest the flowers right before they are in full bloom. If you harvest them later, you can still use them, but the flavor is not as intense.
Choose a sunny day to harvest, preferably in the late morning or at lunchtime, when the flowers have had a chance to dry off any morning dew.
When harvesting lavender, use sharp pruning shears or scissors to cut the flower stems just above the leaves. Do not cut into the wooden parts of the plant, this might prevent it from blooming the year after. You will need about 2 handful of fresh flowers (40 gram / 80 pieces) to infuse 1 liter of water (~4+¼ cups of water) with the fragrant lavender flavor.
Lavender syrup with dried flowers
Dried lavender flowers can also be used to infuse lavender syrup. The lavender flowers can either be dried by yourself or bought directly. More information on how to dry lavender yourself is in the next paragraph.
Since the aroma is stronger with dried flowers, you only need 1 handful of dried flowers for 1 liter of water. This corresponds to about 15-20 g or 30-40 pieces of lavender flowers.
How to dry lavender
To dry, tie lavender in bushes and hang in a shady, airy and dry place for about 2 weeks. A warm attic, shed or garden shed where there is a constant draft of air is ideal. The flowers can also be dried in a dehydrator at 38°C.
Do not wash the plants before drying. After drying, transfer to airtight containers and store away from light.
Dried lavender is also good for relaxing tea mixtures (for example with lemon balm and valerian) or relaxing baths. You can also fill the dried lavender in scent bags against moths.
Buying lavender for syrup
If you don't have access to fresh lavender, you can also purchase dried lavender flowers from local farmers' markets, specialty herb stores, or online vendors (in Austria, lavender is also available at pharmacies and drugstores). Ensure that the lavender you buy is culinary-grade and suitable for consumption.
As the flavor of the dried lavender is stronger than fresh lavender, you only need about 20 gram (~ 1 cup or handful) of dried lavender for 1 liter of water.
When buying lavender, consider the variety and origin. Additionally, if supporting local producers is important to you, look for lavender that is grown locally or regionally.
Which lavender variety for syrup?
Some lavender varieties are more suitable for making lavender syrup. The most common lavender varieties for cooking are:
English Lavender (Lavandula angustifolia): This is the most common lavender variety used for culinary purposes. It has a sweet and delicate flavor that works well in syrups and other culinary creations.
French Lavender (Lavandula dentata): French lavender has a slightly stronger and more robust flavor compared to English lavender. It can be a great choice for adding a more pronounced lavender taste to your syrup.
Spanish Lavender (Lavandula stoechas) has a slightly "soapy" and stronger flavor and is not so often used for culinary purposes.
Most cultivated varieties of white and pink lavender are not suited for culinary use.
This article from highcountrygardens.com gives a good overview on the best lavender varieties for cooking, drying and essential oil.
---
---
Ingredients
Here is some detailed information about the ingredients you need for the lavender syrup. The short version of the recipe can be found in the printable recipe card at the end of this post.
Jump to recipe
To make your own lavender syrup, you'll need:
lavender - fresh or dried
2 handful (~40 gram or 2 cups) of fresh lavender flowers - or 1 handful (~20 gram or 1 cup) of dried lavender

sugar
1 kilogram of granulated sugar (5 cups)

The sugar is responsible for the long shelf life of syrup. If you want to replace the sugar with sweeteners like erythritol, birch sugar or stevia, shelf life is reduced. In this case, store in the fridge and consume within a few weeks.

water
1 liter of water (4+¼ cups)

lemons
3 organic lemons - can be substituted with 60 gram of citric acid or 300 ml of lemon juice (1+¼ cup)
Lavender syrup uses
You can use lavender simple syrup in refreshing summer drinks, for baking, and even for seasoning grilled meat!
1. lavender syrup in non-alcoholic drinks.
Lavender syrup tastes wonderful with sparkling water (about a 1:6 ratio, as with any other syrup).
Also together with a squeeze of lemon and
in non-alcoholic cocktails
2. lavender syrup for lavender spritz, in sparkling wine, long drinks & cocktails
Lavender Spritz: spice up a white wine spritz (about ½ cup sparkling water and ½ cup white wine) with a splash of lavender syrup. Optionally, add lemon slices and ice cubes.
Lavender syrup is also very popular for sweetening sparkling wine and prosecco. For this purpose, mix in a ratio of approx. 1:6.
But it is also suitable for cocktails, long drinks (for example with gin and sparkling water), to sweeten tea, for a refreshing summer punch,…
3. lavender syrup for desserts
Anyone who likes to bake and cook, will also apart from lavender Spritzer & Co. uses for the lavender syrup can be found, for example:
in cream desserts, mousses and sweet sauces
in cake fillings, icings & frostings
with ice cream
with vanilla pudding
over pancakes
4. for seasoning meat
Lavender syrup can also be used for glazing grilled and roasted meat, especially lamb. The aroma goes particularly well with Mediterranean-spiced dishes.
Caution: In the beginning it is better to approach slowly and use less of the lavender syrup, because too much lavender can quickly taste "soapy"!
The dried or fresh lavender flowers can also be used directly as a spice. Here, too, use only a little at the beginning, because the aroma very quickly becomes too "soapy".
5. Lavender Syrup bottles as a gift
The syrup is also perfect as a gift for your loved ones, friends and colleagues. If you want to give away your homemade lavender syrup, I have made some bottle labels for you! The labels can be printed with any printer on adhesive film or address labels. No need to sign up for the newsletter or anything like that to download the labels.
Which color does lavender syrup have?
Now what about the purple lavender syrup color? Shortly after canning, the lavender syrup is still beautifully purple, but the color disappears after a while.
If you want your lavender syrup to be purple for a longer time, you need to add a drop of purple food coloring. Please don't overdo it though, or it will look too artificial! However, the color can settle at the bottom after some time. You have to shake the bottle then, so that the color is distributed again.
What are the benefits of lavender syrup?
Lavender, especially in the form of essential oils, tea and scented sachets is said to have a calming, relaxing and sleep-inducing effect. The scent of lavender is often associated with calm and relaxation. However, I dare to doubt whether the syrup made from sugar and lavender extract can help to reduce stress like essential oils or medical lavender products ;).
Sterilize bottles for canning
For a long shelf life of the lavender syrup it is necessary to work cleanly and use sterilized kitchen equipment and bottles.
For those who don't have much experience with canning syrup, I have collected all the important basics for making syrup, sterilizing the bottles and preserving the syrup in this article.
Equipment for lavender syrup
In this blog post you will find all the important information about the equipment you need to make syrup.
Free Syrup Labels to Download
Click here to download your free labels for lavender syrup bottles.
---
Shelf life
If the kitchen equipment and the bottles used have been sterilized, the preserved syrup will keep for a year or more in a cool place (cellar, cool pantry). Once opened, store in the refrigerator and use within a few weeks.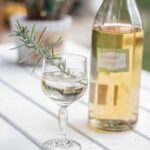 Homemade Lavender Syrup
Rezept drucken / Print Recipe
Auf Pinterest merken / Save on Pinterest
Lavender syrup can not only be used to spice up summer drinks, desserts and even to season your grilled meat! - The beautifully packaged bottles are also a nice and original gift for your loved ones, friends and colleagues!
Zutaten
2

handful

lavender

~40 gram or 2 cups of fresh lavender flowers - or 1 handful (~20 gram or 1 cup) of dried lavender

1

kilogram

of granulated sugar

5 cups

1

liter

of water

4+¼ cups

3

organic lemons

can be substituted with 60 gram of citric acid or 300 ml of lemon juice (1+¼ cups)
Instruction
wash and slice the lemons. Cook lemon slices and lavender with the water for about 5 minutes on low to medium temperature.

Cover and leave to infuse overnight or about 24 hours.

The next day, strain lavender and lemons through a sieve. Now add the sugar and boil the water again for a few minutes at medium-low temperature.

Immediately after boiling fill into sterilized bottles.
(c) by Angelika Kreitner-Beretits / Vienna Sunday Kitchen
Juli 4, 2023
Hast du das Rezept ausprobiert? Dann freue ich mich über deine Bewertung!! / Rate this Recipe!