Here comes a really good recipe for a fluffy Austrian Braided Easter Bread made from yeast dough. (In Austria, it's called "Striezel".)
The Striezel is traditionally braided into a 4 or 6 strand braid, but of course it works with 3 strands as well.
Below in the post is the link to a video that shows how to braid a 6 strand striezel.
Alternatively, the Braided Easter Bread (Easter Striezel) can also be twisted into an Easter wreath and decorated with Easter eggs or decorative eggs.
Braiding a 6-strand Striezel requires a little patience and concentration. During my first attempts, I was often too impatient and kept looking for some "hack" that would make it easier. But the "hack" in this case is: listen carefully, watch carefully, concentrate, practice.
So easy.
Braiding a 6-piece Striezel is explained really well in this video by "Painless Cooking". (They are braiding a challah there but it's the same braiding technique.)
I recommend watching it directly while braiding and pausing whenever you lose the thread ;D.
---
Click here to see all of my other traditional Viennese recipes. here.
If you liked the Braided Easter Bread Recipe, maybe you'll also like:
---
If you tried out the recipe, I would very much appreciate it, if you leave acomment and rating!
Easter Striezel recipe to print out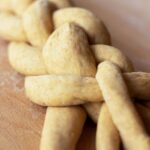 Braided Sweet Easter Bread
Rezept drucken / Print Recipe
Auf Pinterest merken / Save on Pinterest
Recipe for a wonderfully fluffy Sweet Easter Bread made from yeast dough and braided into a 3,4, or 6 strand braid.
Zutaten
For the yeast dough
0.75

oz

fresh yeast (21 gram)

or 1 pack of active dry yeast (0.25 oz/7g)

¼

cup

sugar

45 gram

1

cup

milk lukewarm

250 ml

2+½

cup

flour smooth

325 gram

3

egg yolks

zest of half a lemon

2

tablespoons

brown rum

40%

1

teaspoon

vanilla sugar

or ½ tsp. ground vanilla, vanilla flavor

1

pinch

salt

¼

cup

butter at room temperature

45 gram, or 4 tbsp. or 0.4 sticks of butter

raisins

optional
further
flour for dusting and shaping

1

egg

whisked, for brushing

Coarse Grain Sugar or flaked almonds for sprinkling on top

optional
Instruction
Separate the egg whites from the yolk.

Dissolve the yeast with a little sugar in the lukewarm milk.

Gradually mix in all of the other ingredients for the dough and stir well, using a wooden spoon, hand mixer or kitchen machine.

Cover with a kitchen cloth and let rest for 30 minutes.

Knead the dough on a floured work surface. If necessary, incorporate a little more flour. Form the dough into 3-6 equal strands and braid them into a braid. (see blog post).

Cover with a kitchen cloth and leave to rest for another 30 minutes.

Brush the Striezel with beaten egg and optionally sprinkle with coarse grain sugar or flaked almonds.

Bake for 30 minutes at 170°C top and bottom heat.
(c) by Angelika Kreitner-Beretits / Vienna Sunday Kitchen
März 6, 2023
Hast du das Rezept ausprobiert? Dann freue ich mich über deine Bewertung!! / Rate this Recipe!
Notizen
Serve in slices, optionally with with butter, honey or jam.
Nährwerte
Serving:
120
g
|
Calories:
340
kcal