Everytime I visit a Heuriger (Viennese Wine tavern), I really look forward to order Black Salsify Salad there.
Black Salsify Salad is a perfect side dish to all kinds of grilled meat, Viennese Schnitzel or as a quick and easy addition to a party buffet.
Because black salsifies are quite rare in Viennese restaurants and also not easy to find in supermarkets, they are kind of special to me.
Tipps for preparation of black salsify salad
For this salsify salad I had to use precooked bottled salsifies, since the season is already over. But if you one day stumble upon some fresh salsify, I would go for it - it pays off (and is very healthy too)!
The season for black salsifies is from October to April. For the preparation of fresh black salsifies you should wear gloves because your hands can get black otherwise. First, they should be peeled, after peeling, they are boiled in salted water (with a bit of lemon juice) until they are soft but still "al dente".
With the black salsifies out of the glass, of course there is no need for the peeling and cooking stuff. But the fresh ones surely taste better and are more healthy.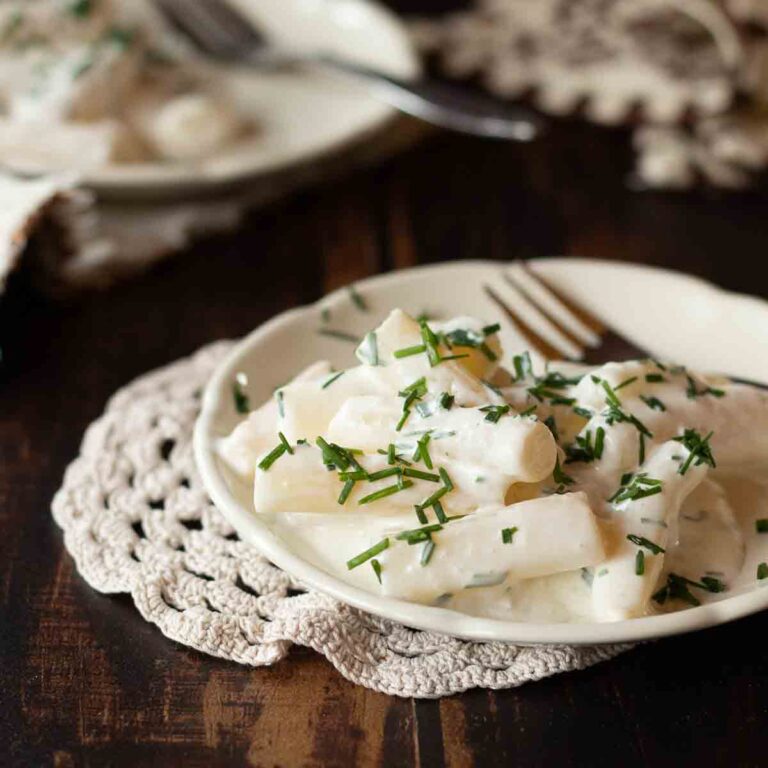 Black Salsify Salad
Rezept drucken / Print Recipe
Auf Pinterest merken / Save on Pinterest
Quick and easy recipe for traditional Austrian black salsify salad with sour cream and yoghurt.
Zutaten
300

g

black salsifies

500 g of fresh ones

3

tbsp.

natural yoghurt

3

tbsp.

sour cream

3

tbsp.

white wine vinegar

or other light vinegar

pepper

salt

chives
Instruction
Mix all of the ingredients for the dressing in the salad bowl. (Put aside some chives for decoration) Add salt and pepper to taste. Strain the water of the bottled salsifies and wash them. Slice and mix with dressing. Sprinkle some chives on top.
(c) by Angelika Kreitner-Beretits / Vienna Sunday Kitchen
Mai 22, 2016
Hast du das Rezept ausprobiert? Dann freue ich mich über deine Bewertung!! / Rate this Recipe!
Nährwerte
Serving:
100
g
|
Calories:
100
kcal