Roasted pork with caraway seeds is a classic one at the Austrian Heuriger – but not only in Austrian wine taverns, it's a classic recipe all over Austria and Germany. That's why I wanted to learn how to make it for a long time. (Thank you, Constanze, for the suggestion you made on facebook 😉) It takes a bit of practice until you have the perfect crispy roast, but after the third roast or so it worked out great). [Go to recipe directly]
The following recipe therefore is explained in great detail and illustrated with step-by-step instructions, simply because many roast recipes that I've found are somewhat imprecise and presuppose roasting experience. I therefore summarized all the tips that I have found to make it more easy. If you have a question, please just leave a comment 😉.
Because somehow we have no tradition in my family to make roasted pork, I had to find my own way to the perfect crust. The result is a mix of different methods and recipes.
While researching on the perfect crust you come across different approaches and methods. And all of them take their stuff pretty seriously.
Pour gravy over the crust!? "Never ever!", says grandmother Resi on Youtube (only in German). Or maybe repeatedly pour gravy and beer, as this Austrian chef on YouTube (only in German)…? Give a lovingly MASSAGE to the meat the day before you prepare it, like Austrian physicist and entertainer Werner Gruber explains, based on scientific research. (Report in German) So what now? Like … whaat? I am confused, but stay on my way and simply begin with roasting…
Here are the lessons I've learned for making the perfect crispy pork roast
You gotta love your pork – and treat it gently
That means, you give it a massage the evening before you prepare it. – Seriously, it works.
Marinate the meat with garlic, salt, pepper, caraway and oil and then massage in a plastic bag for about 5 minutes. Overnight the spices do like soak into the pork and spread their superbness all over. This way you also will, I'm pretty sure, strengthen the emotional bond between you and your roast, it will thank you the next day! (Cooking with lots of love, ya know…) This looks like on the pic below. Please also note the lovely flowers I've bought for my darling roast:
The rind
The rind shall be only cut after it has been steamed! Before that, it's really hard and takes forever to cut! This will decrease the risks of injury and frustration.
The popcorn crust – how to get the perfect crispy roast
To get the crust from really crispy, I switch the oven on grill level and increase the heat to 220 °C (~430 °F) for the last 15-20 minutes. There are also people who manage to get it crispy with only 180 °C (~355 °F), but I didn't manage that so far.
During this time I sit down on the kitchen floor in front of the stove and enjoy the show. The rind pops up bit after bit like popcorn, just wonderful! It may also char rather quickly on grill level, so you should look after it anyway…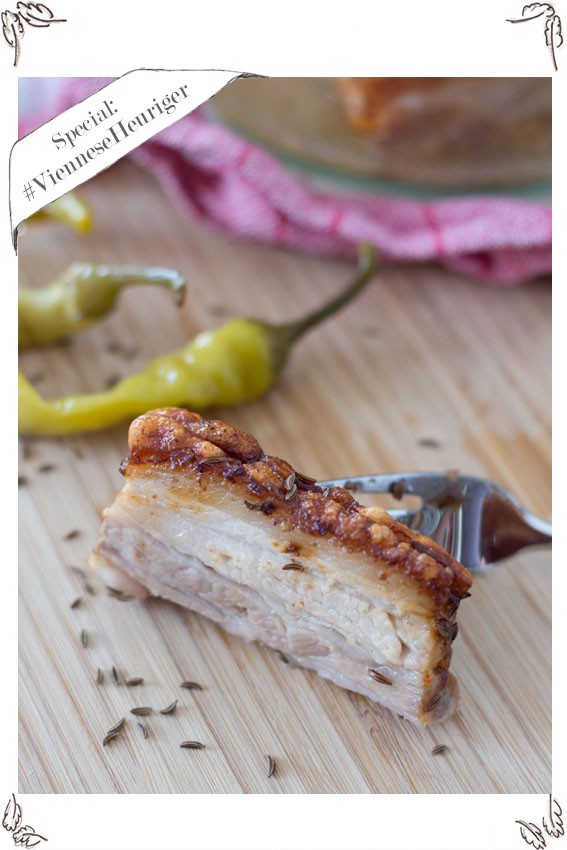 Conclusion
After a few attempts roasting is easy! And, despite countless recipes and instructions on how to get together the perfectly roasted crust, most likely your own experience will do the job best…
Austrian side dishes to caraway roast
I recommend either potato dumplings, bread dumplings, or easiest: to let steam a few peeled potatoes in the gravy together with the roast. (Then you may need a little more gravy to pour into the form.) And coleslaw salad or Sauerkraut, of course!
Last but not least – the Bratlfettn!
After the roasting, I always take aside part of the gravy for a Bratlfettn. (Who's not familiar with that: the Bratlfettn is nothing more than the cooled gravy, which has already turned stiff again and is a very typical spread at the Austrian Heuriger.)
To be honest, I make the roast only to get some Bratlfettn (and the crust, of course)!. Just put a part of the drippings in a glass and let it cool. Keeps for several days in the refrigerator, but will be emptied earlier for sure.
The cold roast
If there are some leftovers of the roast, keep it cool separated from the gravy. When cold, the roast even tastes better than fresh from the oven! Add horseradish, brown bread, and here we go …
Here is my detailed instruction for the caraway roast: