Chanterelle season has started in Austria! I simply love chanterelles and especially this chanterelle sauce. They do not only taste wonderful, they are also fun to pick. (Go to recipe directly)
My personal favorite chanterelle sauce recipe tastes a bit "lighter" than the usual chanterelle sauce you will get at Austrian restaurants. I added Zucchini and LOTS of chives, so it tastes more like "summer".
In Austrian restaurants, you will mostly see chanterelle sauce in combination with Semmelknödel (dumplings). This tastes wonderful, but is a bit too much for a hot summer day.
So I tried to combine it with my homemade green herbs pasta. The homemade pasta is made with parsley and chives, typical herbs for the Austrian cuisine. A tasty alternative to the homemade herbs pasta would be green pasta with spinach (homemade or bought or whatever).
Be careful when you pick mushrooms by yourself, there are a few poisonous ones out there in the woods. Please inform yourself which sorts are edible and which are not. (Scroll down for more information)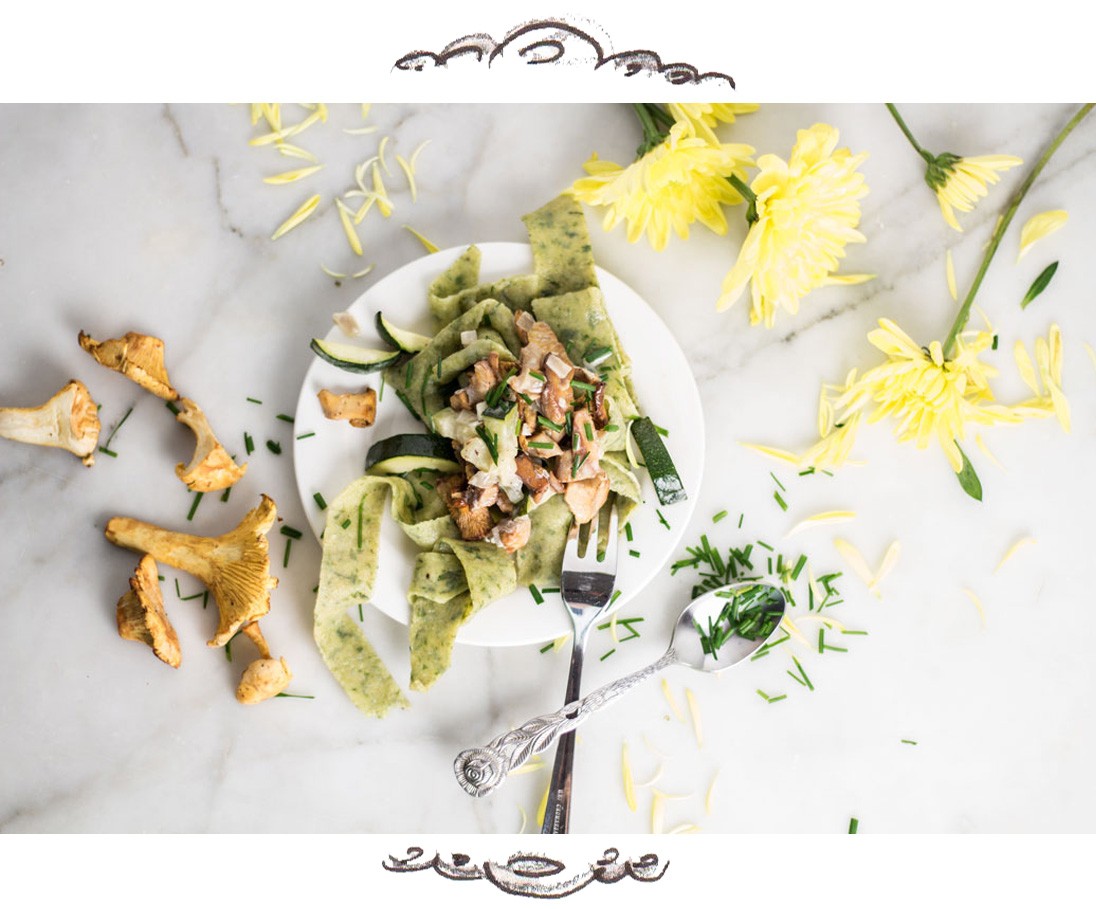 On foraging mushrooms
Chanterelles you can, for example, mistake with "false chanterelles" or with "jack-o'-lantern mushrooms". Maybe you wanna get a book about mushrooms or take a look at a few sites before you go picking (or best: take someone with you who knows what he/she is doing;). Please note, that I do not assume responsibility for any adverse effects from misidentification or incorrect use of the plants featured on this site or linked external sites.
On these sites you can find more information:
Wikipedia on Chanterelles
Wikihow.com
"Mother Nature Network"
Tips for preparation of chanterelles
Most importantly: Do not wash them! Instead clean with a brush and / or paper towel.
Also: Cook them at a high to medium level.
More tips and common mistakes you will find at bonappetit.com.
Recipe for Chanterelle Sauce
Bring to boil a pot of water. Add pasta (+ 1 pinch of salt). Cook until al dente. Drain the water.

Clean the chanterelles carefully with a paper towel and /or a pastry brush. (Do not wash them!) Cut into pieces.

Chop small the onion, the zucchini and the chives. Press or chop small the garlic.

Heat up a pan with 4-5 tbsp. of oil. Add the onion and cook until translucent.

Add garlic and chanterelles. Cook until the chanterelles are soft (high to medium heat for just a few minutes, eventually add more oil).

Add the zucchini and the cream. Stir regularly. Cook for another few minutes (I prefer when the zucchini is not too soft). Salt and pepper.

Serve with the pasta and add chives on top.