Today I present you one more recipe of my grandma, this time sponsored by Hofer Austria! I tried out a recipe for traditional cabbage roulades with winter veggies from the oven! Cabbage roulades are the ideal comfort food for cold winter days. A stuffing of ground meat, spices and eggs is filled into boiled cabbage leaves. These are wrapped with bacon and steamed with some soup in the oven. (Nothing can go wrong when there's bacon in it, right!?)
For more recipes and life-hacks check out the Hofer-Blog (in German) or visit Hofer Austria on Facebook and Instagram!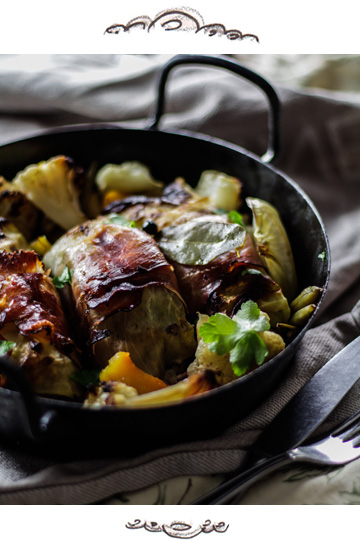 Side dishes to the cabbage roulades
The classic side dish to cabbage roulades is cooked potatoes with salt and sour cream.
But I have chosen a mix of different winter vegetables, which can be steamed or roasted in the oven. I decided to go with butternut squash, cauliflower, turnip cabbage, soup vegetables (carrot, parsley, turnip, parsnip,…) and green beans.
Very good for oven-roasted veggies are also the following: potatoes, sweet potatoes, beetroot, Jerusalem artichoke, fennel, onion, … I don't know why, but veggies tastes so much better when made in the oven! (Compared to boiling in water…)
You can either let the veggies steam in the same roasting tin as the cabbage rolls, or you can roast them in an extra roasting tin or baking tray with some olive oil. With steaming, the veggies take the same time in the oven as the cabbage rolls, namely 45 minutes, when roasted they need about 60 minutes.
When the cabbage rolls are placed in the roasting pan, you pour some soup (thumb width). I did not have soup at home, but I had some soup veggies. I decided to steam my soup vegetables together with water and the cabbage roulades (all in one roasting tin). This way, I did not have to prepare a soup in advance.
In short, I put EVERYTHING together in one roasting tin and let it steam: the cabbage rolls, the soup vegetables, and the remaining winter vegetables.
Whoever uses more vegetables than the quantity given below, can alternatively switch to a baking tray. (Or prepare the oven vegetables in a separate roasting tin.)
---
Maybe you're also interested in:
Austrian Roast Goose with red cabbage and potato dumplings
---
Here comes the recipe for the cabbage roulades