Mediterranean pasta salad with red pesto, dried tomatoes, capers and pine nuts. (Go to recipe directly)
This is a pasta salad which I love to prepare for parties. Today I made it for the annual Austrian Food Blogger Picknick at Vienna's Burggarten. (Website is in German) Thank you to the organizers for the lovely event and to the other blogger colleagues for their delicious recipes! (You can check out all of the other recipes soon on foodblogger.at)
I have to admit, that this recipe for mediterranean pasta salad is actually stolen from my former employer. Namely, from the launch events from Tanzquartier Wien, Vienna's center for contemporary dance and performance…
… during my studies I worked in the audience service there for several years (it is based in the Museumsquartier). One of the tasks of my team was to prepare the launch events. Because the team had a lot of talented cooks, I've taken  many wonderful recipes and cooking inspirations from this period. One of them is this mediterranean pasta salad. (Unfortunately, I cannot remember who came up with the recipe exactly…)
Anyway, if you come to Vienna and are interested in contemporary dance and performance, I can recommend a visit to Vienna's Tanzquartier! (And the buffet at the launch events afterwards in any case!)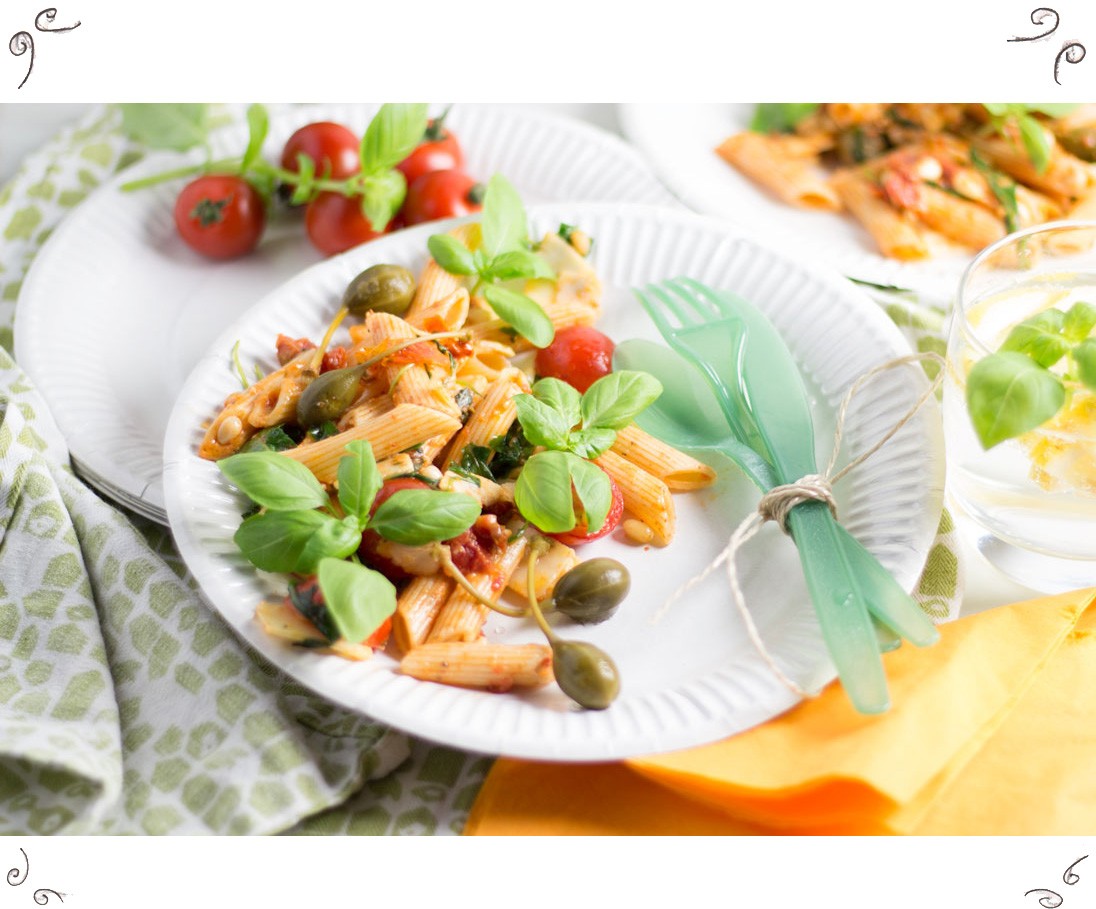 Mediterranean pasta salad – bring it on !! Here comes the recipe
Mediterranean pasta salad
Ingredients  
400

g

pasta

e.g. penne or farfalle

1

glass

dried tomatoes

1

glass

capers

1

glass

pesto rosso

~0.8 US cup; 200 g

200

g

Parmesan

~0.4 oz; coarsley grated

100

g

pine nuts

~0.2 oz

1-2

handfull

arugula

a

few

fresh tomatoes

~0.5 lb; 9 oz

1

handfull

basil
Instructions 
Cook pasta al dente. While the pasta is boiling, the rest can be prepared:

Dried tomatoes are cut into pieces. Keep the oil from the glass, you can use some of it for the dressing. Also keep the vinegar liquid from the capers for the salad dressing.

Pour red pesto in the salad bowl. Because I want to use every last drop from the delicious pesto, I add a part of the vinegar liquid from the capers and a bit of the oil that came with the dried tomatoes to the empty pesto jar and shake it well. (don't forget to cover 😉 ...) This comes into the salad bowl as well.

Grate coarsely the parmesan. Cut the fresh tomatoes into pieces, chop the basil.

When the noodles are done, rinse with cold water and add to the salad bowl, mix with the pesto.

Mix all of the ingredients. Possibly add salt and pepper. Add a few capers, pine nuts and basil leaves on top for decoration.