The summer holidays are here! To celebrate the day I've got an ice cream for you, to be more specific, it's a cream cheese ice cream with raspberries. (Go to recipe directly)
You pack your bags. Stuff the car with bathing suits. Late in the evening, all the kids get into the car. We are excited, and we argue over the best seats. We drive at night, because air conditioners are not standard yet (we are in the 90ies…) The drive is exhausting, you doze from time to time.
At one point in the night you finally fall asleep. And when you wake up, you are almost there.
Sometime in the morning, we stop at a gas station. You can already smell the breeze of the sea. But (still) it is mixed with the smell of the exhaust gases and the asphalt on the highway. But also, you can already hear the chirping of a few crickets. And even if it is still cold, you can imagine, how much hotter it will get soon. When you arrive, finally, you immediately want to jump into the sea.
The short time that you are there passes by quickly. But it is enough to create an eternal longing in your heart. A longing for this magical time when it's the start of the holidays again…
Tips for preparation
This recipe for cream cheese ice cream is quite easy to prepare. But if you don't have an ice cream machine, it is a bit of work during the freezing.
For people with ice cream maker:
Simply follow the recipe and do the freezing like you are used to with your ice cream machine. (Unfortunately I do not have one, so you know, I am a bit envy now.)
For people with no ice machine:
Simply follow the recipe. During the freezing time you need to stir the mass well so that the ice gets creamy. Those who are too lazy for that, will get a hard block of not-so-creamy ice cream, which still tastes delicious.
Recipe for cream cheese ice cream with raspberries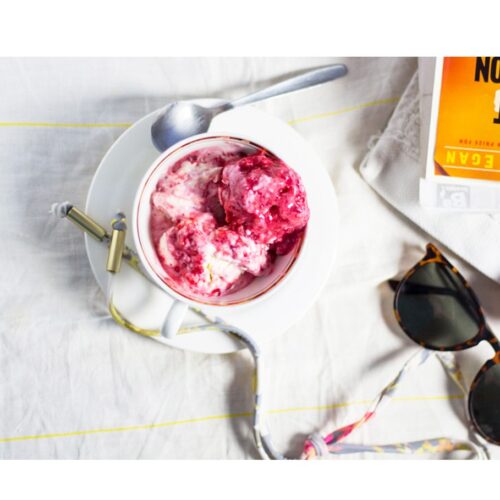 Cream Cheese Ice Cream
Ingredients  
1

cup

cream cheese / curd

or farmer's cheese / curd

1

cup

sour cream

1

cup

cream

5

tbsp.

icing sugar

(granulated one will be ok too, but does not dissolve that easily)

2

tbsp.

lemon juice

lemon zest

organic lemon

1

vanilla pod

or vanilla sugar

raspberries
Instructions 
Beat the whipped cream with a whisk until it is smooth and creamy, but it must not be stiff.

Add cream cheese/curd, sour cream, sugar, lemon juice and stir well until the mixture is creamy. Cut vanilla bean lengthwise and scrape out the vanilla seeds, add to mix.

If you want, you can split the mass into two parts and add crushed, sugared raspberries to one part.

Pour into a closable form which is suitable for the freezer.

Now you have to freeze the mix for about 3 hours. You should stir well about every 30 minutes, so that the ice crystals break and the ice gets creamy.