For her birthday party, my sister Mary made these wonderful cake pops. Each guest got one as a present. Actually, she made them more than two months ago, but I could not find the recipe anymore. Today, when cleaning the flat, I found it!
So here we go:
The recipe is originally from a cooking magazine for kids. We changed it a bit, because originally it is an easter recipe with cake pops shaped like bunnies. We, instead, made ours pink and glittery all over and packed them into bags, so that every party guest could take his one at home. The ingredients below are enough to make about 15 pieces.
Icing of the cake pops with natural food coloring and sprinkles
The icing of the cake pops is a very simple one with sugar, lemon and pink food coloring. Because I had some selfmade pink food coloring from beetroots at home, I used this one and it worked out very well. Of course, if you have a food blog, you tend to have such things like "selfmade food coloring from beetroots" at home 😉
If this is too much work, just use a bought one 😉
Here is a very nice youtube tutorial on how to prepare natural food coloring with all kinds of colors. I have not tried it out, but it seems to be very easy and the colors look just wonderful.
Sprinkles!
After the icing, Mary put some glittery sprinkles on top. If you still not have enough of do-it-yourself, here is a tutorial about making natural sugar sprinkles. (We used bought one ;).
Adding the pink icing and the glittery sprinkles was the most fun! I guess, if you do this easy recipes with kids, they will love to do it.
Equipment needed
For the sticks we used some non-fancy ones for skewers from the supermarket. But I'm pretty sur there are more special ones available. We bought some nice looking transparent bags for each cake pop and tied them up with a gift ribbon. So if you wanna give them away as a present, besides of the ingredients you will need: (the dough is for appr. 15 pieces)
15 sticks
15 transparent plastic bags
gift ribbon
Recipe for the pink and glittery cake pops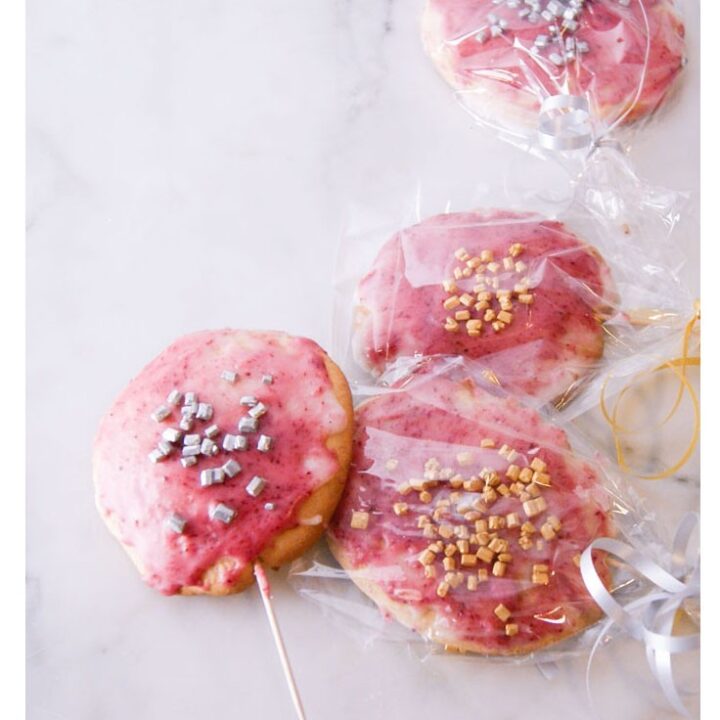 Pink and Glittery Cake Pops
Easy and fun baking with kids - recipe for cake pops
Zutaten
For the Cake Dough
1

cup

flour

250g

1

tsp.

baking powder

0.35

cup

sugar

70g - a bit more than ⅓ cup (US)

1

tbsp.

vanilla sugar

1 pack

1

pinch

salt

1

egg

0.55

cup

Butter

125g - a bit more than ½ cup (US)
For the icing
2

cup

icing sugar

250g

2

tbsp.

lemon juice

food coloring

e.g. pink

sugar sprinkles
Equipment
1

mixer

15

pcs.

sticks

15

pcs.

bags

1

gift ribbon

1

clinge film

1

dough roll

or a bottle, alternatively

1

glass

for forming the round cakes

1

icing bag, eventually

you can use a small plastic bag and cut off a tiny bit of the edge instead
Anleitungen
For the dough
With your hands, mix all of the ingredients for the dough very well. Pack the dough into clinge film or put in a bowl and cover - Put in the fridge for 60 minutes.

Preheat your oven to 175°C (about 350°F) circulating air.

Roll out the dough on a floured area and cut out circles (e.g. with the held of a glass or similar round thing).

Put on a baking plate - Attention, the cakes will become bigger, so keep some space between.

Press the sticks into the dough.

Put into the oven for 8 minutes. Then let cool down before adding the icing.
For the icing
With a mixer, mix the icing sugar, lemon juice and food coloring. I used about ½ a tsp. of natural food coloring powder, but this depends on your coloring. If you don't use the coloring immediately, it will dry out a bit. But don't worry if that happens, you can add a bit of lemon (or a few drops of water) to make it liquid again).

When the cakes are cool, add the icing with a spoon or a icing bag. Add the sprinkles and let dry for at least 30-60 minutes. When dry, put into bags and tie with a ribbon. Have fun! 😉