Semolina dumpling soup is probably one of the most beloved Austrian classics that will definitely qualify as "Soul Food".
When beeing a student, I always had ready-made semolina dumpling soup on stock, in order to have it on my table quickly on a rainy evening after a long day. But of course homemade always tastes better and is healthier, so here comes the guide for selfmade semolina dumplings with vegetable soup.
If you wonder about the bite in the dumplings (or better called "Nockerl") - That's very traditional.
Since the middle ages, in Austria, the semolina dumplings have been served with bites in them. Especially to international noble guests at the emperor's castle. There is no lore about why this comical tradition has evolved. Or... when shooting the soup, I did not pay attention for a moment and someone in the flat has probably already been hungry ...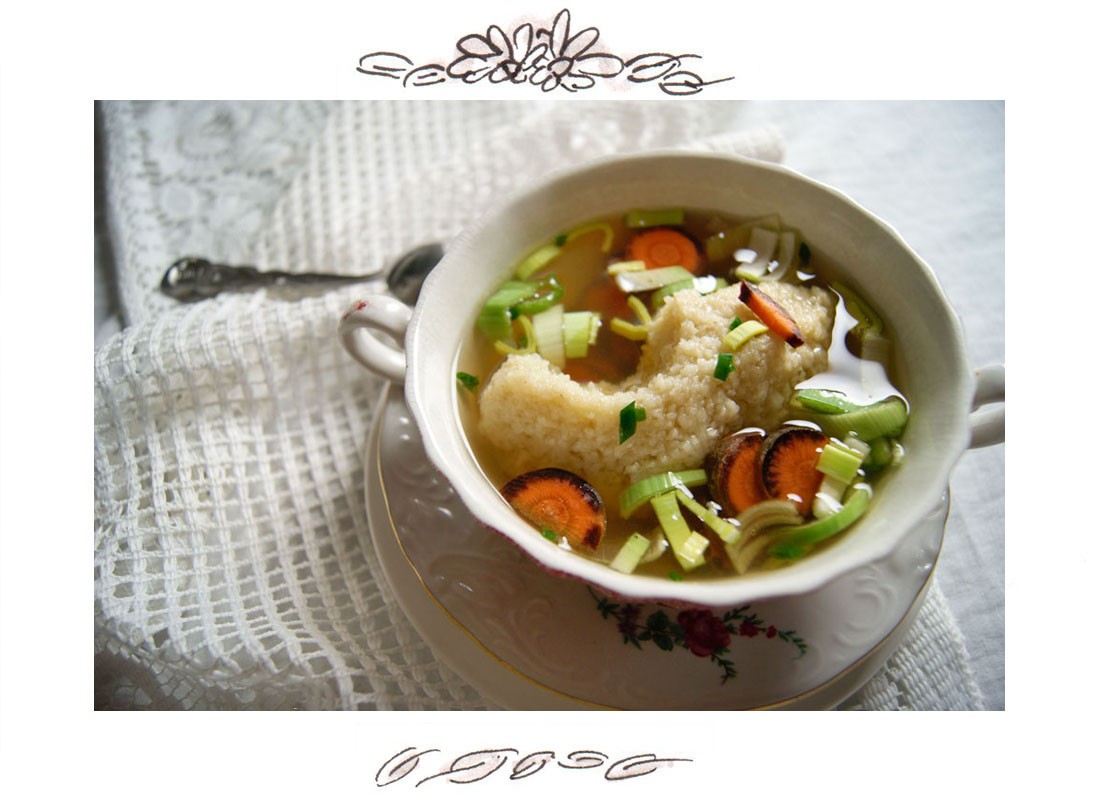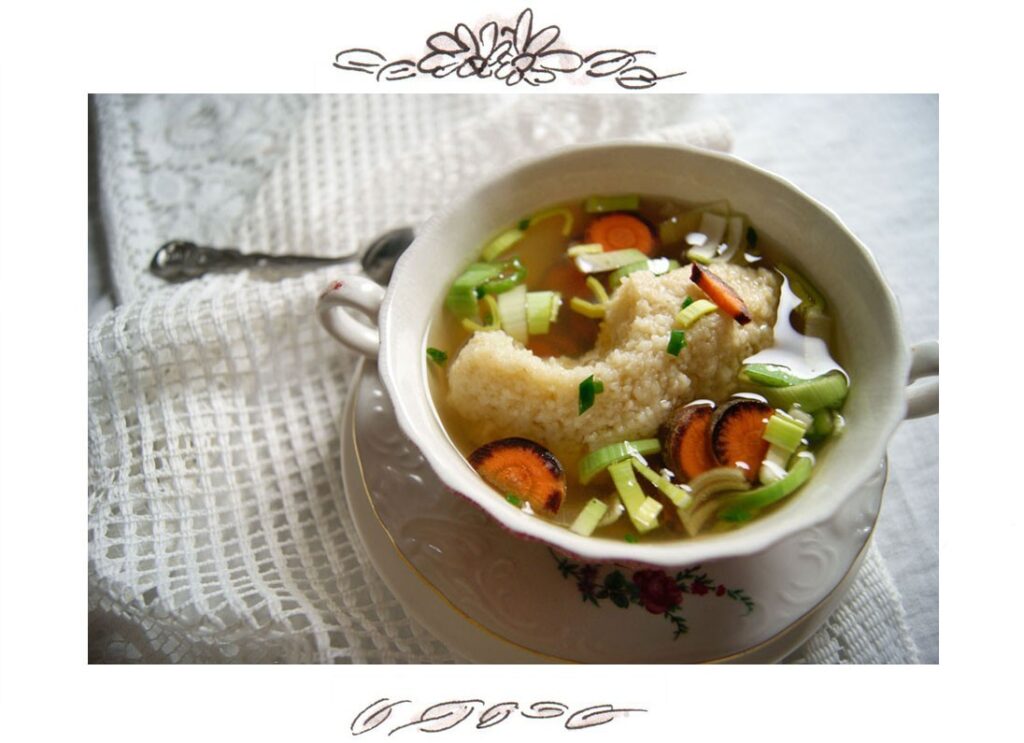 This time, the recipe comes from my other grandmother, which is an equally great cook, but unfortunately I do not see her that often because she lives in Burgenland. So it's always a rare occasion to be able to enjoy her cooking skills.
And if anyone is wondering why these carrots are purple: I have not dyed them, but happened to shop them in the supermarket.
I served the semolina dumplings with a homemade vegetable soup, because it is easier to prepare and quicker to make than the traditional beef soup, with which the semoling dumplings are served traditionally..
Learn more about the ingredients
In Austria, there is a type of semolina, especially for dumplings. This one is quite fine and has some extra spices in it. I don't know, if this special semolina is available outside of the German-speaking countries, but it should work out quite well with other types of durum wheat semolina.
Make semolina dumpling soup on stock
Who longs to have this delicious soup on stock for a for rainy (or sunny) evening after a long day of work: if you don't want to buy it ready-made or if it's not available in grocery stores wherever you live, you can of course freeze the dumplings and the soup. I'm freezing the dumplings in an extra plastic bag, and the soup in bowls/bags the size of 1 cup (¼l). Especially for cooking other dishes, it's always nice to have at hand some selfmade soup.
Instructions for Semolina dumpling with pictures: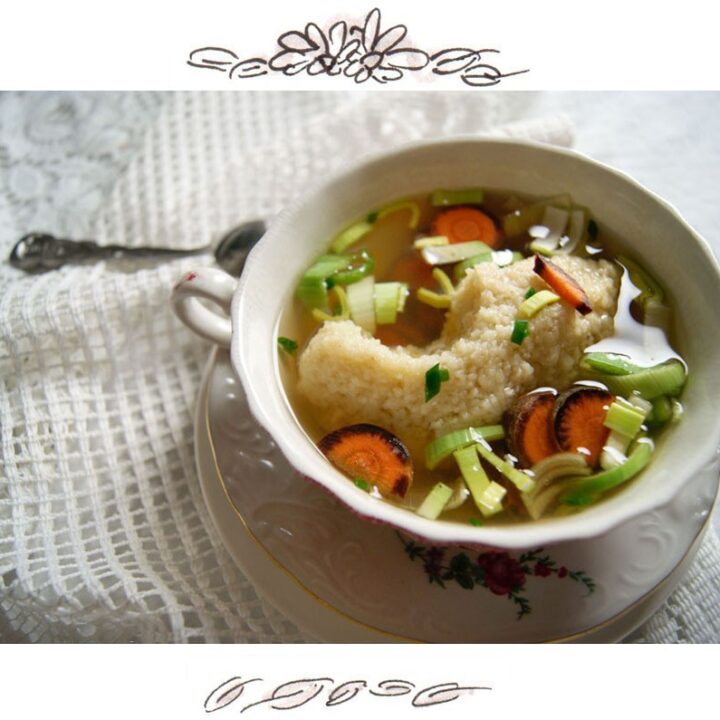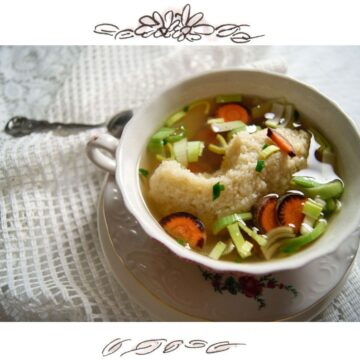 Semolina Dumpling Soup
Homemade Vegetable broth with traditional Austrian Semolina Dumplings.
Zutaten
For Dumplings
1

egg

1

pinch

salt

1

tbsp.

Butter

(30g)

3

tbsp.

semolina

(65-70g)

1

pinch

nutmeg

grated
Für die Gemüsesuppe
1

l

Wasser

(4 cups)

1

bunch

soup veggies

2-3

pcs.

onions

with skin

herbs

laurel, peppercorns, possibly juniper, lovage

chives

for garnish
Anleitungen
A few hours before you want to make the Semolina dumpling soup, you should put the butte and the egg out of the fridge. If that is not possible anymore, warm the butter in the microwave (for 10 seconds or so). Put the egg a few minutes in warm water.

First, the soup is made. In a pot, add about 1 liter of cold water, add soup vegetables (carrots, turnips, celery, leeks, parsley), and onions and spices. Bring to boil and let simmer at low temperature for about 45 minutes. Alternatively, use beef broth or instant soup. After 45 minutes remove the vegetables and seasoning and add salt and pepper. The soup is very easy to prepare: The onions are cut in half and come with the shell (which makes a nice color). The vegetables are not peeled but only washed and cut only in larger pieces.

Put the butter in a bowl and stir so it gets a bit creamy.

Now the butter is mixed with the egg, salt, nutmeg and the semolina. (Either with the mixer or with a spoon or similar). Let rest for 20-30 minutes, preferably in the refrigerator.

With two spoons form the dumplings (Nockerl). With one spoon, take the dough out of the bowl, with the second you bring the dumpling to its form. If it does not look perfect you can say at least that it is self-made. 😉

Let the dumplings either cook for 5 minutes in the soup (then there will swim small pieces of it in the soup) or cook separately in salted water cook and then add to the soup. The water shall only simmer lightly. At this point, I also add some extra chopped carrots in the soup. (Not the ones from the soup vegetables earlier, they are already too soft and sweet). Then let the dumplings rest in the water/soup for 15 minutes. Garnish with chives.
Nutrition
Serving:
360
g
Calories:
175
kcal