Yes, I know! I didn't post any new recipe for a while now. Today I tell you why. I was REEEAAALLY busy with my new project, and I am totally excited to tell you more about it! It is called "Vienna Cooking Classes" and its about private cookery classes in the homes of passionate Viennese hobby chefs! Check out the project and all of the dates here: www.vienna-cooking-classes.at.
WIN TICKETS!
For the first cooking class on Saturday 22nd of April 2017, I am giving away tickets for free!
WHAT DO I HAVE TO DO TO WIN?
Go to my Facebook-Page
LIKE AND SHARE my posting about the prize competition
If you win, you will be contacted via facebook on Saturday, 15th of April 2017 – I will send you a voucher. With the code on the voucher, you can book your free class on April 22nd.
We will be making Tafelspitz and Apfelstrudel from scratch – Really looking forward to see you there! 😉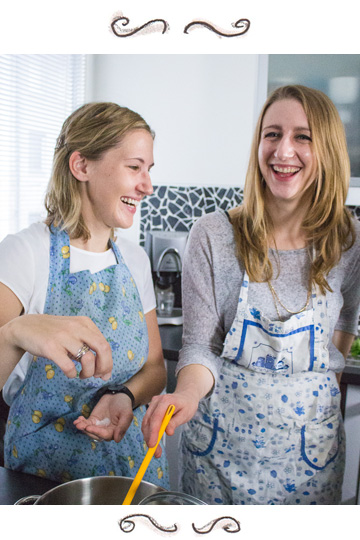 At Vienna Cooking Classes, me and a bunch of other Viennese hobby chefs cordially invite you to their homes!
Together, we prepare a traditional Viennese menu and then sit down and enjoy the meal. You will not only learn how to make our favourite local dishes, but get to know passionate hobby chefs from Vienna and all over the world.
About the idea of Vienna Cooking Classes
vienna-cooking-classes.at is a private initiative dedicated to the idea of bringing together passionate hobby cooks from all over the world and anyone interested in typical Viennese cuisine. Consciously opposed to professional cooking lessons, the classes take place in various private kitchens, transferring not only knowledge and skills but also a first hand insight into local everyday life.
Since all classes are privately guided "hands-on" classes, participants actually cook the dishes themselves, which is also perfectly fine for beginners.