These chocolate fruit skewers with strawberries, bananas, grapes,topped with tahina- and peanut butter chocolate variations are the perfect dessert for parties and in summertime… Especially right now, when there is strawberry season! (Go to recipe directly)
The fruit skewers with chocolate are one of those classic desserts you get at the Viennese Heuriger. There are ladies with vendor's trays going from Heuriger to Heuriger to sell their chocolate skewers. (It's always ladies, never men, don't ask me why.) Everytime the lady with the vendor's tray comes, my sister and me are very excited.
Actually, my little sister, goes to the Heurigen only because of the chocolate fruit skewers. She calls the lady who sells them "the sweet lady" and waits impatiently all night until the lady finally arrives at the Heuriger. Wine is not to her liking, and the rest of the buffet she gets at Grandma's anyway. But the fruit skewers we get almost exclusively at the Heuriger … Or we make them ourselves!
Chocolate fruit skewers in practice
Actually, you don't need a recipe for the chocolate fruit skewers. Just take whatever fruit you prefer, put it on skewers and pour with melted chocolate… That's why I experimented a bit with the ingredients and tried out what else works with the skewers for this post. I used Tahina, because I had it at home anyway for the preparation of hummus and I love it's bitter taste. Also I bought a can of peanut butter. For the skewers I needed only two spoons of it, and the rest I was allowed (by myself) to spoon up 😉 . (Blogging does not do well to your waistline, at least not blogging about Viennese cuisine;) )
Which fruits to take?
For the fruits I recommend any type of berries and grapes, because they do not have to be cut and last longer. Otherwise, bananas are of course particularly well with chocolate, but honestly, choose whatever fruit crosses your way or has season right now and looks yummy!
The lady with the vendor's tray at the Heurigers also sell chocolate chestnuts skewers. I tried to make one of those too, but every time when I tried to skewer the cooked chestnuts, they broke immediately. If I find a trick for these, I'll let you know ;).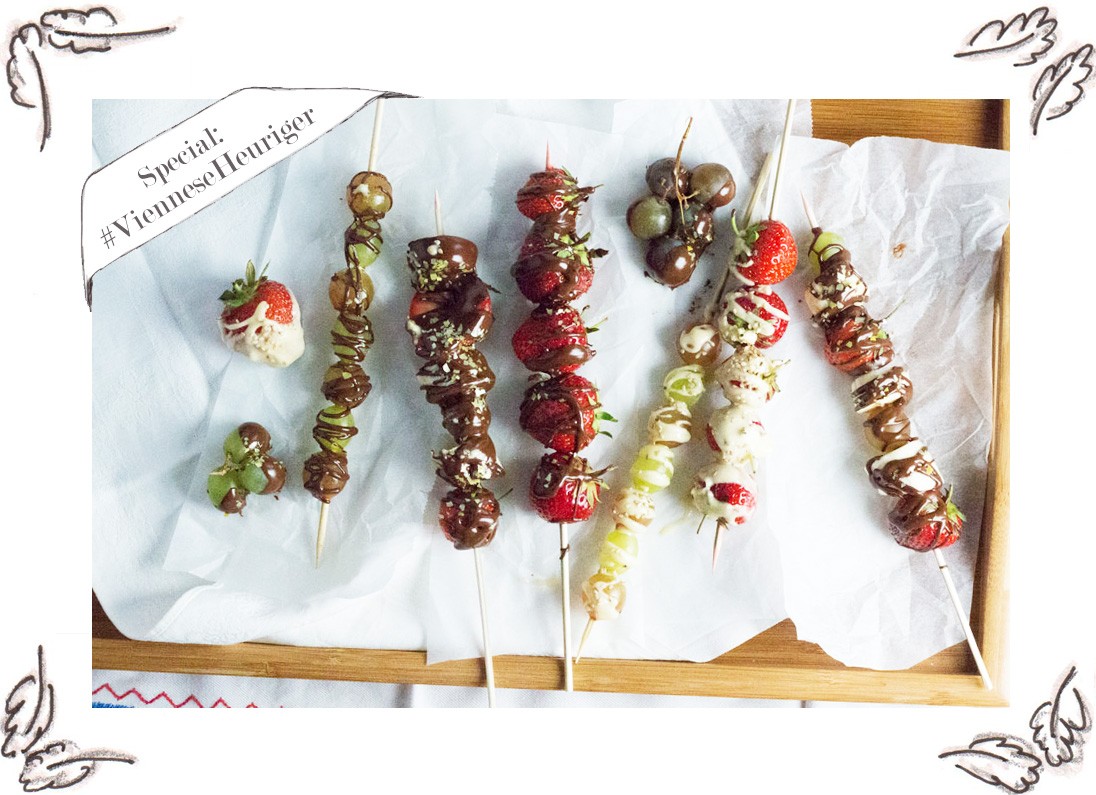 You can either pour just a bit of chocolate over the skewers, like seen on the pics above. Or you can dunk the whole skewer into melted chocolate. This way, the chopped fruit last longer (especially the ones which tend to become brown like bananas do…)
In addition, you can sprinkle with different toppings, such as chopped nuts, chopped pistachio, sprinkles, pine nuts, sunflower seeds, etc.
Here I found a nice tutorial on how to dunk the skewers into the chocolate best and decorate professionally (in German):
At the last party I gave, I wanted to make these skewers, but did not have enough time to prepare them. So I simply melted the chocolate in the microwave and served the fruits separately, like with a chocolate fondue. In addition, I had forgotten to get skewers, so toothpicks did the job (and they did it just as well)!
Recipe for chocolate fruit skewers
Melt chocolate: either microwave on medium heat for abot 30-60 seconds (depends on your microwave, but be careful, it should not get too hot, stir in between). OR heat a pot of water (filled half), let simmer at medium heat, put a plate with chocolate on top. This way the chcolate cannot get too hot and stays liquid for a longer time.

While chocolate heats up, wash and dry fruits and chop bananas.

Put on skewers and put aside on a sheet of baking paper (or plate etc).

Add 2 tbsp. of tahina to the white chocolate and 2 tbsp. of peanut butter to the dark chocolate, when allready melted. Stir.

The melted chocolate can be spilled on the fruit skewers with a spoon directly. Alternatively, use a bag and cut a small hole in one corner to spill more evenly. OR dip the whole skewer into the melted chocolate. Turn the skewer so the chocolate gets spread evenly. (see video link above)

Let cool in the fridge for about 1 hour, if you cool it at room temperature, it takes about 3-4 hours until the chocolate gets dry.